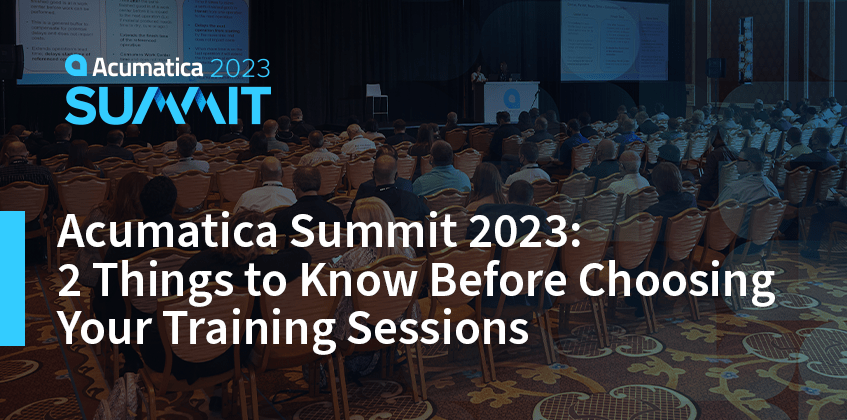 With Acumatica Summit 2023 less than two months away (January 29 – February 3, 2023, at the beautiful, five-star resort Wynn Las Vegas), you should be thinking about which of our informative and very popular cloud ERP training sessions you want to attend. However, before you make your selections, there are two things you need to know.
1. Mix & Match and Full Training Sessions Are Returning
For the last few Summits, we've offered two training session formats, and because they've worked so well, we're offering them again at Acumatica Summit 2023.
Full 2.5-Day Format: Regular, 2.5-day sessions for partners. You can select one session for all three days. There are 8 sessions from which to choose, two of which are for developers, and customers can join these sessions.
Mix & Match Format: This format is for customers only. They can enroll in up to three sessions: one-day sessions on Wednesday and Thursday and half day session on Friday. There are 24 sessions in this format, and they cover a wide range of Acumatica functionality, from financial, distribution, and project accounting to manufacturing, payroll, customization, and more.
The Summit Agenda is where you can find out how session works within the differing formats. It clearly designates which training sessions are for customers, partners, or both and provides a description of each topic, including the Acumatica ERP experience required (none, 3-6 months, 1 year). You'll see that many training sessions have set Prerequisites. We recommend you begin working on the special requirements as soon as possible to ensure you're fully prepared before Summit begins.
Below is a color-coded diagram that can also help you identify the areas different sessions cover.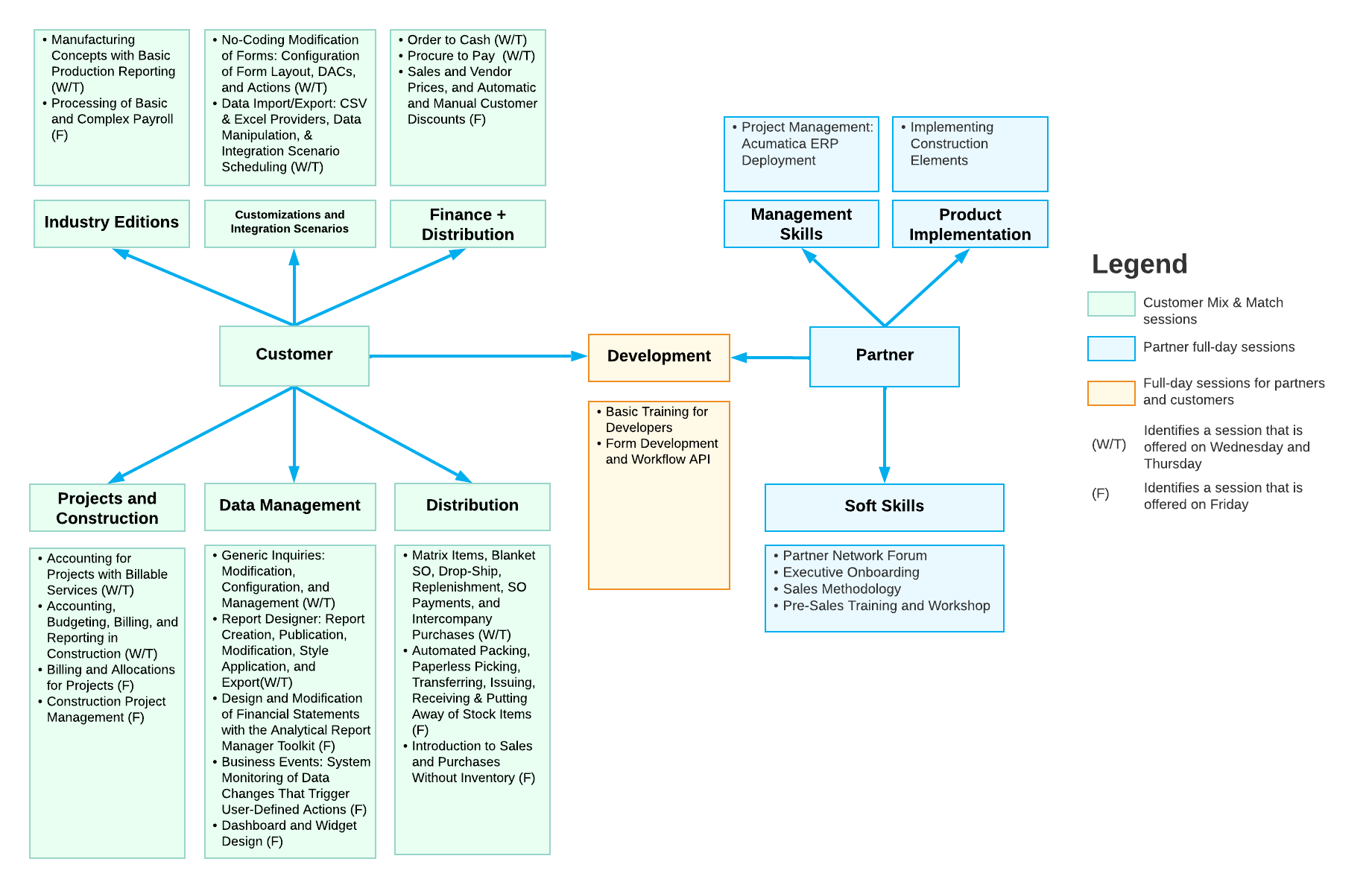 2. Selecting the Right Sessions for You
The three recurring themes for our annual Summit are "Collaborate," "Innovate," and "Accelerate." Our goal is to ensure that we incorporate these all-important themes within the training sessions, thereby equipping each attendee with the tools and knowledge they need to succeed in today's digital economy and uncertain future. It's a goal we're passionate about, and meeting it requires that we help you choose the training sessions that best fit your unique needs.
With this in mind, the first step to selecting the right sessions is to determine which area of Acumatica you're most interested. For example, Management Skills may appeal to you if you're a partner, or as a customer, you may want to learn more about Data Management. Then, based on your interests, review the available sessions and the corresponding detailed descriptions. If your experience matches the criteria (based on the Acumatica ERP Experience Required information), register to hold your spot.
Other than fulfilling the aforementioned Prerequisites and bringing your own laptop, you're ready for Summit. And according to Sean Barnett, CFO, Spohn, Summit is the place to be. "Attending Summit's great for meeting new people, getting new ideas, finding out what you don't know about the software, just finding out something new that it will do."
Dive Deep at Acumatica Summit 2023
Our cutting-edge Summit training sessions allow you to dive deep into the unmatched usability and functionality of Acumatica's award-winning cloud ERP software. In each session, you will:
Learn how to use our cloud ERP solution in real-life scenarios.
Be able to ask questions of—and be assisted by—Acumatica experts.
Now is the time to register for Acumatica Summit 2023 and to sign up for your hand-picked training sessions before they fill up. We guarantee Summit will be a knowledge-driven, business-growing, and fun-filled event. In fact, Bob Clancy, Acumatica's Director of Events Marketing, declares in a recent article that our 12th annual Summit is going to be better than ever based on the exciting improvements we've made.
A few of these improvements include offering longer sessions and breaks to give you more time for asking questions, learning, and networking; expanding the Women in Tech Event by adding a reception/knowledge and networking session; and increasing the Acumatica Marketplace—where more than 100 Acumatica ISVs exhibit their Acumatica-based products and technologies—to two locations, which allows us to accommodate the growing number of exhibitors and attendees.
As Bob says, "You don't want to miss our cloud ERP-fueled event that builds on a tradition of excellence."
He's right, so register today for Acumatica Summit 2023 and sign up for our value-filled training sessions. We're expecting over 3000 Acumatica community members to descend on Las Vegas at the end of January, and we want you to be one of them.
Questions? Contact our event team at support@acumaticaevents.com.
Please note: Attendees do not need to print out any training guides prior to sessions. If a guide is expected for the class, Acumatica will provide a copy.