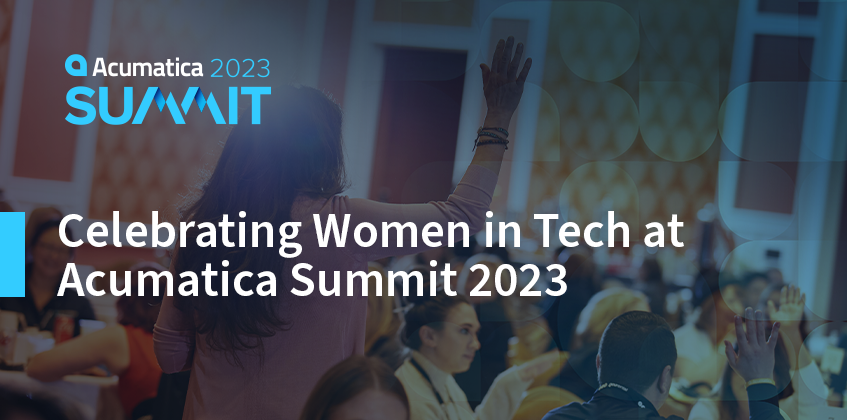 Ensuring gender equity in the technology industry is a priority and passion for Acumatica. Our ongoing effort to celebrate and empower women in technology will be front and center during our Women in Tech events at Acumatica Summit 2023 (January 29 – February 3 at Wynn Las Vegas).
On Monday, January 30, we will again be hosting our popular Women in Tech Luncheon, which will be followed by an all-new Women in Tech Networking Workshop and Reception. These engaging sessions will feature Nada Lena Nasserdeen—bestselling author, TEDx speaker, and founder of Rise Up For You.
Women in Tech Luncheon
Throughout her career as an educator and motivator, Nada Lena has mentored around 100,000 people—teaching them to create personal changes that they can then extend outward to bring about change in their households, companies, and communities.
Drawing from her wealth of experience, Nada Lena will share deep insights into "How to Be Heard, Be Seen, and Be Relevant" at Acumatica's 2023 Women in Tech Luncheon.
In Rise Up For You: Closing the Gap Between You and Your Potential, she writes:
What if each and every day we honored and held ourselves to a new standard of greatness so that we can close the gap between ourselves and our full potential? We need to delete what we think we should be because of outside sources, media, and public perception. The time is now to create your success and get to the next level that is in alignment with your life and heart.
You'll walk away from this dialogue with skills for building confidence, tips for public speaking and delivering strong messaging with your teams, and strategies for being seen as the expert—whether you work in a corporate environment or run your own business. To read more about the Women in Technology Luncheon, visit the Summit Agenda. Space is limited, so secure your seat by signing up today!
Women in Tech Networking Workshop and Reception
We learned from Summit 2022 that while popular and value-rich, our Women in Technology Luncheon alone just wasn't enough to fully explore the innovative spark that happens when Acumatica's community of talented women have this meeting of the minds.
So, for 2023, we're introducing the Women in Tech Networking Workshop and Reception! It will be a place for everyone to continue exploring the powerful conversations and deepening the valuable networking connections begun during the luncheon.
At this cocktail hour, Nada Lena will also explore some further lessons on developing skills that will help attendees connect with their peers and translate those skills into tangible future success.
Strides Toward Equitable Opportunity
But all this doesn't begin and end with Summit. The learning, growth, and innovation started in Las Vegas can continue year-round in our recently launched Women in Tech Forum. It's our segment of the virtual space that we have designed for mentorship and networking—a place where the Acumatica community's female professionals can learn, support one another, and grow within the tech community.
Acumatica's leaders are passionately supportive of these Women in Tech events and this initiative. Our Chief People Officer, Martha Lucia Groulx, put it best when she said:
At Acumatica, we're building a culture that celebrates, inspires, and unites women in technology. And we're creating processes and programs that will sustain and grow these efforts. Women—their skills, talents, ideas, innovations, and insights—are keys to unlocking the future of technology. Acumatica wants to be a driving force behind making this future a reality."
Please join us at Acumatica Summit 2023, register for the Women in Tech Luncheon and the Networking Workshop and Reception, and become a member of our Women in Tech Forum. Let's build tomorrow—together.