PCMag knows a little something about the complexities of managing inventories and supply chain processes. In fact, the editors' testing and subsequent reviews provide in-depth knowledge that every technology and business leader should think about using when researching inventory management software for their organization.
As the third post in our series highlighting Acumatica's recent awards, we're pleased to announce our winning of PCMag Editors' Choice Award for Best Inventory Management Software of 2017! This award – along with winning PCMag's Best ERP Software, Best Enterprise-Class General Ledger Accounting, and being included in their 19 Best Business Mobile Apps – has made for an exciting year at Acumatica.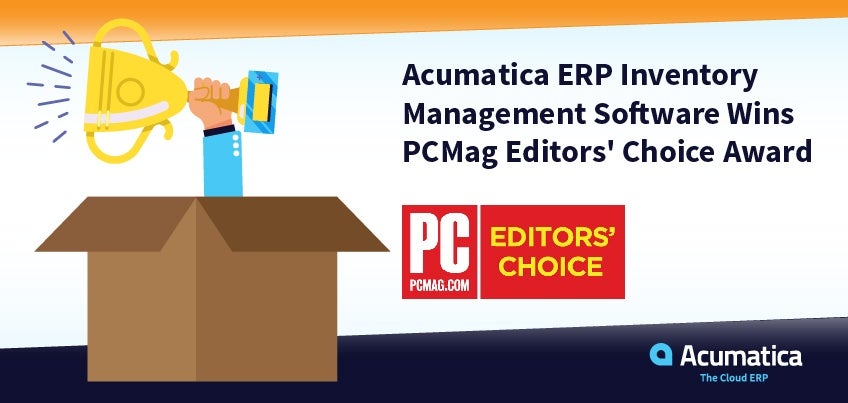 Our inventory management software received an "excellent" rating in comparison to four other systems on the market. This year's recognition and last year's Editors' Choice award fuels our determination to be the best choice for businesses seeking not only an inventory management system, but also an all-encompassing cloud ERP that fits their business management needs.
Because the report is very detailed, we hope you'll take a few minutes to read the full review. You can also look at the chart highlighting what Acumatica offers current and future customers versus that of our competitors. We check off every order management system capability businesses need to run efficient and successful operations.
For more information about our other PCMag awards, please go to our previous posts located here and here.
Why Acumatica won PCMag Editors' Choice Award for Best Inventory Management Software
"Keeping track of [inventory], even for a successful small to midsize business (SMB), is more difficult when using nothing but a spreadsheet. Tying that information into all of the other data platforms your organization uses requires a dedicated software tool," writes the PCMag editor in his review.
John Watkins, CEO of FSC Lighting Inc., and Chad Treadwell, Vice President of Operations, couldn't agree more. FSC Lighting is a fluorescent and LED-lighting manufacturer that needed a dedicated software tool and chose Acumatica as their inventory management software solution. Before Acumatica's order management system, the company had been running on "tribal" knowledge and cobbled important inventory and production information together creating inefficiency and inaccuracies.
Let's breakdown why PCMag and FSC Lighting feel that our inventory management software excels.
Mobility and user experience
Because we are browser-based, users can easily employ a variety of mobile devices to access Acumatica on the go. Freedom to access the cloud anywhere is a necessity if you want to compete and succeed in our fast-moving business climate. Now that your office is wherever you are, the "out-of-office" reply has become obsolete.
Watkins agrees, "The iPhone app has been super beneficial because I am in the building maybe 20% of the time. I'm able to go through all my approvals from POs coming inbound to our POs going outbound and approve all those on-the-fly."
Dashboard configurability
Another feature cited in the review is our easily configurable dashboards. Assign a user's role by simply checking or unchecking the applicable entries. And navigating an order management system's dashboards shouldn't be complex thus he points out that with our inventory management system, it is "just a matter of clicking on the task choices in a dashboard" or using our Search box to find a particular task.
For FSC Lighting, our dashboard has made the difference between manually processing sales orders, purchase orders, and other paperwork and automatically receiving up-to-date and accurate inventory information (see the dashboard snapshot below).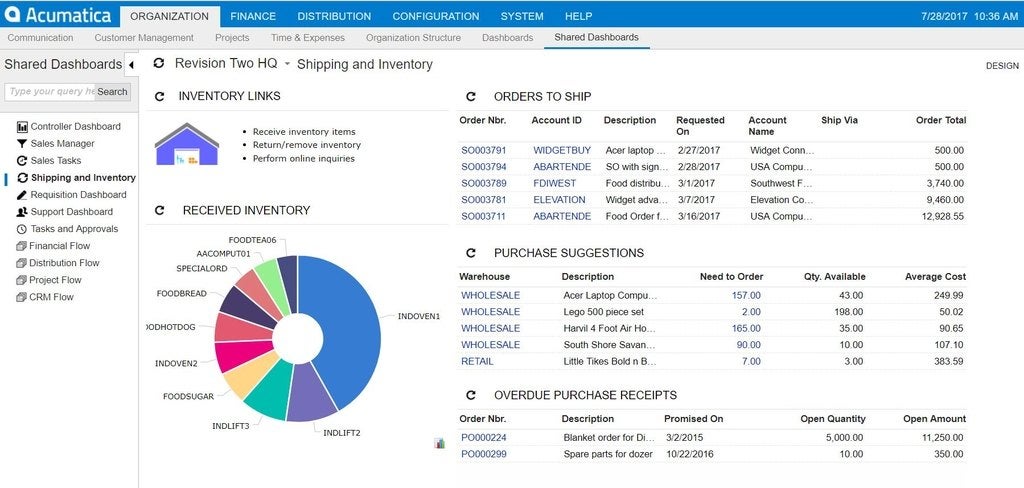 Pictured: Acumatica ERP inventory management dashboard.
Inventory functionality
Inventory functionality continues as PCMag considers our order management system strong with "robust costing methods" including Standard Cost, Moving Average, First In First Out (FIFO), and Specific Cost Methods.
Here are some of our other inventory management software capabilities found during the inventory management testing:
Supports multiple warehouses (including locations on the move such as service and repair vehicles)
Tracks items and components down to a "granular level" through bin locations and lot and serial numbering
Transfers items in transit through a two-step process with Goods in Transit (GiT) reporting
Sets up the minimum and maximum levels of items or Economic Order Quantity (EOQ) for forecasting
Reporting is "plentiful, nicely laid out, and easy to understand"
Enhances inventory functions with Bill of Materials (BOM) and Routing
Kitting capabilities – using sub-assemblies needing pre-assembly before an item can be built
"Acumatica has brought us so much more control over our business," says Treadwell. "Now, inventory is accurate and true and we have policies in place; our inventory counts have improved dramatically and we have confidence that it is properly decremented as products are built."
Click here to learn more about FSC Lighting's experience with Acumatica's inventory management system.
Acumatica's inventory management software is a great choice
We appreciate how PCMag's review lays out everything our inventory management system offers the cloud ERP community. Our mobility, flexibility, and easy-to-use functionality all add up to a great choice for companies just like FSC Lighting – companies that need a strong platform for growth and a way to manage inventory using the most advanced technology available. Contact our team at Acumatica if you're ready to take your order management system to the next level.
You'll also want to register now for our Acumatica 2017 R2 Launch Date Event coming September 13, 2017, in Cambridge, MA; learn about the latest release of Acumatica and how its new enhancements will benefit your business.
And mark your calendars for Acumatica Summit 2018 coming January 28 through February 2. Expect to not only hear the latest about Acumatica's products and solutions, get product certifications, and network with hundreds of your industry peers but look forward to checking out Nashville, TN, and having a great time!