The release of CRN's 2021 Channel Chief List has special significance to Acumatica. Our very own Geoff Ashley has been named an honoree…and we're not surprised.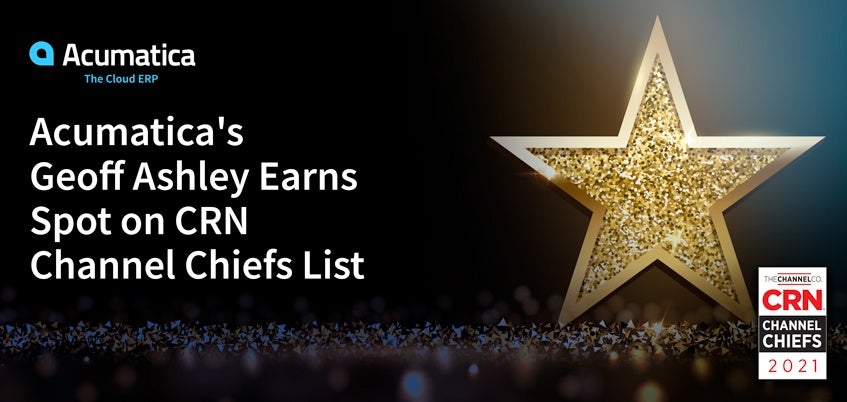 It is our pleasure to announce that Geoff Ashley has made CRN's 2021 Channel Chief List. As Acumatica's VP of Partner Strategy & Programs, Geoff has been selected three times by CRN as one of the 50 most influential channel executives in the industry.
Making CRN's 2021 Channel Chief List
CRN, a provider of technology news and information for solution providers, IT channel partners, and value-added resellers (VARs), calls the top Channel Chiefs "an elite group drawn from the larger pool of Channel Chief honorees each year that represent the cream of the IT channel crop." They are selected by CRN's editorial staff based on:
Professional achievements
Standing in the industry
Dedication to the channel partner community
Strategies for driving future growth and innovation
We are excited that Geoff's efforts on behalf of Acumatica VARs and his continual improvements to the Acumatica Partner Program have been recognized by CRN. He has taken his three decades of experience in creating successful partner sales channels and infused the Acumatica VAR community with unparalleled knowledge and expertise.
He has also provided Acumatica VARs with an in-depth look at what it takes to become a Modern VAR in the 21st century. He's shown by word and deed the importance of giving every customer a stellar experience. In fact, he considers the customer experience priority number one and says VARs need to "stop selling accounting software and sell results that clients are trying to achieve with an ERP deployment."
Offering valuable growth strategies and suggestions on how businesses can shorten time to profitability, his unique perspective and sound advice have spurred our global channel of Acumatica VARs, as well as Acumatica cloud ERP, to succeed in a highly competitive marketplace.
Geoff and Acumatica cloud ERP: Leaders in the industry
The acknowledgement of Geoff as a member of CRN's 2021 Channel Chief List comes as no surprise to those of us who have worked closely with him for the last several years. The combination of Geoff's mentorship and support with the training resources, marketing information, and competitive insights provided has directly and positively impacted Acumatica's ranking as an industry leader by top analysts.
As we head into a new year with the pandemic still with us, Geoff has some great advice for uncertain times: "This pandemic, while terrible, is only an accelerator of change. It is not the creator of change. And like all the change that has come before, it requires a different way of thinking and a different way of responding. As I tell my partners every day, stop selling ERP software. Help your prospects or customers educate their customers and sell virtually. Create an experience where the prospect or customer can make an EASY and informed decision with one stop."
He also says to think outside the box, be disruptive, expand where others contract, and, ultimately, find the value of cloud ERP in uncertain times. If you would like to become an Acumatica VAR and directly benefit from Geoff's exuberant, creative, and expert leadership, then schedule an appointment today. You can also contact us to discuss how Acumatica's comprehensive cloud ERP software can help your business succeed not only today but in the future.
Congratulations again to Geoff on being named to CRN's 2021 Channel Chief List. We expect 2021 to be a banner year with Geoff leading the charge.