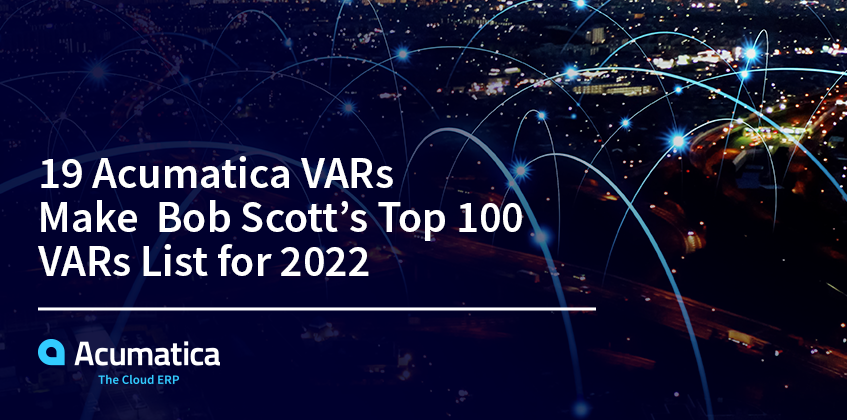 The much anticipated Bob Scott's Top 100 VARs List for 2022 has been released, and we're pleased to announce that 19 Acumatica VARs are included. It's an amazing achievement that deserves our appreciation. Indeed, the knowledge and dedication of these—and all of our—Acumatica partners is why Acumatica continues to be the fastest growing cloud ERP company in the world.
Acumatica Partners Who Made Bob Scott's Annual List
Bob Scott—a decades-long prolific writer of all things related to the mid-market financial software community—compiles his list every year, ranking the leading mid-market VARs by annual revenue.
Following are Acumatica's top-producing VARs in the order they appear on Bob Scott's Top 100 VARs List for 2022:
Clients First Business Solutions
Be a Part of Acumatica's Success
As members of the Acumatica Partner Program, Acumatica partners receive ongoing training, earn generous margins, and benefit from continuous support. And they can rest assured that Acumatica will never compete with their partners—ever.
This no-compete promise is critical, especially now when mid-market ERP businesses are facing a personnel shortage, according to a special report accompanying Bob Scott's 100 Top VARs List for 2022. In it, Scott notes that demand for cloud software is high, due in part to the pandemic. But he also notes that the pandemic is to blame for the consultant shortage. "With business strong and the channel attractive, the major channel worry is a measure of success—there isn't enough consulting talent to support the growth firms could achieve if they could hire enough people."
To counteract this ongoing challenge, Acumatica has partnered with a talent engagement agency, Twenty AI, which provides services such as "matching candidates to jobs with VARs." Scott spoke with Sanket Akerkar, Chief Revenue Officer, Acumatica, about how this service helps Acumatica partners. Akerkar explains that it provides our partners with a way to "exclusively source talent."
It's yet another benefit of being a member of the Acumatica partner community, and we invite members of the partner channel to learn more about becoming a valued Acumatica reselling partner by contacting our experts today.
And congratulations again to our partners who made Bob Scott's Top 100 VARs List of 2022—it's a well-deserved honor.