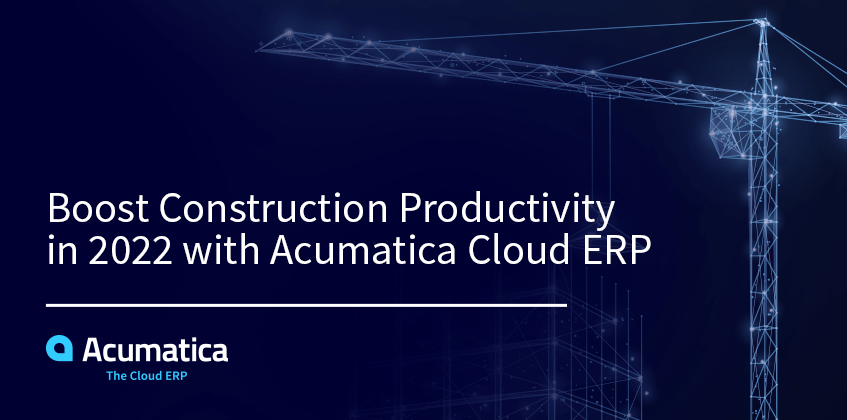 In December 2021, I had the pleasure of sitting down with Mike Merrill of WorkMax, a cloud-based mobile workforce management platform, to discuss increasing construction productivity in 2022 with IoT technology. As is often the case, the conversation didn't stick to one topic. We also discussed the importance of construction firms investing in technology as a whole as well as in software made specifically for their industry (e.g. construction software).
Today, I'll share the key takeaways of our chat with the goal of helping make 2022 the year of productivity.
Technology Adoption Leads to Increased Productivity
Considered "laggards" in terms of adopting technology, construction companies have been dependent on primitive, stand-alone solutions and paper-based processes for decades. The result has been siloed information, slow decision making, and disconnected workflows. Add in pain points brought by the pandemic, including increased labor/equipment costs, project delays, permit battles, and labor shortages, and they have endured industry-wide inefficiency for far too long.
The pandemic, though creating personal and professional havoc, provided one silver lining. Many construction firms came to the conclusion that counteracting traditional and pandemic-inspired challenges required shifting their digital transformation plans into overdrive.
And they weren't alone.
A 2020 survey by Baker McKenzie revealed that 58% of the surveyed businesses that had yet to begin digitally transforming—or replacing their disconnected legacy solutions with modern technology—made it a priority due to the COVID-19 pandemic. By doing so, these businesses opened the door to utilizing cutting-edge technologies, such as the Internet of Things (IoT).
Simply put, IoT is the connection of devices or machines to the internet via embedded sensors that communicate real-time data. We see them in every industry, from agriculture to retail and everything in between. IoT can be used to sense soil moisture levels or the level of fertilizers in the ground, monitor the temperature in HVAC units, and detect motion for security alarms. Construction companies can use IoT on their equipment to track performance and be informed of (and fix) problems as they arise.
There are many examples of how to use IoT, but at the end of the day, the sensors provide critical data and insights that construction organizations can use to improve productivity.
Data is King
It's important to point out that the amount of data provided by IoT is too much for humans to process. Separating the signal from the noise is only possible through more technology, such as a cloud ERP solution.
An ERP solution has traditionally been referred to as a system of record because it's where data from every department converges. However, I believe an ERP should also be referred to as a system of results. It's the technology that allows organizations to take reams of data and turn it into actionable insights through machine learning (ML) and artificial intelligence (AI).
At Acumatica, technology is used to solve specific business problems, and we've invested heavily in ML and AI. To be clear, we view this technology as a way to augment human efforts, not replace them. Computers calculate and identify patterns much faster and more efficiently than we can, which means employees can work on other high-value tasks while updated, accurate information is available to make better business decisions.
Let's look at an example of how Acumatica is using these technologies: document recognition. When an AP document is submitted via an email, an employee typically has to input the information manually. Now, they can drag and drop the document into Acumatica where our recognition system will automatically detect what it is, identify the vendor, and attach it to the correct P.O. Similarly, an employee can capture the image of an expense receipt and automatically begin the claims process, eliminating the need for an accounting audit. We're also working on anomaly detection. For contractors, this can help by alerting them to a potential line-item error, reducing the time they'll spend reconciling records.
In addition, Acumatica has recently introduced a functionality enhancement for PDFs. Instead of opening up the PDF, annotating it, and reposting to Acumatica, someone can make changes to the PDF directly within Acumatica. For example, if an organization has implemented Acumatica's cloud construction accounting software, they can attach a drawing log, sales order, or P.O. and open them up directly in the solution. They can then make notes, annotations, comments, and corrections, which are automatically saved in the system. For auditing purposes, the person who made the changes and when the changes were made are documented.
A cloud ERP solution, like Acumatica's, is all about producing results, increasing productivity, and, ultimately, making each user a superhero.
What Construction Companies Should be Doing for 2022
As 2022 moves forward and as a younger workforce emerges, it's imperative that construction companies become more data driven. They'll need technology, such as IoT and modern cloud construction management software, to gather and assess their data, including tracking project expenses, change orders, labor hours, schedules, estimates (and more). Their increased knowledge and productivity will help them deliver exceptional value to their customers.
Acumatica customer Roberts Glass & Service is a perfect example. Founded in 1990 and located in Indianapolis, Indiana, the company designs, manufactures, and installs glass curtain wall, storefront, and entrance systems as well as provides interior glazing.
Owners Jeff Hamilton and Matt Dodson bought Roberts Glass & Service several years ago. The company came with aging financial software, which required locally storing data on desktop computers.
"Data was very siloed. We also had paper spreadsheets scattered throughout the office," Jeff explains in the company's customer success story. "We knew operating on Excel and siloes wasn't going to allow us to grow or be more profitable or be more efficient and get information out to the field."
Recognizing the urgent need to upgrade their ERP solution, Jeff and the team selected Acumatica Construction Edition with tremendous results. "We've torn down the silos we had with the client-server solution, so now we have access in one view of the data. We're now able to see where we are cost-wise with our existing construction projects; we're able to look at the profitability of each project, look at the customer base and understand where we are most successful."
Boost Productivity (and Profitability) with Acumatica Cloud ERP
Like Roberts Glass, any construction company can boost their productivity and profitability in 2022 by utilizing modern, industry-specific technology that embeds ML and AI within its solution, like Acumatica.
"Acumatica Construction Edition has helped us grow in terms of revenue because we're much more efficient at managing projects," Jeff says.
To learn more about becoming an efficient, productive, and profitable construction business, contact our team today.