You've determined that you need to integrate your CRM and ERP systems, but you're nervous your team won't agree. We have some ideas we think will allay your fears and will help you convince your team it's the right thing to do. 
We're back with the second post in a two-part series addressing the importance of integrating your CRM and ERP systems, and how, if you do it correctly, to entice your whole team to actually use the new solution.
If you missed the first post, 3 Reasons to Integrate Your CRM and ERP, don't worry. We'll briefly touch on those reasons today, and with the help of two Acumatica experts, Sean Chatterjee, VP Sales, and Stacy Guccione, Sr. Product Manager, we'll provide some advice on the best way to build an employee-approved CRM and ERP system.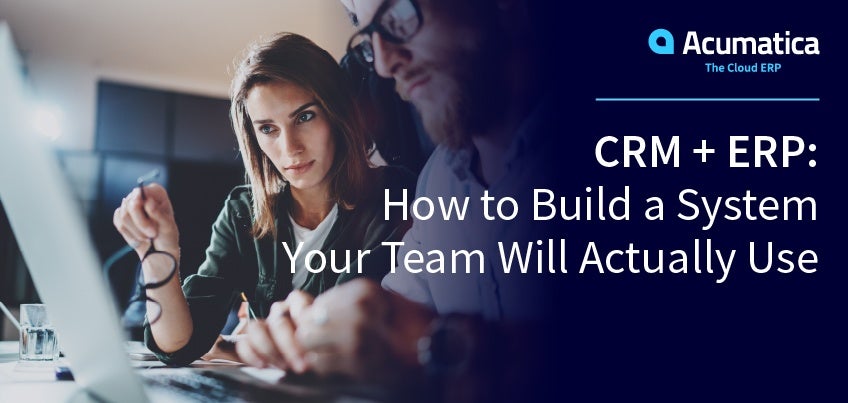 Organizational buy-in for your CRM and ERP integration
As you probably know, CRM stands for "customer relationship management." It's how you and your business monitor and guide your customers' journey, whether they fall under the title of current or potential.
Depending on a few factors, including budget and technological know-how, you may be making do with a simple CRM application or even manual, paper-based systems. If so, it's time you considered upgrading to a modern solution. It can help you track the customer journey from lead to deal to post-sales support, helping you increase efficiency and insight by automating tasks and streamlining workflows.
And, it's important that the CRM you choose seamlessly connects with a cloud ERP system. Here's why:
You'll achieve company-wide access to real-time data
You'll save time with improved Quote and Order Management
You'll consolidate information for improved visibility and forecasting
All great reasons. However, no matter how much it makes sense to upgrade to an integrated CRM and ERP solution, if your team balks at learning and using it, then what's the point? Thus, organizational buy-in is essential. Sean addresses this need in How to Get Organizational Buy-In for Your ERP Implementation (and Why It Matters).
"Organizational buy-in (or the lack thereof) can make or break your ERP implementation. If employees refuse to use the new system or only use it half-heartedly, your company cannot reap the rewards brought by automating your business management processes," he writes.
He's right, and what he says pertains to both ERP implementations and the integration of your CRM and ERP applications. So, how can you overcome employee concerns and build a system they'll approve of?
We have some ideas for you.
A CRM and ERP solution for the whole team
According to Sean, ensuring a smooth transition from traditional and disconnected CRM and ERP methods to a modern, integrated solution boils down to one thing: communication.
Make sure you let your team know your plan to integrate your CRM and ERP systems…before you do it. They'll appreciate that you didn't surprise them. They will also have time to consider the benefits and to formulate ideas on what they'd like the integration to look like.
He also notes another vital component to successful technology adoption, and that's getting leadership buy-in. Without it, you won't even have to convince your employees of the viability of the technology because you won't have what the leadership team provides, including financial support, a champion, manpower, and staff support.
Stacy agrees, saying, "One of the first things that a customer needs to focus on when they want to implement any CRM is having executive buy-in. We find that when you find an executive buy-in, there's a greater success rate for the implementation project."
Once you've communicated clearly the fact that the executive team is on board with the CRM and ERP integration as well as the many benefits associated with this decision, Stacy and Sean say the following steps will help make the implementation a successful experience for every team member:
1. Understand what your sales process is going to look like before you purchase a CRM solution and before doing the implementation
"Your sales methodology is going to be different depending on the type of industry, customers, and products you're offering. Define your sales process and match your CRM solution to that process," she says. "Make sure whatever solution you choose is customizable and tailorable enough so that it provides the flexibility you need."
Sean says, "I always recommend you think about your company, not just as it is today but as it will be two, three, five years down the road and make your decision based on the demographic and prospect information you want to attract moving forward.
He also says to be thoughtful about whether your system allows your workflows to seamlessly integrate with all departments, such as the Finance team. "Be aware of how the finance team will engage with your set of customers and design your system the way you want it to be."
2. Don't "Big Bang" your implementation
"Some of the most successful implementations I was part of and saw out in the field with customers were when they didn't implement in a "Big Bang" approach. Instead, ask your sales team to enter small pieces of information into the system. Then give them a little nugget of information they can get out of it. As they get used to working with the system—putting more and more information in—they'll understand all of the information they can get out of it and all the information they can get about their customers," Stacy says.
3. Provide proper training and the opportunity to offer feedback
"You're going to want to provide proper training, explaining what it is that they're going to get out of the new CRM and ERP system," Stacy says. "And don't expect them to completely change their sales processes with no availability to give you feedback. Anytime anything is new, it a bit of a struggle to adopt it for most people. It's a collaborative effort between all the teams so that you can more easily share information, which becomes a win-win for the whole organization."
Is Acumatica CRM right for you?
Once you've established a CRM and ERP system that your team will use by communicating clearly, undergoing a methodical implementation, and providing proper training, you'll begin to reap the benefits for years to come.
"It's important to understand how helpful it is to have a tool that's integrated with the rest of the business," Sean says.
With Acumatica Customer Management, which was built into Acumatica cloud ERP from the beginning, you can expect accurate data, accessible in real time from a single database by the entire organization. You can manage forecasts, quotas, and results with our intuitive dashboards and reporting tools as well as through the CRM Add-In for Microsoft Outlook. You'll empower your customers by giving them access to the financial and case information you choose through your Customer Self-service Portal (which also includes specific Acumatica User Groups). You'll have free access to Acumatica Open University where you'll learn how to use Acumatica cloud ERP fully, and you'll receive the Acumatica Customer Newsletter.
Finally, with Acumatica CRM and Acumatica cloud ERP, you can seamlessly interface with other cloud-based software, such as HubSpot, Gmail, and Salesforce, as well as leverage the Acumatica Marketplace to create an integrated marketing solution that fits all your business needs.
"The Acumatica Marketplace is the online catalog where you can learn about 3rd party extensions for Acumatica," says Christian Lindberg, Acumatica's VP Partner Solutions. "With close to 200 Technology Partners, there's a solution to any business need."
Interested in learning more about Acumatica's cloud ERP software? Contact our team, and begin to manage leads, improve conversions, measure campaign performance, and so much more, today.