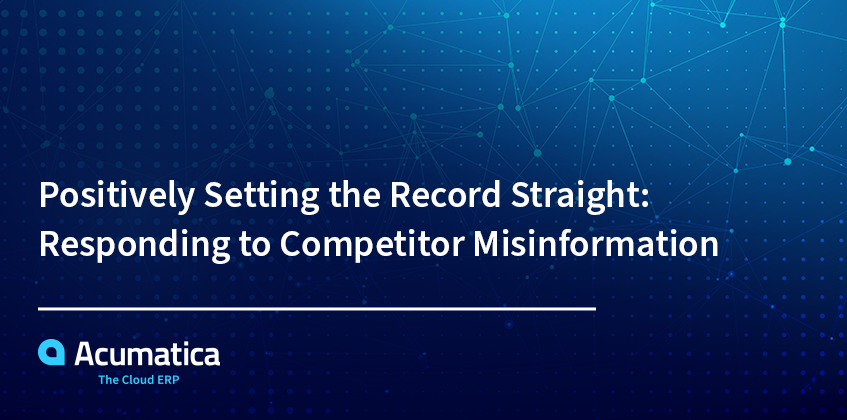 With scores of software vendors offering a range of business solutions, the enterprise resource planning (ERP) market can be highly competitive. According to a recent IDC report, more than 40 firms occupy this crowded space, where it's common for vendors to jockey for advantages over one another.
Acumatica's approach to competition is to positively differentiate our offerings and to highlight what sets us apart in the market. Our focus has always been on the needs of the customer—from first contact in the sales cycle to implementation and throughout the relationship. This positive, customer-centric approach is reflected in many independent reviews from customers and industry analysts, who consistently rate Acumatica as being in the highest tier for customer satisfaction, usability, and overall value. Our market-leading growth rates further validate the positive way we choose to compete.
Others in the industry may choose different tactics. That's hardly new or surprising. We see in politics that "going negative" often works, as exaggerations and scurrilous charges dominate the airwaves leading up to elections. When Acumatica becomes the target of tactics like this, we see it as a sign that we must be doing something right and are emerging as a threat to some of the bigger enterprise vendors in the ERP market.
Acumatica doesn't respond "in kind" to these tactics by going negative. It's simply not who we are, and it's not who we want to become. However, we also don't sit idly by if there is inaccurate and misleading information in the market. We have a responsibility to our partners and customers to respond with facts and set the record straight against false claims.
An example of this type of negative competitive tactic is evident in  whitepaper a competitor of ours—Oracle NetSuite—has recently been circulating to its prospects and customers titled "NetSuite vs. Acumatica: A Comprehensive Comparison Guide." While we appreciate the respect NetSuite is showing Acumatica by considering us an attractive alternative to their solution, we are disappointed that they have chosen to spread blatantly false claims against us.
People should be equipped to base their important business management decisions on facts. We are responding to some of the most egregious claims and inaccuracies so that customers and prospects have a truthful portrayal of Acumatica's products and position in the ERP market.
NetSuite's Claims Versus Acumatica's Truth
NetSuite Claim:  Acumatica has under 400 employees and has yet to achieve profitability.
Reply:  To keep pace with rapid growth and increasing demand, Acumatica has expanded our headcount to over 600 employees, reflecting the great success we're experiencing as THE fastest-growing ERP vendor in the world, per IDC.
While Acumatica does not disclose financial performance, we can confidently state that we have met or exceeded our financial targets every single year under our parent company EQT's ownership.
NetSuite Claim: Acumatica's ERP solution doesn't represent the evolution of accounting software because it is based on a now sunsetting Microsoft product, Solomon or SL.
Reply:  Acumatica is a modern platform using the latest cloud-native technologies and infrastructure, and it is not based on or derived from Solomon Software. The only tie between Solomon and Acumatica is that one of Acumatica's co-founders, John Howell, was also the founder of Solomon Software, which Microsoft later purchased in 2001. Our Chief Product Officer, Ali Jani, is the founder of both Everest Software and iCode, yet Acumatica isn't based on these solutions either.
NetSuite Claim:  NetSuite has 570 add-on ISV applications in its marketplace, while Acumatica has only 194 on the Acumatica Marketplace.
Reply:  As of January 2023, Acumatica lists 283 ISV solutions in our Marketplace. While that may not match NetSuite's number of partner products, the quality, fit for purpose applications provided by our certified solution partners serve our customers' needs. The Marketplace contains Acumatica-certified offerings across 41 functional topic areas and 18 industries. We continue to selectively and regularly add new ISV solutions based on the needs of our customers and the market.
NetSuite Claim:  Acumatica is unproven at supporting and sustaining significant growth. Acumatica can handle simple, high-volume transactions, but evolution is rarely simple. As transactions increase in number and complexity, Acumatica is known to struggle.
Reply:  Acumatica takes pride in empowering mid-sized businesses to thrive and grow at their own pace. We have a proven track record of complex and large-scale transactions. Here are just two of many referenceable examples.
Incubeta is a global digital agency with offices in 18 countries across six continents – and rapidly growing. The company grew headcount 60% in the last two years and acquired at least five businesses since 2021, managing over 10 currencies and at least as many languages. They chose to implement Acumatica to handle its global operations on a massive scale, and credit Acumatica's consumption-based licensing for being able to bring new acquisitions into the fold quickly and effectively.
Cornell Cooperative Extension (CCE), which operates in New York state, has 65 distinct divisions with 1,500 employees across 56 counties. CCE's multi-operational divisions perform fund accounting, manage grants, run retail stores, and handle eCommerce business—all from one Acumatica deployment.
For other examples of larger companies (>1,000 employees) who also successfully run Acumatica, please see our G2 reviews.
While we focus on the small and mid-sized business (SMB) market, many of our customers have very high transaction volumes. One customer manages 350,000 sales order lines per hour during peak times. NetSuite's false claim could have been spurred by the fact that Acumatica recently had an existing NetSuite customer implement our Sales Order module when they realized their NetSuite system couldn't accommodate over 500 line items per sales order.
NetSuite Claim:  Acumatica runs through batch processing at the subledger level. This means users can't add new transactions during month-end close; they would become "ghost" transactions logged only in the subsidiary and subledger. Acumatica cannot support multiple languages, multiple currencies, and foreign regulatory and tax laws the way NetSuite can. Because Acumatica lacks multi-book accounting, it cannot support international businesses that need to comply with the U.S. Generally Accepted Accounting Principles (GAAP) and the International Financial Reporting Standards (IFRS).
Reply:  Transactions are captured and updated in real-time. There are no "ghost" transactions, and batch processes are not used to reconcile a subledger with the GL. That said, Acumatica does allow users to apply batch processing if/when it makes sense for their business needs. The batch processes are 100% user controlled.
While month-end close tasks are running, users can still easily enter transactions. Of course, they can't make entries for the month that is being closed since that interferes with the closing process. This is true across all ERP systems and paper-based procedures as well.
Acumatica's native capabilities support global customers with multi-company, multi-entity, multi-language, and multi-currency requirements. This includes support for both GAAP and IFRS regulatory reporting.
NetSuite Claim:  Reporting in Acumatica requires programming knowledge and technical expertise. Native business intelligence features within Acumatica are insufficient for many organizations and may require the use of extra third-party solutions.
Reply:  Acumatica's role-based dashboards and generic inquiries put every database element at the users' fingertips, without requiring developer expertise. Acumatica provides 250+ out-of-the-box reports that customers can use immediately. Customers can also develop their own reports in the system's report designer without any programming or coding expertise whatsoever. Creating custom reports requires nothing more than simple point-and-click steps.
For advanced analysis, Acumatica offers generic inquiries and analytical reports within the application. We also have pre-built integrations with Microsoft Power BI™ and Tableau, should users want to leverage these tools to visually represent their analyses.
NetSuite Claim:  Acumatica's consumption-based licensing is a ruse. The number of users does impact pricing because, the more users a company has, the more computer resources it will inevitably use. Acumatica's pricing model can penalize growth and contain hidden costs.
Reply:  Our "unlimited user" licensing model means everyone in an organization can use our integrated system. More users accessing the ERP data means more effective collaboration. And the more effective the collaboration, the more value the company reaps.
As employees engage with a single source of record, business processes are streamlined, automation can be optimized, and everyone is aligned with daily, short-term, and strategic business priorities.
We also believe that part-time and seasonal staff, trading partners, auditors, and customers should be able to engage with the ERP system in the most efficient way as part of a company's shifting and extended ecosystem.
As a business grows and its consumption metrics increase (e.g., sales orders processed, work orders produced), the system's value also increases. Our unlimited user licensing model is neither punitive nor a ruse, and there are no hidden costs.
NetSuite's licensing model includes a fee for resource consumption. If customers exceed certain user or transaction volume thresholds, they must upgrade to higher "Service Tiers." Both Acumatica and NetSuite charge for consumption, but NetSuite also charges user fees on top of those consumption fees. Acumatica does not.
NetSuite Claim:  NetSuite says: "With Acumatica, each of its two releases per year carry the possibility that customizations will stop working and integrations will break. The result is that businesses often put off upgrades out of fear of the disruption or an unwillingness to incur those added costs. Without regular upgrades, they're losing out on one of the biggest benefits of cloud computing."
Reply:  Acumatica allows customers to choose between automatic upgrades through our "Always Current" program or upgrades based on each customer's preferred schedule. Customers choose the option that works best for them. We are passionate about offering choices to every customer, so we can best accommodate our clients' needs.
NetSuite Claim:  Acumatica clearly states that it relies on its partner network to provide customer support. Access to subject-matter experts is often outsourced to external consultants at an additional cost, resulting in greater confusion and less accountability in the event of technical issues.
Reply:  Our VAR partners, from our award-winning channel partner program, serve as our sales and support experts, who provide technical and business consulting to our customer base. Our partners develop deep, lasting relationships with the customers they take under their wings, but they are just the first line of support for end-users. Acumatica has a dedicated customer service team that supports both our partners and our customers. Customers can choose to get support from our partners or directly from Acumatica. This further strengthens the symbiotic relationship we strive for with our close ecosystem of partners and customers.
The Bottom Line
NetSuite's whitepaper tries to portray Acumatica in a negative light. We hope our responses clarify any uncertainties and alleviate any concerns their publication might have caused. If you have any further questions, we are eager to address them. Please reach out to us directly. We'll also be happy to share with you what makes Acumatica different from and better than other options in the ERP market. That's positive competition. That's the Acumatica way.