As Congress moves forward on a massive new infrastructure bill, here's what the construction sector needs to know about the upcoming infrastructure bill.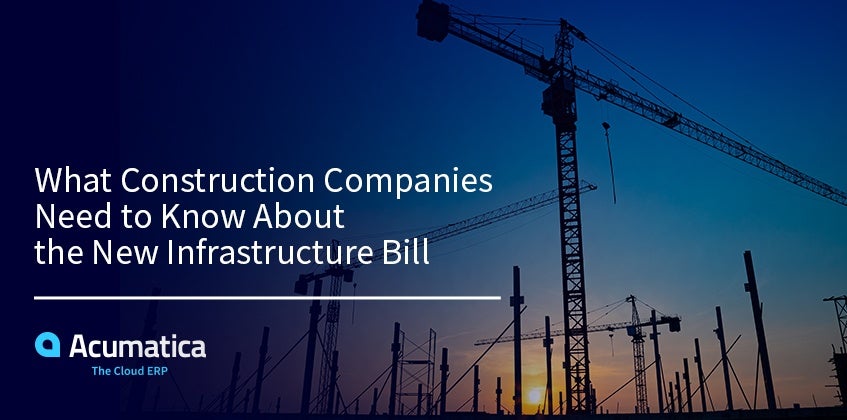 What's in the New Bill, and Why is It Important?
On August 10, 2021, the U.S. Senate passed the $1.2 trillion Infrastructure Investment and Jobs Act. It had bipartisan support, with 50 Democrats and 19 Republicans voting "yes." The infrastructure package was then sent to the House of Representatives, and adjustments are anticipated. If passed by the House, the Senate and House versions of the bill will be consolidated and presented to President Biden for his signature. What the construction industry needs to know is that, according to Investopedia, the bill includes $550 billion in new spending that could prompt incredible growth.
The Bill's Impact on Construction Spending
If passed, the Infrastructure Investment and Jobs Act would cover various building, energy, transportation, water/sewer, and high-speed broadband infrastructure needs. It offers a long list of projected benefits that would result in new jobs, more projects, and increased construction spending.
Even without the bill, construction spending has been growing. In its Sector In-Depth report on Building Materials in the U.S., Moody's Investors Service states: "Robust demand for single family homes, low housing inventory, steady infrastructure spending, and record low interest rates are all factors that will support strength in construction activity. For 2021 and 2022, we project U.S. construction spending to grow at 3.2% and 3.4%, respectively, primarily driven by stable residential and public construction activity and a recovery in nonresidential spending."
What contractors need to know about the infrastructure bill is that, if it passes, Moody's Investors Service reports that construction spending could see a 5% growth increase in 2022 and a 5.5% growth increase in 2023. Aggregate companies could also enjoy some of the greatest benefits, with a projected 3% growth per year.
Higher Prices and Supply Shortages
It seems that the infrastructure bill, should it pass the House, would be a boon for the construction industry. However, labor concerns, supply shortages, and higher material prices could put a kink in the plan. In the last two years, we've already seen how supply chain challenges (e.g., COVID-19 shutdowns, container ship groundings, winter storms, cyberattacks, and a global chip shortage) throw major obstacles in front of various industries.
The Associated General Contractors of America (AGC), teaming up with Autodesk, conducted a workforce survey and reported their results in a recent article. They found that 88% of the surveyed construction firms were experiencing project delays, with 75% saying that longer lead times and material shortages were to blame.
AGC writes: "Sixty-one percent of firms said their projects are being delayed because of workforce shortages. And delays due to the lack of approvals or inspectors, or an owner's directive to halt or redesign a project, were each cited by 30 percent of contractors. An even higher percentage of firms, 93 percent, report that rising materials costs have affected their projects. These rising materials costs are undermining firms' abilities to profit from the work they have, with 37 percent reporting they have been unsuccessful in passing those added costs onto project owners."
Facing these challenges and more, many firms are adopting new technologies to, as AGC says, "become more efficient operators." A cloud-based ERP solution, designed to meet the construction industry's fluctuating needs, is a crucial adaptation tool.
Managing New Volatility with an ERP Solution
The volatility of the construction industry, an infrastructure bill that may not pass, and other such barriers can't be erased—but they can be managed with the right construction and accounting software.
Acumatica's cloud construction management software gives construction firms access to real-time data, syncing across programs and devices to form a centralized solution. It also seamlessly integrates front office, back office, and job site needs with specialized applications. Mobile technology makes project information—such as budgets, billing, commitments, compliance, job costing, and change management—available on any web-enabled device, at any time and from anywhere.
This gives construction firms' decision makers the insights and visibility they need to manage the pain points caused by an unstable market. A single source of truth, housed in a future-proof platform, helps them streamline their workflows and business processes and make knowledgeable forecasts, despite the uncertainties they must navigate.
How Acumatica Can Help
What the construction industry needs to know is that Acumatica Cloud ERP and Acumatica Construction Edition can help contractors connect their businesses. Sales, inventory, and materials management are integrated with project, payroll, service management, and more. Communication and collaboration across the organization increase efficiency and improve outcomes, keeping projects on time and in budget.
Though Congress's decision about the Infrastructure Investment and Jobs Act looms, construction firms are not standing still. They're building strong teams, managing complex operations, and meeting customer expectations.
Contact us today with questions about how Acumatica—recognized by Construction Executive magazine as one of The Top Construction Technology Firms: The Standout Tech Companies of 2021™—can help.