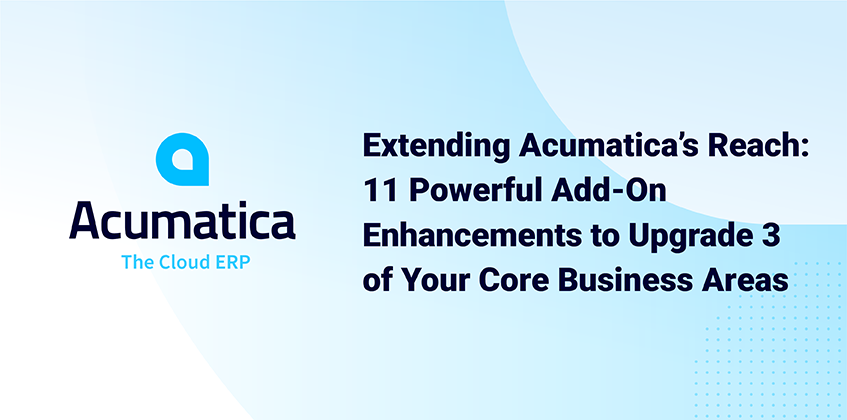 No ERP system, no matter how extensive and robust, can fill every need for every customer. But a high-quality, customer-centric platform should easily integrate with other software, so the system can be personalized to each customer. Acumatica has been purposely built with open APIs, so users can incorporate other modules and software solutions, customize the system, and fine-tune it to their unique needs.
Today, we'll talk about three core business areas in which add-on features (built by Acumatica and by our ISV partners) can be especially helpful: financials, communication, and data analysis.
Features for Fine-Tuned Financials
Managing financial information is obviously critical for any business. Accurate financials help you see your company's performance, monitor cash flow, fulfill audit and tax requirements, and stop issues before they happen. The following modules are built to fine-tune your financial management capabilities:
Satisfied Customers and Companywide Communication
A business's success depends on the people involved—both externally and internally.  Clear and accessible channels and modes of communication will help ensure problems are addressed, expectations get set, and everyone is on the same page. Acumatica is built for people management.
Acumatica CRM helps companies turn happy buyers into loyal customers. Today's consumers have high expectations. They expect fast, responsive service, a personalized customer journey, and a consistent experience, no matter how they interact with your brand. Acumatica's Customer Relationship Management (CRM) software makes it easy to build strong, lasting relationships with your customers. It keeps all customer data at your fingertips, offers a self-service portal, provides sales and support automation features, and helps you manage leads and boost conversions. Acumatica CRM also provides powerful Case Management capabilities through which you can quickly retrieve data for individual cases, manage returns and complaints, and prioritize workflows according to case severity and escalation paths.
Acumatica Gmail Integration facilitates companywide communication, just like the Acumatica Outlook Integration. To keep the business running smoothly, your employees need to be able to easily communicate with one another and with vendors, external stakeholders, and customers. This application allows users to create service and sales orders, contacts, contact classes, opportunities, and leads directly in their Gmail accounts and instantly synchronize that data with the Acumatica system.
Workforce Go! HCM helps drive productivity and increase employee engagement. This application is designed to help you "manage and nurture all of your people in ways that inspire them to success—from pre-hire to retire." It is a unified solution, with a single interface, that stores and provides access to real-time employee data, so you can manage human capital in a way that boosts employee morale and grows your business.
Detailed Data Reporting and Analytics
Data, and the reports drawn from it, are the most important pieces of a modern business's toolkit. But basing decisions on inaccurate, outdated information is a dangerous move. Instead, consider tools like:
Reporting, Dashboards, and Data Analysis Toolkit: To navigate the competitive marketplace, you need to analyze trends and see the health of your business at a glance. This collection of resources "comes with a full set of essential reports that can be used out-of-the-box to access real-time data from" Acumatica. You can also easily customize these reports, or design entirely new ones, so you can get the information you need exactly when you need it.
Velixo Reporting, Planning, and Analysis in Excel: Velixo, "built by Acumatica experts for Acumatica users," is a powerful reporting solution that allows you to work, seamlessly and in real time, from within the comfort of Excel. It removes the "manual" aspect of working with spreadsheets and automatically syncs all information with the rest of your Acumatica system.
DataSelf Analytics: This BI-based reporting extension for Acumatica provides deep analytical insights with a "big-picture view into trend analysis, predictive forecasting, and cross module analysis." Its analytics library and report design toolkit are built to provide peace of mind—so you'll know you're always relying on clean data and accurate reports.
Reaching Toward the Future
Acumatica's business management solution is one of the most complete, forward-thinking systems on the market, and its extensibility means it can be molded to the needs of any business—pushing the boundaries of what is possible for a modern ERP solution. Acumatica's enhancements can help transform your organization into a streamlined, efficient, agile competitor in the digital world.
See what Acumatica can do for your business today.