Every business has the goal of retaining customers, but not every business meets that goal. The ones that do? They're operating with an integrated CRM-ERP solution.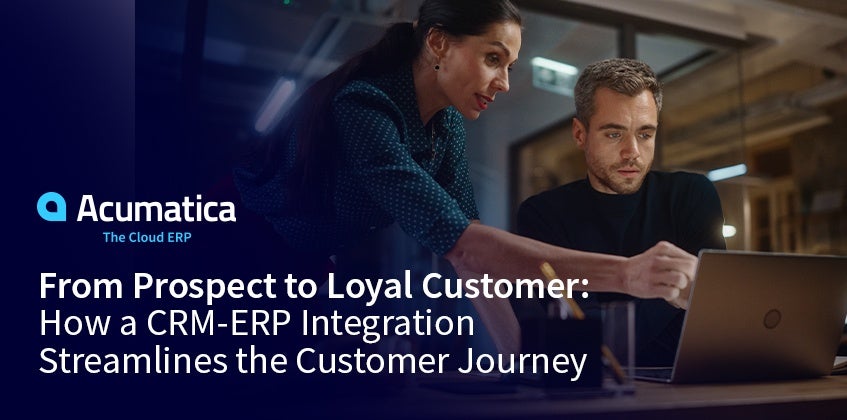 With so many products and services available, is it realistic for businesses to expect loyalty from customers? For businesses with a CRM embedded within their cloud ERP solution, it is.
CRM-ERP integration: The what and the why
CRM stands for Customer Relationship Management. It's software that manages every aspect of the customer journey, from leads, opportunities, and quotes to orders and customer case support. When researching CRM options, there are certain 'must haves' to be on the lookout for, including a 360-degree-view of customer information, integrated sales quotes, a customer self-service portal, and being embedded within a cloud-based ERP (Enterprise Resource Planning) solution.
A cloud ERP solution provides an integrated suite of business applications, including finance, HR, distribution, manufacturing, and more. As a cohesive business management system, it connects every aspect of a business onto one platform, which ensures that information is automatically updated and available to all team members. And because it's based in the cloud, these same team members have mobile access to the solution from anywhere and at any time.
When a cloud ERP solution has unified (or built-in) customer management software, the customer journey is transparent with their data front and center. Meaning, every team member is working with synchronized, accurate information. Acumatica's complimentary eBook, Maximize Growth and Boost customer Satisfaction with Unified ERP and CRM, explains further:
"Sales and support rely on one source of customer truth to inform their decisions. When a salesperson calls a customer via Acumatica, they instantly see all open support cases, notes, and even open AR (Accounts Receivable) invoices, which informs their decisions and helps them resolve issues faster. Marketing can design campaigns based on customer behavior, preferences, and persona. Managers gain full transparency into CRM activity and account history as well as real-time key performance indicators (KPIs)."
The eBook discusses the many benefits of an integrated CRM and ERP, but the overarching message is that the integration bridges the gap between marketing, sales, and customer support teams.
Bridging the gap with a CRM-ERP integration
To understand how a CRM-ERP integration bridges the gap between teams involved in the customer journey, let's first take a look at how the customer journey progresses. The workflow illustration below gives a clear picture of each phase.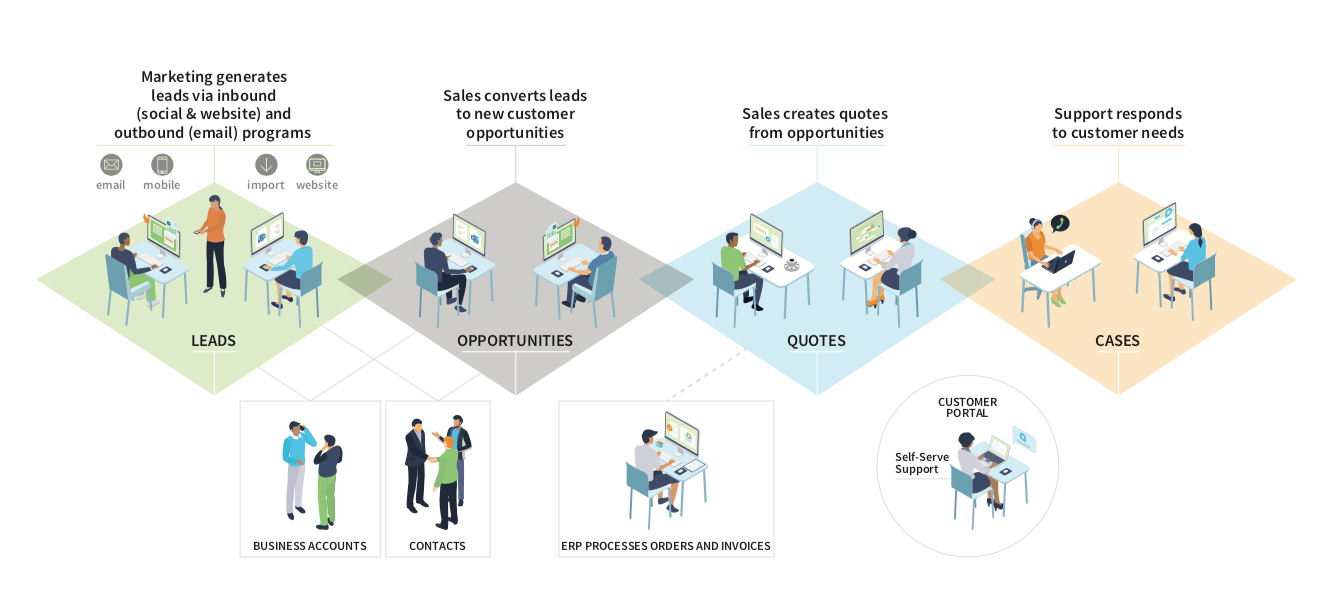 As shown, the marketing team produces programs that encourage prospective customers to check out their product or service. The programs include social media, the company's website, emails, advertisements, etc. People who respond to the marketing campaigns are called 'leads.' The sales team steps in to work with these leads, and if successful, turns them into new customer opportunities. Opportunities turns into customers once they accept a quote generated by the sales team. From there, the team processes orders and invoices within the ERP solution. The support team responds to customer needs with the additional support of the customer self-service portal, which enables customers to find immediate answers to pressing questions.
Seems fairly straightforward, but if the business hasn't implemented a unified CRM-ERP solution, it's not. For example, the marketing team may be utilizing a demand generation program that the sales team cannot access. Or the customer may have supplied all of their information to the marketing team but because the sales team is working with a separate system, the information isn't available and requires the customer to repeat it. Additionally, if a customer has a case open and the support staff doesn't have any historical data, their ability to provide seamless customer service is limited.
With a unified CRM and ERP system, every team member has one version of customer data, are working with integrated workflows, and has an open view of the marketing and sales pipeline—from the beginning through ongoing customer interactions. And they don't have to build or maintain integrations between separated functions to do it.
Unified CRM-ERP equals customer satisfaction
In a recent CRM post, Acumatica's Aliya Rakimgulova notes that keeping current customers satisfied may be a revenue generator, but attracting new customers is still incredibly important. Once a customer is a customer, retaining their loyalty is key. She writes, "[CRM] is a powerful customer service tool for businesses of all sizes and in all industries. As a customer service tool, it aids in increasing your customer service levels, which leads to increased customer satisfaction and loyalty. And increased customer loyalty leads to increased profitability."
Acumatica Cloud ERP and our fully integrated CRM provides businesses with a complete solution that ensures teams are not working separately. They have a single database in a single user interface; the open APIs and low-code/no-code tools allow for easy integration with third-party applications, such as HubSpot and SendGrid; and the mobility capabilities guarantee that real-time data is available 24/7, which includes automatic syncing of changes and updates throughout the system.
The eBook says it well: "With CRM embedded in its ERP platform, Acumatica supports a targeted, cohesive customer journey as well as a seamless connection between business and customer management applications. Users can plan, execute, and measure marketing and sales activities on one integrated platform that automatically updates corresponding financial records."
Acumatica customer Patrick Madison, CFO, Korpack, praises Acumatica's CRM capabilities. "We use the Acumatica Customer Management Suite religiously to track opportunities and leads, and what's going on with a contact, and we love that Acumatica integrates well with the Microsoft Office suite because we are also strong users of Excel, Power BI, and Outlook."
To learn how Acumatica's integrated marketing and sales automation via our integrated CRM can help your business accelerate growth, contact our team today.