Who says the digital transformation journey is never ending? Acumatica CEO Jon Roskill, that's who. He explains why today.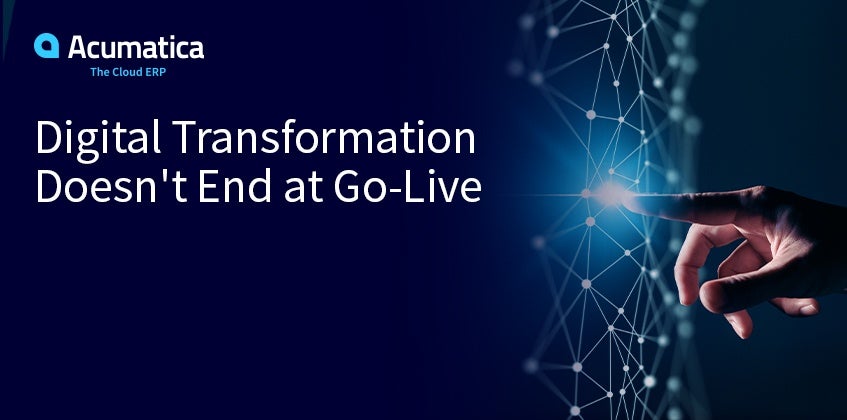 Search for 'digital transformation' in the Acumatica Cloud ERP Blog, and you'll get over 50 results. That's because here at Acumatica Cloud ERP, digital transformation is not a one-and-done conversation but an ongoing discussion—just as digital transformation is an ongoing journey.
"It's not the destination, it's the journey" – Ralph Waldo Emerson
Who wants to put in time, effort, and funds to go somewhere or to do something but never reach the destination or attain the desired outcome? Those who see the journey itself as the goal. They are the ones who understand that personal or professional growth is achieved by constantly moving forward.
Stagnation is a real threat for organizations that have yet to embark on the digital transformation journey. They cannot survive if they aren't able or prepared to adjust to market fluctuations and unexpected events. Business continuity during these times is essential, and in 2020, business continuity depended on making rapid decisions. As I noted in a recent Forbes article, if decisions are based on incomplete or missing information, then the business is utilizing trial-and-error methodology that produces mixed—often subpar—results.
Companies can eliminate this way of doing business and the concerning stagnation by digitally transforming. Digital transformation shifts the business from taking an analog approach to one that is digitized, automated, and integrated  via a cloud-based ERP solution, becoming a connected business in the process. The cloud ERP platform acts as a centralized repository for data, where it can be stored, analyzed, and retrieved easily and according to each business' unique needs. Every user can access the solution remotely at any time and from anywhere.
This is a gigantic first step in a journey comprised of unending (but exciting) steps, something I discussed with diginomica's Jon Reed during Acumatica Summit 2021. A real digital transformation is part-and-parcel of the business; it doesn't stop with setting the business and its processes on top of the software and moving up a level. It's being able to grab opportunities as they present themselves because of digital resiliency and business agility. And this resiliency and agility continue to manifest throughout the digital transformation journey.
As I told Jon: If you look at our best customers, as soon as they get to the next stage, they've got everything mapped that they want to do next. The want more dashboards; they want more modules; they want more integrations. And it's all connected to making the business better.
These customers aren't satisfied with reaching a goal and hunkering down. Instead, they're continuing to nurture the success of their business by keeping their digital transformation journey going.
"There is no substitute for hard work" – Thomas A. Edison
Obtaining the full value from cloud ERP solutions like Acumatica doesn't happen the minute you and your ERP vendor hit the go-live button. The many benefits of implementing cloud ERP software, which include cost savings due to reduced investment in hardware and IT support, the elimination of data silos, remote access, streamlined processes, modern UI, integration with third-party applications, data visibility, and emergency/disaster protection (the list goes on), are often felt right away—but not always.
Jon, in an article on the stages of cloud ERP value extraction, writes, "Extracting full value from cloud ERP is not about flipping the go-live switch. It requires organizational will and a fierce collaboration with the vendor and/or consulting partner(s). Call it digital transformation or business model evolution; call it self-disruption or agility. Those customers getting the most out of cloud ERP are doing much more than moving off legacy systems."
He goes on to point out that cloud ERP value achievement is fulfilled in multiple steps, including:
Consolidating disparate systems on a user-friendly platform
Gaining insight through data visibility via a "single source of truth"
Achieving new business opportunities with an agile, open platform
The steps are broken down even further and include reallocating employee roles due to the automation of administrative and time-consuming tasks, utilizing real numbers (that come from one source) and dashboards to take real-time action, adding functionality through ISV partners, undergoing ERP updates to benefit from emerging technologies, and so much more.
Thankfully, companies already on their digital transformation journey during the pandemic were in a much better place to derive value from their cloud ERP investment, specifically in terms of their ability to transfer employees from working in the office to working from home. Monahan Partners is one such company.
They completed their go-live with Acumatica during the pandemic, and Vice President Matt Short says, "We were extremely lucky to be in the process of implementing an ERP system like Acumatica that we can access anywhere. This made it possible for our office staff to work remotely when our local area experienced a spike in cases, without causing any disruption in customer service."
"If you can dream it, you can do it" – Walt Disney
During Acumatica Summit 2021 (Day One and Two Keynotes are available online), we discussed digital transformation through a post-pandemic lens. The challenges wrought by the pandemic were difficult, but surmountable with a cloud ERP solution like Acumatica. Our award-winning solution drives team collaboration within the platform and puts customers first during uncertain times.
Your digital transformation journey should be an open-ended proposition. It's the only way businesses can continue to grow and mature in fluctuating markets and unexpected crises. To learn more about how Acumatica can help facilitate your journey, contact our team today.