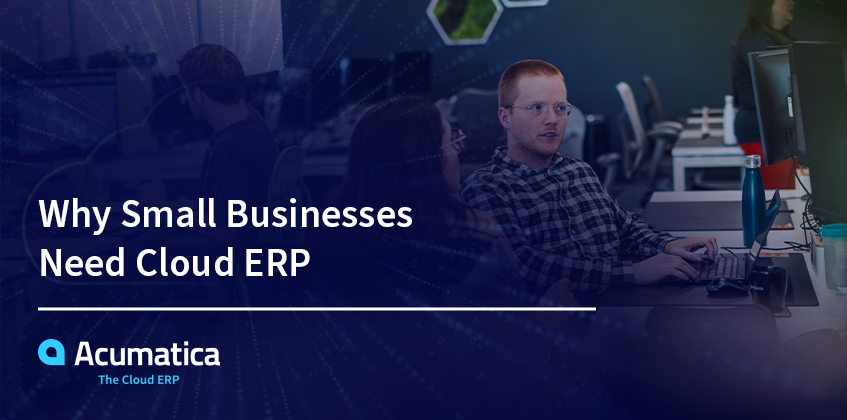 A small business is easy to recognize but hard to define. In an effort to determine how big is still considered small, Shopify turned to the U.S. Small Business Administration (SBA) and found that "generally speaking, the SBA defines a small business as one that employs fewer than 1,500 people and generates a maximum annual revenue of $41.5 million (as of 2017)."
If your company falls into this category, then you're one of 32.2 million small businesses operating in the U.S. today. As the bread-and-butter of the U.S. economy, small business success is vital, but, sadly, statistics show that only 55% of small businesses make it past their fifth year.
Such a high failure rate is understandable, considering the complexities of managing a business, but is failure preventable? It is—with the right technology. And, in this case, the right technology is cloud-based small business ERP.
What is ERP for Small Business and What are Its Benefits?
Though the "E" in ERP stands for "Enterprise," businesses of any size can (and should) use a cloud-based ERP solution to replace the multiple business systems they've likely cobbled together to juggle their many daily tasks. By merging financials, sales, inventory, manufacturing, distribution, and CRM needs (and more) in a centralized solution, a small business ERP system offers a "single source of truth" drawn from updated, accurate, companywide data.
Essentially, an ERP system is the glue that holds an organization together, and it delivers critical benefits. Let's examine these ERP benefits more closely.
Greater Workforce Collaboration
With a cloud SMB ERP solution, team members have access to the same, accurate information at the same time. So, they're always on the same page when working together on business-wide projects. The time wasted on verifying information from disparate systems can now be spent to proactively move the project forward. Easily communicating through shared files in an integrated system ensures seamless collaboration between all teams—front-office, back-office, field, and remote.
Easier Team and Resource Management
A small business ERP system enables managers to monitor their teams and resources from one solution. Critical information—such as what inventory they have on hand or what team members are working on—is available at their fingertips. Any necessary adjustments or changes can be made easily and quickly from a single dashboard.
Improved Accounting Standards and Regulatory Compliance
Complying with constantly changing accounting regulations is a complex challenge for businesses. Whether navigating compliance at the local, state, national, or international level, a cloud ERP for small and medium businesses eases this complexity by providing the internal control, automatic updates, and automated data collection capabilities companies need to stay current with evolving statutes and standards.
Complete Visibility Across the Organization
Before implementing a comprehensive cloud ERP solution, most small businesses rely on disconnected systems to manage their varying responsibilities. This results in siloed data, which is difficult to compile and often requires manual workarounds. It's a time-consuming, inaccurate process that can be eliminated with ERP for small business.
A small business ERP solution gathers your data into a central repository, reducing human effort and providing a 360° view of your business. You and all your teams will have access to innovative business intelligence tools that deliver actionable insights for strategic decision making.
Increased Adaptability and Scalability
Cloud ERP solutions offer a level of adaptability and scalability not possible with disconnected, legacy solutions or on-premises business management systems. For example, cloud-based solutions allow you to seamlessly integrate with business-enhancing, third-party applications through open APIs—bringing all your applications under the same technology umbrella, extending your system's functionality, and improving your business's adaptability.
You can also easily scale your business up or down with a cloud ERP solution that accommodates requests for increased or decreased resource usage.
Survey Says: Adopting Modern Technology Makes a Difference
In a survey by SMB Group, 736 small and medium-sized business (SMB) decision-makers and influencers were asked about the pandemic's influence on SMB trends. The results of the survey were published in an eBook, SMB Directions for the Future of Work, and it revealed that:
But one of the biggest takeaways from the SMB Group survey had to do with tech adoption. The eBook states: "Just under half of SMBs said that they accelerated tech adoption due to COVID-19. The link between tech investments and performance is clear: SMBs that accelerated technology adoption and investments were 1.6 times more likely to anticipate increased revenues in their next fiscal year than those that decelerated or made no change."
Clearly, implementing a cloud ERP system benefits small businesses like yours. It helps them efficiently and cost effectively manage varied and challenging needs, and, at the same time, compete against larger companies with deeper pockets. In fact, if you choose the right cloud ERP solution, the affordability factor is raised even higher.
How Acumatica Can Help
Acumatica is an award-winning cloud ERP solution—recently recognized by Nucleus Research in its inaugural SMB ERP Technology Value Matrix 2022 report—that delivers advanced features and functionalities and is founded on a resource-based pricing model. This means that businesses pay for the resources they actually use—not for the number of employees they add to the system.
Our unique and affordable pricing is one of the many reasons businesses choose Acumatica, and this was the case for ToughBuilt. Controller and acting CFO Martin Galstyan says, "[We] decided to go with Acumatica because we liked its licensing model."
But that's not the only thing that attracted the ToughBuilt team. Says Galstyan: "It was cloud-based, offered a wide variety of third-party add-ons, and also came with the ability to personalize it to the way we operate the business. [With Acumatica], everything is connected and quicker, giving us an efficient way to manage the business."
Like ToughBuilt, your small business can navigate the new workplace and succeed in today's digital economy with Acumatica's modern and comprehensive small business ERP solution. To learn more, contact our team with any questions and/or to schedule a demonstration.