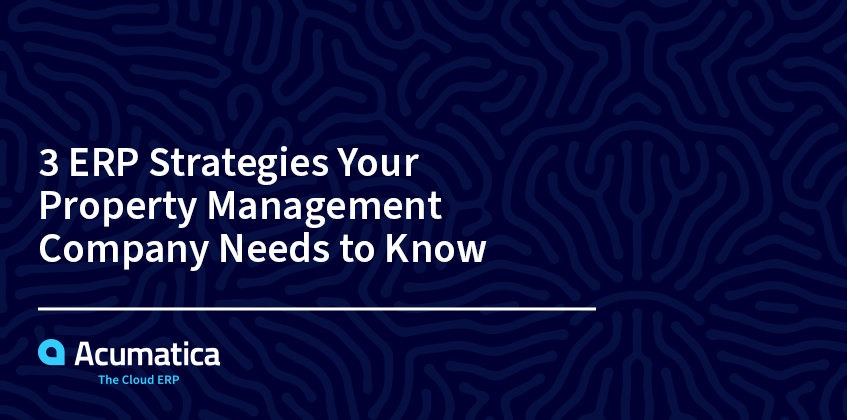 Things appear to be looking up for property management professionals. Fortune Business Insights reports that the global property management market size is projected to grow to USD 37.25 billion by 2029, which means there are plenty of opportunities for your business to excel.
But taking advantage of these opportunities may be challenging if your property management company is relying on outdated, disconnected business solutions and basic accounting systems. If this is the case, then it's past time to replace your multiple applications with a comprehensive Enterprise Resource Planning (ERP) solution that offers extensive property management features and functionality.
Today, we'll explore why an ERP solution is a powerful tool for property management professionals and reveal three property management ERP strategies you can implement to help your business thrive and grow.
Why an ERP Solution Is So Important for Property Management
With 326,000 companies that generate $99.449 billion in annual revenue, the U.S. property management industry is becoming increasingly competitive. Outmaneuvering the competition and generating impressive revenues are two of your top priorities, and implementing ERP software can help you achieve them.
ERP software centralizes every property management application you currently use into a single solution, storing and synchronizing data from all departments and giving every team member access to accurate, real-time information. This centralization of data fosters crucial collaboration and helps your company operate cohesively.
The result is greater productivity, improved visibility, and expanded control over data management and data sharing. In today's marketplace, a user-friendly, affordable, and flexible ERP solution is critical to managing, monitoring, and assessing how well you and your teams are developing the business, serving tenants, and fulfilling their changing expectations.
Property Management ERP Strategies
Clearly, there is value in investing in an ERP solution for your property management needs, but how do you get the most from that value? It begins with following these three strategies, which harness the right ERP solution's powerful property management features.
Cashflow visibility, reporting, and business intelligence features improve decision-making.
Being able to make smart decisions is predicated on your ability to see—in real time—what's happening with your cashflow and ledger activities. An ERP solution provides the features that put financial management data at your fingertips (e.g., General Ledger, Accounts Receivable, Accounts Payable, Cash Management, Multi-Entity and Intercompany Accounting, and more). When you know your income and expenditures down to the penny, you have a transparent picture of your company's financial health.
When you combine this financial clarity with built-in, customizable reporting and analytical tools, you've equipped yourself to spot trends, identify issues, and manage customer and maintenance needs efficiently. Making decisions based on this solid information boosts company productivity and profitability.
Lease management features help you better organize leases and contracts.
Managing leases is one of the more complex, time-consuming tasks on a property manager's to-do list, but when you automate many—if not most—of these tasks with an ERP solution, they lose their complicated, lengthy hold on your schedule. For example, all lease information for every rental is stored in the ERP solution, from contract expirations and maintenance requirements to rental values and tenant data. Instead of painstakingly creating and filling in new contracts manually, the ERP solution does it for you.
Customized dashboards ensure your regulatory compliance needs are met.
Real estate is governed by many different local, state, and national regulations and statutes pertaining to proper eviction processes, fair housing requirements, and effective property maintenance. Failure to comply with these regulations could lead to serious financial and legal repercussions.
Fortunately, ERP systems provide personalized dashboards that can be tailored to grant each team member visibility into specific areas of your business. Areas that are under heavy regulation can be closely monitored to ensure that all issues of compliance are continuously met.
Selecting the Right ERP Solution for Your Property Management Needs
There are plenty of ERP solutions in the market today. The importance of choosing the right one is what Acumatica customer Ming Kwan, VP, Accounting and Enterprise Systems, Onni Group, discovered for himself.
Onni Group has been delivering award-winning, high-quality developments for over 50 years—constructing more than 15,000 new homes and building over 18.4 million square feet of office, retail, and industrial space (with an additional 28 million square feet of space in different phases of development). The company also owns and manages more than 11,200 rental apartments.
Onni Group outgrew its ERP technology. Finding a new, integrated system that could manage all its business needs was a necessity, but the search for the right solution took some time.
"We spent about three years evaluating a lot of different products," says Kwan. "We met with the SAPs and the NetSuites, the Yardis, and Sage Intaccts."
After fully assessing each ERP option, the Onni Group team chose Acumatica Cloud ERP. The reason? Acumatica offered a modern Construction Edition that included "the property management piece" they needed. Now, Onni Group benefits from Acumatica's essential property management software features, including:
Multi-entity property management.
Lease management.
Property accounting.
Tenant relationships.
Facility maintenance.
Procurement.
Collections.
Bank feeds.
AP automation.
Business intelligence.
Onni Group can now make wise business decisions based on accurate information, easily manage lease and contract documentation, and comply with regulatory requirements through Acumatica Cloud ERP. This empowers them to continue diligently serving their customers and communities as a trusted business committed to quality construction, innovation, sustainability, and customer satisfaction.
How Acumatica Can Help
Acumatica provides businesses like yours with specialized property management capabilities. To learn more about these capabilities, download Acumatica's free "Future-Proof Property Developer Software" eBook, which dives into how Acumatica can help you "improve facilities, save time, maximize labor, optimize staff productivity, and gain valuable business insights to drive sustainable growth."
You can also download Acumatica's "Future-Proof Property Developer Software: A Solution Brief for Property Managers and Construction Executives" for more information. And contact our experts with any questions or to set up a demonstration.