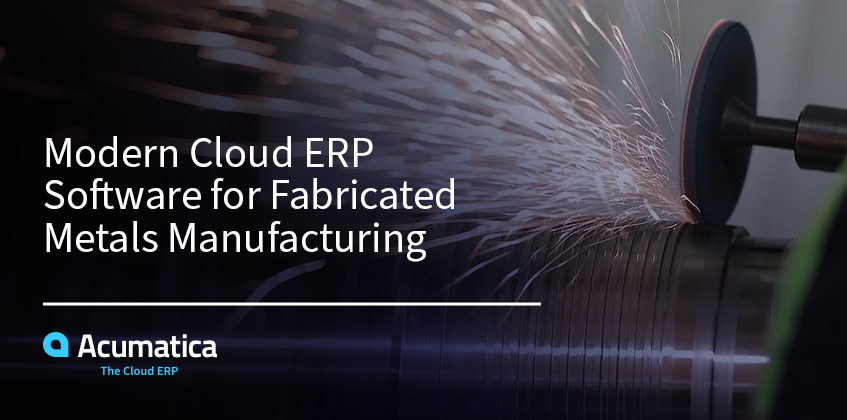 When you open a metal can or use a fork, you probably don't think about how it was made. That's ok because fabricated metal products manufacturers, who also generate hand tools, shipping containers, heating equipment, fasteners, and much more, do. As with all manufacturers, their manufacturing process is complex, and those using aged ERP systems instead of modern cloud ERP solutions struggle to thrive even as the fabricated metal products manufacturing industry is projected to grow.
According to a recent Acumatica Industry Digest, the 2019 annual revenue for 50,000 US fabricated metal products manufacturers reached $20 billion, and the market is projected to reach $25 billion by 2026. Utilizing technology that doesn't integrate with other applications, automate processes, or provide real-time information to every employee is a sure-fire way to not participate in this growth.
Manufacturers who discovered this for themselves decided to fix the problem by implementing manufacturing management software within a comprehensive cloud-based ERP solution.
Why Fabricated Metal Products Manufacturers Choose Acumatica
Acumatica's ERP for fabricated metals manufacturing delivers the features and functionality manufacturers need to manage their accounting, estimating, scheduling, purchasing, and inventory needs, as experienced by these four Acumatica customers highlighted today. They are prime examples of cloud ERP software's transformative powers.
OFS International LLC
OFS International LLC (OFSi) provides threading, couplings, inspection, pipe repair, accessories, and field services to the oil and gas industry. Founded in 2012, it is a privately held company that prides itself on supplying exceptional products and services and being known as a trustworthy partner.
Before implementing Acumatica Manufacturing Edition, Acumatica Financial Management, and Acumatica Service Management, OFSi's financial system, which was separate from its inventory solution, lacked transparency, required manual processes, and couldn't keep up with the company's three subsidiaries.
The search for a modern, integrated ERP solution led them to Epicor, JobBOSS, Sage, and SAP, but it was Acumatica's unlimited user licensing model and open platform that clinched the deal.
"As we build the business from purely a service company to a manufacturing and full solution provider, we needed more than just an inventory system," IT Manager Yuri Dorovskikh says in the company's Acumatica customer success story. "Acumatica gives us the capability to provide PO's, available raw material, and manufacturing modules to provide accurate available-for-sale inventories, including all pertinent costs."
Yuri also says that the ease of customizing Acumatica is its number one advantage. "It's very simple to do any kind of customization in-house."
Chief Commercial Officer David Green adds his opinion on why OFSi selected Acumatica over other providers. "One of the things I like about Acumatica is its ability to derive information from wherever you are." He also mentions that downloading reports only takes a "click of the button."
The manufacturing company has been using Acumatica to support its rapid growth for several years. In a recent catch-up conversation, Yuri explains that they were able to continue working during the COVID-19 pandemic as an essential business without disruption and that Acumatica's unique pricing model has been helpful when they added or deducted users due to the variability in the oil and gas industry, and they have been able to track customers' inventory within their warehouse thanks to Acumatica's flexibility.
"We use Acumatica without changing our business processes," Yuri says. "It's truly our system of record, our source of truth."
TRA Snow & Sun
TRA Snow & Sun is a 100% American-owned-and-operated company located in American Fork, Utah that engineers, manufactures, and distributes snow retention devices, snow guards, and snow rail systems for roofs. For over two decades, their products have safeguarded their clients from the danger and expense of sliding snow and ice.
The manufacturing company employs about 25 people. Its four-point mission statement revolves around offering customers high-quality products based on the customer's unique requirements and striving for excellence as a united, innovative team.
As the company grew, it relied on various financial solutions, ending up on QuickBooks in the 2010s. According to CFO Jacob Anderson, the simple accounting software couldn't keep up with their expanding inventory and manufacturing needs, and they knew they needed "something more."
With the help of Premier Computing, the company researched cloud-based ERP options, such as Microsoft Dynamics, Oracle NetSuite, and SAP Business One. However, when Acumatica was introduced, Jacob says, "Acumatica sold itself."
They implemented Acumatica Manufacturing Edition with MRP, Product Configurator, Bill of Materials, Manufacturing Data Collection, CRM, and Project Accounting in 2017. Jacob says, "We have made marked improvements from the old days and QuickBooks, where we had months of paperwork and builds to today, we've set up bill of materials and we can back flush materials inside Acumatica."
Fast forward to March 2020, and CEO Laurie Anderson says Acumatica was instrumental in ensuring business continuity during the unexpected and life-changing pandemic.
"Had we not changed to Acumatica when we did, we would not have been able to adjust. We were able to have some of our employees work from home, in their home office, and within minutes, connect with our production manager. They could put a sales order in, and instead of our salespeople hand carrying a paper down to our production manager like we used to have to do, all of a sudden, it's right there on the screen. It just made everything so much smoother."
Their goal is to continue improving their manufacturing business, and Laurie says Acumatica is helping them do it.
Tri-Arc LLC
Founded in 1959, Tri-Arc LLC is a small-to-medium-sized business (SMB) that manufactures access platforms, such as ladders, for transportation & trucking, roof fall protection, aviation, oil & gas, warehouse & distribution, material handling, and construction businesses. Whether a client needs an off-the-shelf product or a custom-made solution, the Pittsburgh, Pennsylvania company can do it.
By the 1990s, Tri-Arc notes that it had become an industry leader. The team strengthened its leadership position by adding a "state-of-the-art robotic weld cell, to revolutionize the ladder manufacturing process, and the country's largest conveyer fed powder coat paint systems, to give our products the premier quality finish in the industry," and by launching their custom solutions division, Engineered Access Solutions (EAS) in 2005. And in 2010, the company launched configurable ladder and platform products (U-Design Configurable Products).
Its success in the fabricated metal products manufacturing industry was not attributable to its business management solution, Macola. The company, on advice from their technology partner Algorithm Inc., decided to replace Macola with Acumatica.
Steve DeFlitch, Manufacturing Quality Manager, says that when the pandemic hit, it was "a good thing that we switched to Acumatica because it's an online service, so people aren't having to dial into a server, which is what we had to do before."
Tri-Arc implemented Acumatica Manufacturing Edition with MRP, Advanced Financials, and Inventory & Ordering Management. Now, Tri-Arc team members can seamlessly move from module to module, which they were unable to do with Macola's siloed information. "You can just get to almost anything from [an Acumatica module]. For example, if we're doing a work order, and I'm looking at the history of inventory ID, I can just click down into that inventory ID and see everything about it, while before, I wouldn't have been able to do that. Everything was siloed off, so it's a lot nicer to be able to drill down into things."
Though Steve says Acumatica wasn't on his radar screen before Tri-ARC implemented it, he researched Acumatica's manufacturing management software and found that it was ranked highly in Gartner's Magic Quadrant and was an affordable option. "I've been very happy with the switch."
ARC Abrasives
Located in Troy, Ohio, ARC Abrasives is a family-owned business that manufacturers and distributes abrasive products, such as grinding wheels, flap discs, belts, and cartridge rolls. Beginning in Zerla and Si Stayman's garage in 1960, the company grew, introducing new products and building a larger facility in the mid-80s to accommodate their increased production. In 2016, ARC moved into a 68,000-square-foot facility.
An Acumatica customer since 2021, the American manufacturer implemented Acumatica Manufacturing Edition with Financial Management, CRM, Portals for CRM, and Warehouse Management. Senior Accountant and ERP Manager Adriana Davis says that, in terms of communication, users can easily access detailed information and that it works well for her team.
She also says, "With Acumatica, ARC Abrasives now has the information needed to make faster decisions. The power of Acumatica's Manufacturing Edition is just a click away helping the business run more efficiently."
Why Your Fabricated Metal Products Manufacturing Company Should Choose Acumatica
These and many other Acumatica customer stories provide excellent reasons for choosing Acumatica for your fabricated metal products manufacturing needs. The Acumatica Manufacturing System Evaluation Checklist, a free download, offers the critical features and benefits offered by Acumatica, including Engineering Change Orders, Outside Processing, Product Configurator, Manufacturing Estimates, and Barcoding, Lot and Serial Tracking, EDI Transactions, Backflushing, and so much more.
Download the checklist and this Acumatica Industry Digest, "Manufacturing: Fabricated Metal Products," to learn more. You can also contact our team of experts to ask any questions about our award-winning cloud ERP software and to schedule a demonstration.