We never tire of hearing what our users have to say about their experience with Acumatica's cloud ERP solution on G2's software review platform. We also never tire of being named a Leader by G2.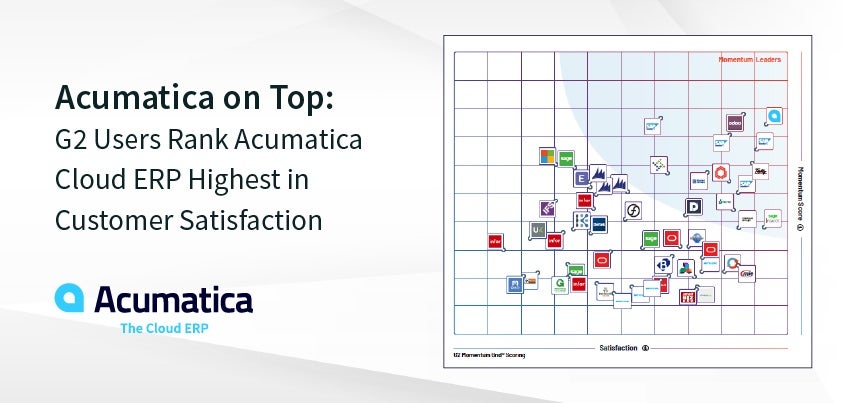 G2, the largest tech marketplace for unbiased software reviews by real users, has released their Winter 2021 reports, including their Momentum Grid® Report for ERP Systems. We're very pleased to announce that Acumatica cloud ERP ranked highest (out of 11 leading ERP systems) in Customer Satisfaction and ranked #1 in eight Momentum, Usability, and Relationship reports within the categories of Accounting, Distribution, ERP Systems, and Project-Based ERP.
Why Acumatica took the lead in Customer Satisfaction
G2's Momentum Grid calculates their Momentum and Satisfaction scores using a proprietary algorithm based on social, web, employee, and review data that G2 deems "influential in a company's momentum."
Per the G2's grid report, the Satisfaction rating is based on:
Customer satisfaction with end user-focused product attributes based on user reviews
Popularity and statistical significance based on the number of reviews received by G2
Quality of reviews received (reviews that are more thoroughly completed will be weighted more heavily)
Age of reviews (more-recent reviews provide relevant and up-to-date information that is reflective of the current state of a product)
Customers' satisfaction with administration-specific product attributes based on user reviews
Overall customer satisfaction and Net Promoter Score® (NPS) based on ratings by G2 users
The Momentum rating is based on employee growth, review growth, social growth, and web growth along with year-over-year change.
Both the Momentum and Satisfaction scores are used by sellers, media, investors, and analysts to compare ERP systems and analyze market trends. While Acumatica's Momentum Score was a strong 77, it's our Satisfaction Score of 96 that put us firmly in the lead over our major competitors, including SAP, Sage Intacct, and Oracle NetSuite. Acumatica's total Momentum Grid Score was an impressive 84.
Download the full Momentum Grid® Report for ERP Systems for all the details.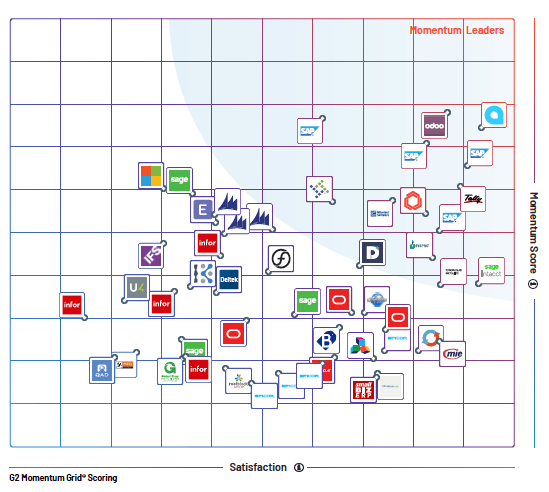 Acumatica cloud ERP: Leading in Satisfaction and earning more G2 badges
In addition to maintaining the two Best Relationship and Best Usability in Distribution badges we received in the Fall, Acumatica earned five badges in these latest reports. They include Best Relationship for Mid-Market and Best Relationship for Overall in ERP systems and Best Relationship, Easiest to Use, and Best Usability in Project-Based ERP. We also raised Satisfaction rankings in 21 reports.
The pandemic has forever altered the way businesses operate, but it hasn't altered Acumatica's service commitment to our customers. As Acumatica CEO Jon Roskill noted in his review of 2020, we were "busily ensuring business continuity for our customers through our secure and mobile cloud ERP software."
Acumatica customers were able to successfully run their businesses even during these unsettled and uncertain times, and many of our users have expressed their appreciation for Acumatica on Acumatica's G2 page, like these two recent excerpted reviews:
"This ERP covers everything for our organization. From tracking shipments, to customer service cases, to production and everything in between. Supporting our users from an IT Management perspective is very easy. This is your do-everything solution." – James H
"The system was built from the ground up as a web-based platform. Very open and easy to get data in and out for users of all skill levels. Consistent user interface across all modules. Acumatica is dedicated to development and continuous improvement as they have two major releases a year so new and improved functionality is always available. Acumatica is customer focused and product ideas are taken from public websites as consideration for new/improved features in the product." – Fred R, IT Director
G2 is the platform upon which reviewers can easily share their opinions on the software/services they have purchased and used. Over 1,200,000 authenticated reviewers and over four million tech buyers and sellers have participated in the community, benefitting from the open and honest technology discussions that happen every day.
We're excited that we've received 4.5 out of 5 stars on G2 from over 400 actual users. Their feedback, both positive and constructive, plays a huge role in the improvements we make to every release—something we do twice a year without fail. Being named a leader in ERP usability by G2 is both an honor and a responsibility we take seriously. We guarantee that our integrated, flexible, and mobile business management solution can help every business—regardless of industry—survive and thrive in the new reality we all find ourselves in.
To learn more about Acumatica, check out these Acumatica user reviews. You can also contact our team with any questions about our cloud-based ERP solution and/or to schedule a demonstration.