The Acumatica Customer Bill of Rights cites 24/7, consistent service and dual layers of support as a right of every Acumatica cloud ERP customer. Here's a guide to what that looks like.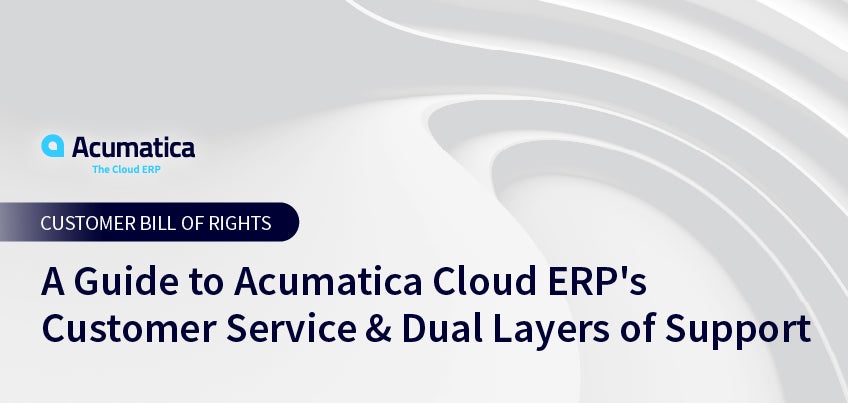 The Acumatica Customer Bill of Rights has caused a stir among cloud ERP vendors and customers. No other vendor in this space has so boldly established customer rights and committed to supporting them 100%. Granted, some vendors claim to support these rights, but . . .
Have you seen any other cloud ERP vendor publicly guarantee you the right to an easy-to-understand SaaS end-user license agreement; licensing that doesn't inhibit growth (and limited annual increases); ERP implementations without hidden fees; deployment flexibility; and access to YOUR data, anytime?
We didn't think so.
Your right to consistent, 24/7 service and a two-tiered level of support
Today I'm covering rights #8 and #10 in the Acumatica Customer Bill of Rights: consistent, 24/7 customer service and dual layers of support.
The best way to understand how our customer service and support structure works is by explaining the two main options you have at your disposal. It's important to point out that these two options are mutually reinforcing, not mutually exclusive. You have access to both when you need and when you want.
1. Support through your local partner
The founders of Acumatica made the decision to sell and implement our cloud-based ERP solution through a network of progressive business partners before they even opened the doors. In a post on Acumatica becoming the only true cloud ERP platform, Ali Jani, Acumatica VP Partner Strategy, Product Management, and Services, points to former CEO John Howell's belief in the channel as a foundational tenant. "We recognized the platform can only be exposed if we have people who want to leverage the platform, to build products, and adapt the ERP solution for their end customers."
This led to what is now our global network of Acumatica VARs, who receive industry-leading training through the Acumatica Partner Program. The program gives them excellent training, ongoing support, and the most generous margins and terms in the industry, which also includes a no-compete promise. It's a true cloud ERP partnership, and it gives them the freedom to focus solely on you, the customer.
Your local partner will support you through the ERP implementation to going live and will be there to aid your efforts in growing your business on our versatile, open platform. Personalized support is guaranteed.
2. Customer direct support services
In addition to your Acumatica partner's support and the self-help features of the Acumatica Customer Portal (more on that in a moment), Acumatica's Customer Direct Support provides you with product and technical support. This includes accessing help, technical resources, troubleshooting information, and Acumatica product experts.
The three levels of support include:
Standard Support: Enhances the customer experience during initial system deployment and use. Features online communication with business hours coverage and next-day response. This quick response time is possible because Acumatica's level one support team is based in Columbus, Ohio, reducing time-zone challenges.
Premier Support: Ideal for customers who desire phone support, same day response time, access to development resources, and 24/7 availability. It includes all Standard Support and Technology Support services.
Technology Support: Designed for customers who customize their Acumatica deployments using reporting tools, query tools, or the xRP platform and provides support to their internal technical resources to assist in such developments.
A complimentary feature included in every support option is the Acumatica Open University. Regardless of the role you play in your business, the Acumatica Open University will help you learn how to realize the full potential of Acumatica's cloud ERP software through self-study materials and courses.
The Acumatica Customer Portal is our self-service support feature that connects you with the latest support and educational content as well as with Acumatica's entire community of customers and developers (including LinkedIn, Stackoverflow, and GitHub). Product downloads, searchable knowledgebase, product suggestion submission/voting, and latest product documentation are at your fingertips.
Finally, we provide a spectrum of Acumatica Events, such as Acumatica Summit, Roadshows, live and online webinars, focus groups, and more. All provide you with opportunities to network with your peers, Acumatica experts, and our executive team and offer technical training, product development updates, and live support.
What customers have to say about Acumatica's customer support
One of the best (and easiest) ways to know if you're meeting your customers' needs and expectations is by asking them. Acumatica's latest Customer Satisfaction Survey on our Customer Support reveals 94% VSAT (Very or Extremely Satisfied).
"The support team is excellent," writes 5-star G2 reviewer Diego P. "They have deadlines to response, and they always put the customer first."
Another 5-star G2 reviewer says "Acumatica corporate and customer peer support is always within reach."
Acumatica customer M3 Technology Group—a company that designs, builds, and installs audiovisual and videoconferencing systems for many industries—has had Apple-and-Starbucks-worthy customer service and support from Acumatica. "I drink a lot of coffee and love the way I'm treated at Starbucks. It's the same with walking into an Apple store—you almost feel like you walked into Heaven—and everyone wants to help you right way. To me, those are two of the highest customer experiences you can have, and Acumatica is right up there." – ERP Developer and former COO Kelly Burns in M3 Technology Group's success story.
Get the support you deserve, when you need it
Our comprehensive Acumatica Support services illustrate our commitment to providing you with the customer service and support you deserve. We, along with our superb, highly trained Acumatica VARs, work hard to treat you the way we like to be treated, to protect you against unscrupulous cloud ERP vendor practices, and to provide a modern, innovative cloud ERP solution that is upgraded twice a year based on customer feedback.
To learn more or to schedule a demonstration of our cloud-based ERP solution, contact our team at any time. As a leader, a champion, and a popular cloud ERP choice (check out the latest Forbes, G2, and Gartner reviews), we're excited to give you 24/7, consistent support and a two-tiered support system as you grow into a successful, connected business.