The idea of moving from a traditional ERP to cloud ERP is a good one and it comes with many benefits. For businesses that process payments for their services or products, a major benefit of adopting cloud ERP software is the ability to automate their procedures resulting in accuracy, time-savings, and customer satisfaction.
In recent years, cloud ERP solutions have disrupted the on-premise model and grown as a viable competitor to traditional ERPs. According to a 2016 Panorama report, the use of cloud ERP software increased from 11% to 27% between 2015 and 2016. Why are so many companies turning to a cloud based ERP solution? Cloud ERP deliver tangible benefits to businesses including the flexibility to automate payments and invoicing.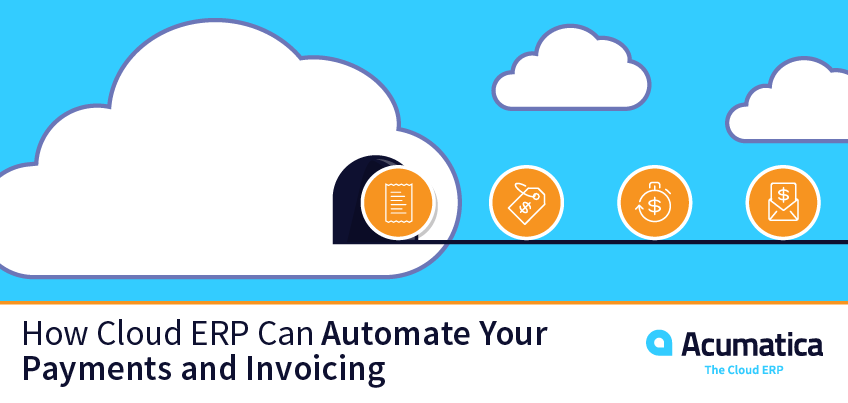 Challenges of legacy or on-premise ERPs
Over time, on-premise ERPs can become unwieldly and expensive. The hardware and software may become outdated and unreliable; the operating costs may be overwhelming; and as new technology is developed, a legacy ERP may no longer serve the needs of the business that purchased it years or even a decade ago. Without the ability to adapt to rapidly evolving technology, on-premise ERPs may put companies at a competitive disadvantage.
This is where cloud ERP shines: the cloud's flexibility means that a cloud based ERP can painlessly grow and change alongside a business, continually providing them with the solutions they need.
Benefits of a cloud based ERP
Cloud ERP software offers a wealth of benefits to companies of all types and sizes.
Spend less on maintenance and security: With cloud ERP, the software is stored on the vendor's servers. This means that companies can worry less – and spend less – on data security and IT costs associated with their ERP. 
Productivity: A cloud based ERP system allows employees to access the ERP remotely – from home, during their commute, while traveling – so they have easy access to the information they need. 
Reduce human error and double data entry: With a legacy or on-premise ERP, employees in the field have to enter data twice: once on location, and again when they reach the home office. This double data entry opens the door to mistakes that are annoying and time-consuming to correct. But with cloud based ERP, employees simply enter the data on their mobile device and the information is automatically synced back to their cloud ERP software. 
Real-time data and mobility: Perhaps the cloud's greatest superpower is its ability to deliver real-time data to users across multiple locations. Businesses with several locations can communicate and collaborate using real-time data; remote workers or employees in the field can stay connected to the most up-to-date insights; and employees can reference inventory at the point of sale and reduce back orders, increasing customer satisfaction. When employees have access to the most relevant information possible, their productivity increases, communication improves, and the entire sales cycle runs more smoothly.
In addition to these benefits, using a cloud ERP allows companies to automate their payments and invoicing.
Automate your payments in the cloud
Accepting credit card payments can be time-consuming and repetitive; companies may have to deal with double data entry or reconciling their batches each night. However, with cloud ERP software and integrated payment applications, businesses can automate their payments and spend less time on the accounting process.
Integrated payment applications, like EBizCharge, plug directly into an existing cloud based ERP and allow companies to accept credit, debit, and ACH payments – all without leaving the native environment of the ERP.
The cloud enables the payment application and the ERP to interact with one another seamlessly, facilitating instantaneous communication. Payment applications can automatically post payments to invoices and store cardholder data in secure, PCI compliant data vaults based in the cloud. With the power of the cloud, companies can automate their payments, become more efficient, and cut costs by reducing labor time.
Automate your invoicing in the cloud
 Along with automating your payments in the cloud, businesses can also automate – and simplify – invoicing with a platform like EBizCharge Connect.
Invoicing platforms use the cloud to allow customers to log in to a secure portal and pay off their invoices. Customers can conveniently use any smart device to post payments to invoices – from anywhere, at any time. Better yet, invoicing platforms sync with a cloud based ERP, automatically posting payments to invoices.
 When companies automate their invoicing in the cloud, they spend less time worrying about payments and invoices and devote their efforts to what truly matters – running their business.
A cloud ERP solution for everyone
The cloud and cloud ERP software are changing the way that companies do business. The ability to access real-time data from a mobile device or remote location means that cloud ERPs offer agility that traditional, on-premise ERPs just can't match – including the ability to automate payments and invoicing in the cloud.
If you have any questions about adopting a cloud ERP or need an efficient and cost-savings payment processing solution, contact us and we'll walk you through your options.