Acumatica has included local business expertise in the Acumatica Customer Bill of Rights. Why? Acumatica's CEO gives four reasons.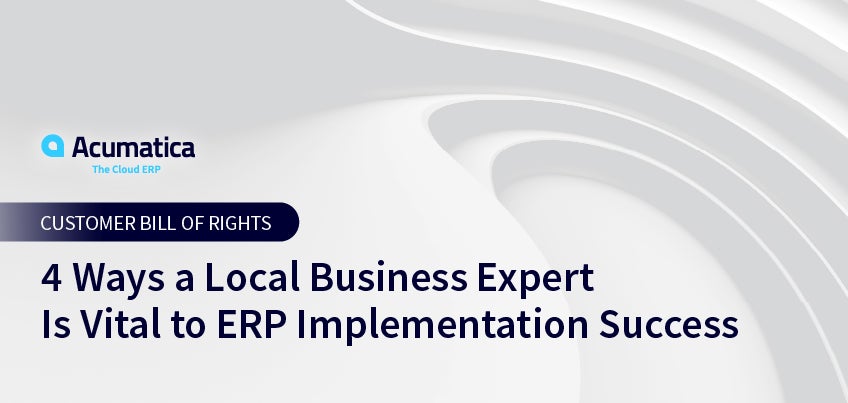 Before your business reaches the ERP implementation stage, your team in charge of making this important, expensive decision must first carefully research its options, then follow it with a thorough ERP evaluation, and finally select the cloud ERP solution that best fits your needs. Sounds fairly straightforward, but if the research and evaluation stages don't reveal how the ERP vendor handles implementations, then you may be setting yourself up for failure.
That's why Acumatica has put the selling and implementing of our cloud ERP software into the hands of our Certified Acumatica Value Added Resellers (VARs). The training, resources, and support they receive through our award-winning Acumatica Partner Program combined with their local business expertise (right #9 in the Acumatica Customer Bill of Rights) make them uniquely qualified to ensure your ERP implementation is successful.
Why you need local business expertise for a successful ERP implementation
The ERP implementation life cycle is typically one-to-three months. From the system selection, implementation, and data conversion/loading to training/procedure development, testing/validation, and "go live", you and your business can expect to face challenges every step of the way.
Are you prepared for these challenges?
You won't be if you don't choose a cloud-based ERP solution that provides partners who understand—and can overcome—these challenges. The understanding comes from four things:
1. Expertise
Partners with local business expertise—emphasis on 'expertise'—have comprehensive knowledge of the industry (or industries) they specialize in and of Acumatica's cloud ERP product, service, and platform. They will help you develop your implementation project plan as well as advise you on how to map and improve your key business processes.
Andrew Gale, then-CEO/CFO of BLD Brands, a restaurant investment and operations company, found this to be true when they chose Acumatica. Their Acumatica partner, Premier Computing, worked with them to create an implementation strategy that involved starting off at a crawl, moving to a walk, and then accelerating to a run.
"We kept all functionality and picked up probably two to three times more [functionality] than we had before right out of the gate with what I would call barely a crawl state," Andrew says in the company's customer success story. "We just finished up our first financial close in the system and are in the process of working on walk categories. Then we'll put plans in place to get the walk and run functionality pieces. That way we benefit from the system at the beginning so people can absorb it and digest it as we go."
VAR partner Premier Computing's local business expertise meant they knew exactly what BLD Brands needed to have a successful ERP implementation and how to improve their business processes. The outcome has been a company that has benefited from unlimited user pricing, quick access to their data, and an easy to understand system.
2. Personalized service
Your business is one-of-a-kind. The cloud ERP solution you choose should be able to be personalized to fit your needs. Your implementation partner should also be able to personalize their service and support based on your specific requests, even if those specific requests may be challenging.
For example, Acumatica customer Caswell, Inc. (which includes Caswell, British Tools & Fasteners and Mud-Skipper Long Tail Mud Motors) relied on a software package that caused problems during every upgrade (and other times) for 13 years. The license was about to expire, and they needed a four-week implementation.
Acumatica VAR Gregg Mercede of Cloud 9 ERP Solutions LLC did it in 10 days.
"Gregg asked if I would be ok with getting the ability to process orders and invoicing up in that time with the rest coming later and I said absolutely," says President Lance Caswell in the company's customer success story. "I was on the phone sometimes with Gregg until 11 at night talking about whatever I was having trouble with, but I was up and running and ready to go when Gregg came on site."
Gregg tailored his actions to Caswell's needs and made the ERP implementation a tremendous success.
3. Long-term partnership
Once your cloud ERP software is implemented and the many benefits are felt, you may think your ERP implementation partner is no longer needed. This is not the case. Your business needs will continue to change as you work hard to become a growing, successful, and connected business. Your ERP solution will need to scale with you and may require the business acumen and technical skills of your partner to do so.
Fidelux Lighting, a company that designs and distributes LED lighting solutions, was using QuickBooks and needed to find an integrated, customizable, and affordable cloud ERP solution. They chose Acumatica, and Acumatica VAR CAL Business Solutions helped them implement it in 45 days.
Director of Operations Shivani Raval says in the company's customer success story, "As we move into new markets, Acumatica gives us the confidence that we can handle the increase in transactions and growth with ease for many years."
And they'll rely on CAL Business Solutions to help them make that future possible.
4. The last mile
When you utilize the expertise of a local partner, you also get their expertise outside of the ERP application. For example, if you need to integrate your solution to another application, service or even to a specialized machine in your shop. Your partner understands the ERP application and the other environments that give you a competitive advantage in your industry.
Dealing directly with an ERP publisher will not give you this "last mile" capability. In fact, with some publishers, if you integrate with any other application, service or equipment, you void a warranty, or you give them an excuse not to provide you with the support you need.
Choose the right cloud ERP solution with the right partners
Bottom line? You need to choose the right solution. It should streamline operations; be easy to use; provide a real-time, "single source of the truth" for every employee (at anytime and from anywhere); utilize innovative technologies; be based on a secure, open, and future-proofed platform; and protect you against unscrupulous ERP vendor practices.
It should also include an ERP implementation partner that has local business expertise. They're right there when you need them (not flying in from corporate headquarters). They cost a fraction what you'd pay for an ERP provider's entire tech team. They offer personalized service. And they will be there for the long haul with the advice, training, and support required to be successful in an ever-changing marketplace.
If you're interested in learning more about Acumatica cloud ERP, Acumatica's Training & Services, and our Acumatica Support promise, you can contact our team today.
You can also check out our recent posts on the other rights included in the Acumatica Customer Bill of Rights, including an  easily understood SaaS end-user license agreement; licensing that doesn't inhibit growth (and limited annual increases); ERP implementations without hidden fees;  deployment flexibility, and access to YOUR data, anytime.