After the global disruptions of 2020 and 2021, more businesses than ever are planning for manufacturing reshoring. Learn how Acumatica Cloud ERP can help.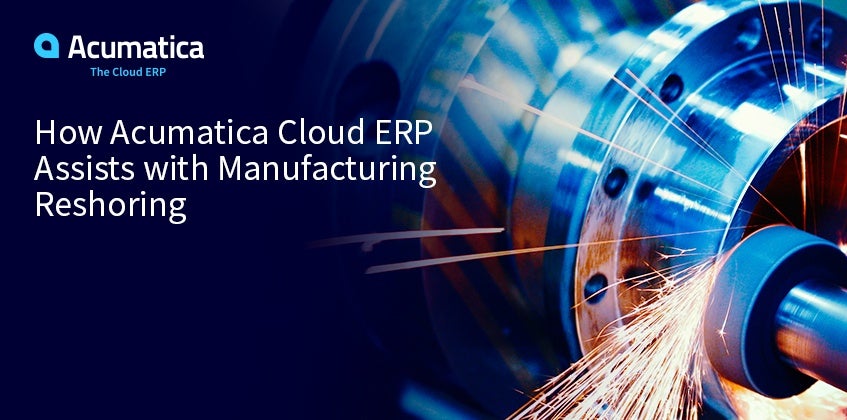 How Disruption Drives Domestic Growth
The COVID-19 pandemic, while wreaking havoc on the health and wellness of the global population, also unleashed a global chip shortage and supply chain challenges that disrupted businesses around the world. Manufacturing reshoring, or the bringing back of manufacturing jobs and operations to local regions (as well as the buying of materials domestically), is on the minds of 97% of executives.
Add in rising foreign labor costs, taxes, and international tariffs along with increased automation and efficiencies in the U.S., and the thought is quickly turning into action.
Reducing Risk with Manufacturing Reshoring
The pandemic hasn't been the only barrier for businesses in getting the supplies they need to manufacture their products and to get them into the hands of their customers. Severe weather and trade wars contributed to the chaos. With manufacturing reshoring, businesses can mitigate the risks that have plagued them throughout 2020 and 2021. By diversifying their suppliers and bringing their manufacturing, investments, and resources closer to home, businesses are able to protect themselves from all but regional disruptions. And this shift to reshoring signals a potential—and very welcome—economic recovery for North America.
How Reshoring Helps Manufacturing and Local Economies
According to a Supply Chain Management Review article, tracking and verifying the number of jobs returned to the U.S. or the actual increase in revenue is not officially possible, but the evidence of a "reshoring trend" is viable. The author uses a Thomasnet survey as an example.
"Thomasnet surveyed over 500 industrial buyers—83% of these buyers said they intended to find and place 10-12% more orders with domestic suppliers this year than last," she writes. "Based on Thomasnet's collected buying data from past years as compared with next year, this simple change—buying 10%-12% more U.S.-made products—could inject $443 Billion into the US economy. WOW!"
If true, this return to domestic buying and this type of financial injection into the U.S. economy (as well as the resulting job growth) would be huge. It's also a tangible argument for manufacturing reshoring.
Facilitating Manufacturing Reshoring with Cloud ERP and Automation
Logistically speaking, manufacturing reshoring brings with it some complications. How do businesses facilitate this change from a global to a local supply chain model? The answer is with a cloud ERP solution.
Manufacturers will need to choose a cloud-based ERP system that provides industry-specific software, including manufacturing management software, inventory management software, order management software, and distribution management software. In addition, the right cloud ERP software should integrate the company's financial, sales, and CRM activities within a single solution and allow users access to updated, synchronized data at any time and from anywhere.
When they do, they will experience automated efficiency, increased flexibility, reduced freight/shipping costs, and accurate planning and forecasting.
How Acumatica Can Help
The idea of returning manufacturing to the U.S. is supported by our manufacturing history. As noted in a Forbes article on manufacturing reshoring, the U.S. became a major manufacturing hub after the Revolution and manufactured much of WWII's industrial output. At the time, "Americans realized the strategic benefit of onshore manufacturing—especially during a global crisis when there is limited access to foreign goods, services, and materials—so that we, as a country with vast resources, can be self-reliant and not have to shut down our industries."
Sounds familiar. However, the transition back to onshore manufacturing will not be simple. Acumatica Cloud ERP, a leader in Usability by Nucleus Research in their new CRM Technology Value Matrix and the Best ERP Software winner by the 2021 SIIA CODiE Awards, can help.
By becoming an Acumatica customer and utilizing industry-specific cloud ERP software, companies have the assistance they need to shift from a global to a local supply chain model. To learn more, contact our team.