Mobility may not be the first feature you consider in your cloud ERP research, but you may reconsider when you find out what anywhere, anytime access means for your business.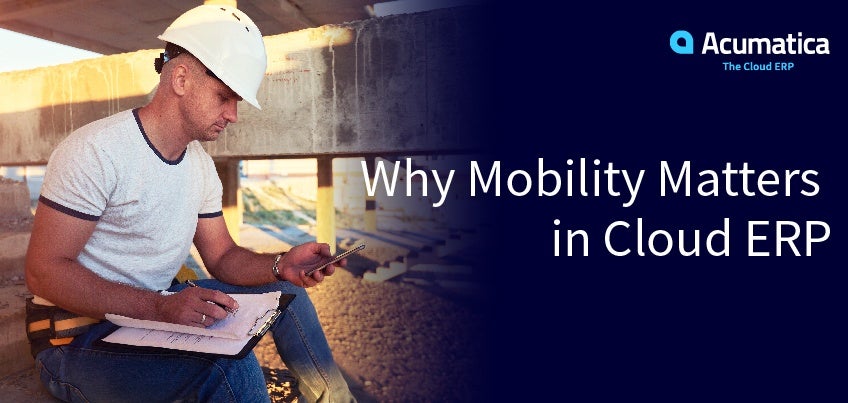 Everywhere you turn, you find someone on a mobile device. They're texting, shopping, tweeting, and banking while on the move. More and more, however, people are using their phones, laptops, and tablets as mobile workstations, especially now that working remotely is an option for 56% of companies around the world, according to Owl Labs' 2018 Global State of Remote Work report. Being able to work from wherever, whenever is fast becoming a critical component of business success, making mobility a top feature to look for when selecting a cloud ERP solution.
Cloud ERP mobility impacts your business
An ERP system allows businesses to manage their finances, supply chain, workforce, customers, and more from one central point of control. Cloud-based ERP solutions take it a step further by providing the same business management capabilities via the Internet. The benefits of cloud ERP software include lower upfront costs, reduction in IT support, elimination of maintaining and supporting software applications (upgrades and updates are the vendor's responsibility), increased security, and faster implementations.
Even better, modern cloud ERP solutions are mobile ready. Accessing your business information anytime and anywhere is possible right out of the box.
But why is mobility so important in cloud ERP? The answer lies in giving your workforce the ability to do their jobs efficiently and effectively as well as providing them real-time visibility into business processes. The positive impact of cloud ERP mobility is felt business wide. For example, mobility can increase productivity.
Businesses with field service personnel will see productivity rise when they're no longer hindered by offsite restrictions (the biggest being lack of connectivity). Construction companies' field teams use hand-held mobile devices to share and access business information while on a job site. They don't need to wait until they return to the office to input data. They can also use mobile delivery apps to organize their operational activities.
Service and product-centric businesses have sales teams that are often on the road visiting customers who expect up-to-date product/inventory information. With a swipe of their mobile device they can find the information they need immediately, confident that the information is updated and accurate.
And businesses that allow employees to work remotely, accessing the ERP system outside of the 9-to-5 workday timeframe, tend to have increased job performance and job satisfaction. The Owl Labs remote work report notes that the "#1 reason that people choose to work remote is increased productivity/better focus."
Cloud ERP mobility also can increase data accuracy and real-time visibility. Entering data in the field and having it shared with the organization right away results in the elimination of double-data entry mistakes and provides immediate insight into every department across the organization.
Ultimately, cloud ERP mobility produces better decision making, satisfied customers, and a growing bottom line.
The cloud ERP solution you choose affects your success
Because cloud ERP mobility is a game changer for businesses in every industry, choosing the right cloud ERP solution is necessary. The solution you choose must include a mobile app offering accessibility and flexibility for remote employees. As one of PCMag's 19 Best Business Mobile Apps of 2017, Acumatica and Acumatica Mobile ERP App for iOS and Android should be a contender.
The benefits of Acumatica's free mobile ERP app include real-time and 24/7 access to updated information, extended functionality with Acumatica's Mobile Application Framework, and automatic synchronization.
Users will be able to manage the following activities while outside of the office:
Expense receipts
Opportunities
Time reporting
Approvals
Task management
Sales orders
Field service appointments
And more
Users can also utilize GPS tracking, signature capture, photo attachment, push notifications, and navigation tabs with Acumatica's mobile ERP app. A company familiar with Acumatica's mobility capabilities is OFS International (OFSi). It provides inspection services, couplings manufacturing, threading, storage, accessories, field services, and rig returns for the Oil and Gas Industry.
David Green, OFSi's Chief Commercial Officer, says, "I strongly believe Acumatica is a great software, ERP system because it provides the cloud-based remote access. It's very simple to use. It's intuitive. The reporting functions are great. The flexibility of working with Acumatica to make changes to fit your business is a very, very, very good business model."
Learn more about cloud ERP mobility
If your employees work offsite (e.g. field service personnel, sales consultants, or remote workers) and you're researching your cloud ERP options, you'll need to assess their ERP cloud mobility capabilities.
Do they provide an integrated (and free) app that works with your mobile devices? Is it easy to use? And does it provide the features your employees need to do their jobs? Acumatica's mobile ERP app is a 'yes' across the board, and you can contact our team of experts to learn more.