Is it time to select and implement a modern distribution ERP solution? You'll appreciate the tips found in Acumatica's new whitepaper on choosing and implementing the right distribution software, a process that doesn't have to slow your schedule or your business.
To manage their supply chain and logistical activities successfully, distributors should consider implementing a true cloud distribution ERP solution, one that is able to handle their warehouse, inventory, and order management processes while simultaneously connecting these activities with their financials and sales. If finding the right one and implementing it without slowing down your schedule and your business seems easier said than done, it doesn't have to be.
Acumatica has several resources that can help expedite the process. One is a distribution management system checklist, which compares three top vendors and their offerings, including Acumatica Distribution Edition. Another is our new whitepaper, which offers tips for selecting and implementing the right distribution ERP solution.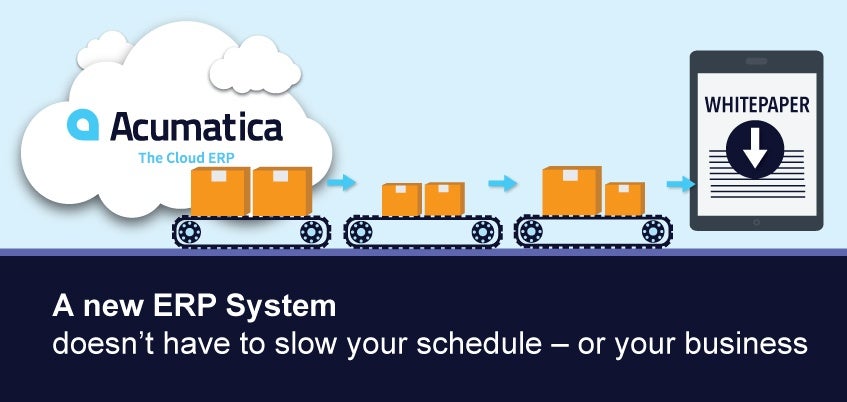 What SMB companies should know about distribution ERP
Before sharing tips for selecting distribution software, the whitepaper highlights how legacy systems can hinder businesses' growth. In comparison, the whitepaper notes that modern distribution management software encourages growth by receiving added functionality and technology regularly. Mobility is one example. Many vendors are adding mobility to their repertoire so those working in the field can connect via mobile devices from anywhere and at any time resulting in increased efficiency and profitability.
As you begin the search for the right distribution ERP solution, the paper encourages you to "keep focused on your long-term business needs, prioritizing the functionality and technology that have the greatest value to your firm." This leads into the first tip you'll find when you download the whitepaper: identify your strengths and weaknesses. The whitepaper offers some helpful insights into how to go about arming yourself with this important information.
The next tip has to do with choosing an implementation strategy. The whitepaper points to phased implementations (vs. implementing everything at once) as possibly the best way for SMBs to go and explains why. If SMBs and their distribution software vendor go in this direction, then they have a distinct advantage over larger corporations: flexibility.
"Most large competitors don't have this flexibility. Not only do they have to deal with a large, slow-moving bureaucracy to even get approval for the change, they also must develop and follow a vastly more complex implementation plan that slows process improvements and return on investments," the paper notes.
The whitepaper lays the remaining tips out clearly along with some otherwise counsel:
Vet your distribution ERP developer to ensure that they will be around to support you and your business in years to come
Carefully consider which implementation strategy will work best for your company
Recognize that distribution software is a tool and it should make your daily activities easier
"Selecting and implementing an ERP system drives a number of important business decisions," the paper states. "Proper selection and a well-planned, well-managed implementation can take the sting out of the transition for your business to move forward and thrive."
Move forward with the right distribution ERP
Choosing the right distribution ERP solution will enable distributors to efficiently manage their multiple processes. Consolidated West Distributing, Inc. can attest to this fact.
The company ships over 2 million boxes of apples, pears, and cherries every year, and unlike many other distributors, they sell their product before they produce it. This caused accounting challenges. After implementing Acumatica Distribution Edition, they were able to cut their time in half by eliminating double-entry bookkeeping, gained a system that covered every aspect of their business, and more. Watch the video below to see why choosing modern distribution software is a game-changing decision.
xByte Technologies is another example of a business that needed a modern distribution management software. They were looking to improve their reporting and to automate their order processes. Listen as CEO Ryan Brown explains how they evaluated and compared ERP systems.
Downloading Acumatica's new whitepaper and the distribution management system checklist can help speed up the selection process. And here's one more resource: the ERP for distribution companies: Key Performance Indicators for Distribution whitepaper. It explains why choosing distribution software with powerful KPIs is critical.
With Acumatica Distribution Edition, distributors can streamlines supply chain processes and save time with an end-to-end solution. They can also seamlessly integrate their financials with sales order, inventory, requisition, purchase order, and advanced fulfillment management processes as well as with Acumatica's CRM, Manufacturing, Field Service, and Project Accounting modules. Distribution software can help improve visibility, customer satisfaction, and the bottom line.
If you have questions about Acumatica Distribution Edition or Acumatica's award-winning cloud ERP software, our team of experts are available to help.