How can SMBs like you compete with larger companies and grow effectively? A new Acumatica cloud ERP Infographic provides the answer.  
Often, small to mid-size businesses (SMBs) rely on multiple systems and software applications to manage their accounting, sales, customer, employee, manufacturing, distribution, field service, etc. needs. Sound familiar? If so, then you already know the pain of creating inefficient workarounds to deal with this siloed environment. There is, however, an answer, and it comes in the form of a comprehensive and true cloud ERP solution.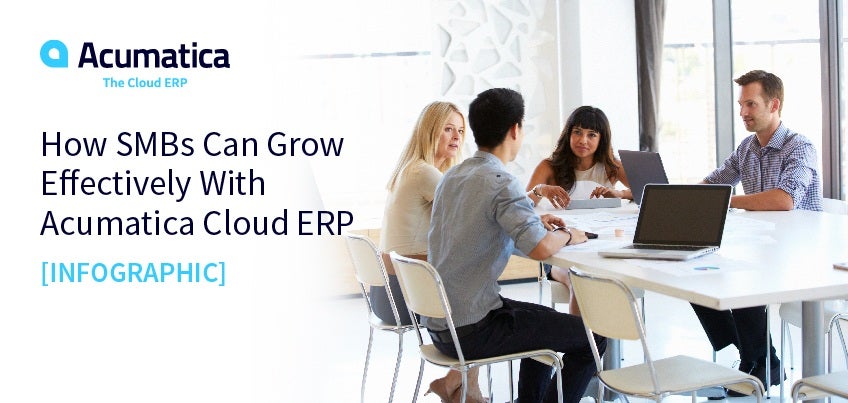 Growing effectively with Acumatica cloud ERP
We've established that having disconnected systems to run your business doesn't work. Derrick Elledge, one of the owners of Power Storage Solutions, knows about the challenge of integrating multiple systems from a previous business. "We had CRM with Salesforce, quoting managed through Salesforce CPQ, time managed through Workday, expenses managed through Concur, inventory and service management through Davisware; it all sat on an Oracle E1 platform. Then we had to try to have them all communicate together."
It was not an optimal situation for him then, and it's not for you now. Your focus is on getting your disparate systems to integrate so that you have the critical business data and insight you need to see where your business is and where it's going. Unfortunately, your integration efforts take time and money you may not have, unlike your larger competitors. They have deeper pockets, which gives them the advantage.
Or it used to.
Regardless of your business size and the industry you're in, the Infographic shows how Acumatica's cloud-based ERP can help you become a connected and, therefore, successful business.

Acumatica's cloud ERP software, with its seamless application workflows, allows you to handle all your business management needs, from managing sales, fulfilling orders, and optimizing inventory to manufacturing products, communicating with field service operatives, and more. Having an integrated solution in place before trying to expand is how you can grow responsibly.
Bruce learned this after choosing Acumatica cloud ERP. Power Storage Solutions eliminated multi-platform fatigue by implementing Acumatica Financial Management, Acumatica Customer Management, and Acumatica Intercompany Accounting (with plans to implement Acumatica Field Service Edition).
"I can now see a clear picture of the business for the first time. It's hard to even remember all the steps we had to go through before Acumatica just to get a view of what was going on in our business, and I wouldn't want to go back for anything," Bruce says in Power Storage Solutions' customer success story.
Eliminate disconnection and embrace growth
So, whether you're seeking manufacturing management software, field service management software, distribution management, or warehouse management software (WMS), a CRM system, or all of the above, Acumatica has it. Our cloud ERP solution provides seamless integration with every cloud application you use. Your disconnected, inefficient business can be a thing of the past.
Contact our team today and find out more about Acumatica's cloud-based ERP, a comprehensive, connected solution that can help your business grow responsibly.