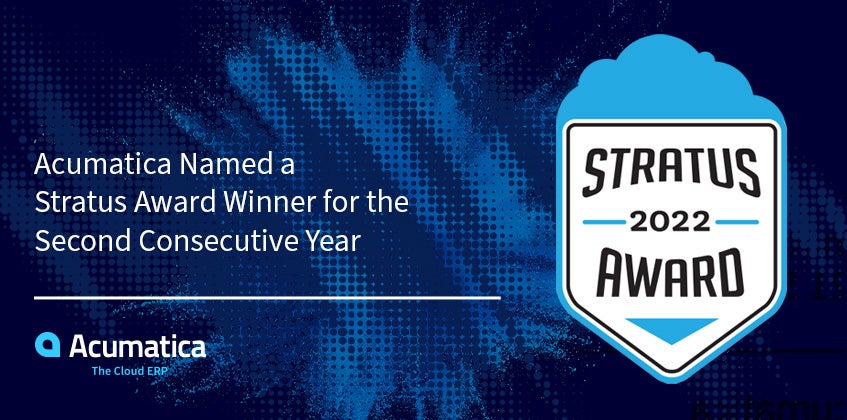 For the second year in a row, Acumatica Cloud ERP has been named a Stratus Award winner. We're honored that the Business Intelligence Group continues to recognize our ongoing efforts to provide Acumatica customers and partners with a value-filled and advanced cloud ERP solution that provides the vital business management tools they need to find success in today's digital economy.
Maria Jimenez, Chief Nominations Officer at Business Intelligence Group, said in the press release, "Acumatica is at the forefront of the cloud helping drive practical innovations in the cloud."
Why Acumatica is a Stratus Award Winner
Acumatica received the Stratus Award for the Cloud Disruptor Category. Organizations, products, or services in this category are "rapidly changing the status quo of an existing market, segment of the industry they serve or the larger cloud industry as a whole," which is an accurate assessment of what Acumatica is doing in the competitive cloud ERP space.
Acumatica was the first—and is currently the only—cloud ERP vendor to acknowledge the rights of our customers with a public and detailed Customer Bill of Rights. The bill states that Acumatica customers have the right to:
An easy-to-understand and not frequently modified SaaS end-user license agreement (EULA).
A flexible, open platform for rapid integrations.
Consumption-based licensing that does not inhibit business growth.
Sustainable pricing with annual increases of no more than 3%.
ERP implementations without hidden fees.
Deployment flexibility.
Ownership of and access to THEIR data, anytime.
Consistent, 24/7 customer service.
Local channel expertise.
Dual levels of support.
These extensive rights underscore Acumatica's commitment to customer service and satisfaction, and they're further supported by the many steps we take to enhance our already comprehensive cloud ERP software. For example, we provide two product updates per year that supply enhancements based on candid customer-and-partner feedback. Our latest release—Acumatica 2022 R2—delivers features that improve usability and help businesses grow beyond their current geographic boundaries as well as target micro-vertical markets.
Our customer-first efforts also include Acumatica's annual Summit, which allows members of the Acumatica community to take a break from the daily grind and to assemble in a luxurious Las Vegas venue to focus on accelerating success. What they discover year-after-year is that our cloud ERP solution:
Rests on an open and flexible platform that allows for rapid integrations, scalability, and ease of use.
Provides a full suite of integrated business management applications, from General Business, Distribution, and Manufacturing to Retail and Construction.
Offers industry-specific functionality and streamlined integrations with third-party applications.
Allows anytime remote access to their data from any location.
Provides stellar support and training via our valuable Acumatica VARs.
And our AcumatiCares Program highlights Acumatica's dedication to operating responsibly through sustainable business practices as well as to promoting diversity, equity, and inclusion within the workplace. We've found success on both fronts, including achieving 100% carbon neutrality through offsetting our—and our customers'—carbon output and emphasizing women in tech opportunities through special events and in our hiring efforts, with 40% of our 200 hires in 2021 being female.
Reinforcing Acumatica as a Leader
Thank you to the Business Intelligence Group and its volunteer judges for naming Acumatica a 2022 Stratus Awards for Cloud Computing winner. This important win reinforces Acumatica's status as a leader in the cloud ERP space, as does landing in the Leader quadrant in the SMB ERP Technology Value Matrix for 2022, being recognized by G2 in its Mid-Market Grid Reports for ERP Systems for Spring 2022, Summer 2022, and Winter 2022, and receiving a silver medal by EcoVadis for our sustainability management and performance.
We're mindful of the responsibility being a leader entails, and as Acumatica CEO John Case said when he joined the Acumatica team, "Acumatica is now pushing the status quo in the cloud ERP market. Acumatica is strong, innovative, and fearless, and I'm excited to be a part of its ongoing journey."
Acumatica's journey is ongoing, and we will continue to provide cutting-edge, cloud technologies that provides businesses with real-time data, streamlined operations, automated workflows, and so much more—all of which are necessary for our customers to succeed in their own digital transformation journey.
To learn more about Acumatica and what it can do for modern, growing businesses, checkout our Acumatica User Reviews page and contact our experts today.