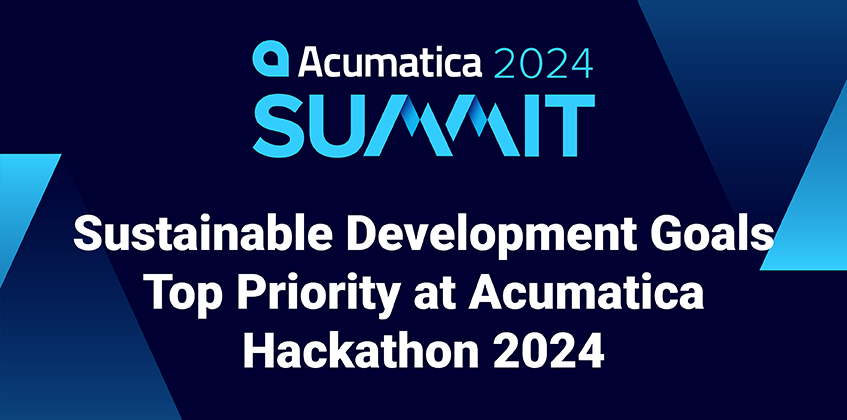 Registration for Acumatica Summit 2024 is live, and we're excited to provide attendees expanding opportunities this year with not two, but three full days packed with opportunities to network, connect, learn, train, celebrate, and discover all that Acumatica and our award-winning cloud ERP solution has to offer.
Officially, Acumatica Summit 2024 kicks off Sunday, January 28 and goes through Wednesday, January 3. Unofficially, Summit begins Saturday, January 27 with the exhilarating, highly anticipated Acumatica Hackathon 2024.
Focusing on Sustainable Development Goals
As is the case with every aspect of Summit, Hackathon builds on the success of the past while evolving to meet the changing needs of our customers and the society in which we operate. This year, we want to apply the same creative, innovative, out-of-the-box thinking that is a hallmark for our Hackathon event but apply it in a very focused way that aligns with our Acumatica Community values.
To promote prosperity and protect the planet, Acumatica seeks to make an impact by focusing on the following four goals of the United Nations 17 Sustainable Development Goals:
Achieve gender equality and empower all women and girls.
Build resilient infrastructure, promote inclusive and sustainable industrialization, and foster innovation.
Ensure sustainable consumption and production patterns.
Take urgent action to combat climate change and its impacts.
At Acumatica Hackathon 2024, we're developing the criteria so that the creative energy the teams put into these innovative projects are aligned with and focus on these Sustainable Development Goals. In fact, we're so excited about this year's sustainably focused applications that we're increasing the cash awards to winners. And to sweeten the pot ever further, we'll also be providing the winning teams with additional funds that they can donate to a sustainability charity of their choice. Specifics will be announced as we get closer to Hackathon.
We also want to open Hackathon to everyone—not just developers. Marketers, implementation partners, system engineers, technical sales reps, work process experts and others are invited to join in the fun and make an impact!
Building on a Legacy of Creative Ingenuity
Every year, Acumatica Hackathon delivers some of Acumatica's most innovative, cutting-edge applications built for—and on—Acumatica's Cloud xRP Platform. One example is last year's winning application by Team Mu. Made up of six members from different companies and one Acumatica Subject Matter Expert (SME), Team Mu created an all-in-one Customization Package manager that eases the time it takes admins to publish a customization project and eliminates the need for ISVs to tirelessly track the customization version their customers run.
Other exciting application examples include second place Team Zeta's single Acumatica Dashboard, which allows VARs to see all relevant details for customers in a single place, and third place Team Gamma's application that enables warehouse shipping dispatchers to group shipments together into a route. Each project's code, including every project since 2017, can be found in our own GitHub Acumatica Hackathon Repository.
According to Kulvir Kaila, Director of Application Development, The Answer Company, who attended his first Hackathon last year, it's an experience worth repeating. He says:
I'm probably going to bring my development team because it was such a great experience to collaborate with people from different sections of the community, whether they're a customer, VAR, ISV, or independent developers. I thought that the collaboration was interesting and trading ideas and stories were something I wasn't really expecting. The relationships that you build in this community in just 24 hours are really good.
Our Hackathon consistently delivers a unique experience that allows participants to:
Think outside the box to create exciting but pragmatic solutions.
Build a stronger community that results in stronger outcomes for every Acumatica member.
Learn more about Acumatica cloud ERP software's innovative features and functionalities.
Enhance communication and collaboration skills by working with people face-to-face, ensuring every team member is on the same page while developing a fresh application.
And Eric Petruncio, Clients First Business Solutions (VAR) offers one more reason to attend: have fun. As Eric says, "Hackathon is just fun. It's like interaction networking. I love meeting new people."
Bringing Acumatica Community Values to Life
At 12 PM PT on Saturday, January 27th, the six-to-ten-member teams—which are formed before the Hackathon commences—will gather. Every member will bring their own ideas for a customized application that are focused on addressing one of the four U.N Sustainable Development Goals.
Armed with their knowledge and willingness to ask and answer questions as well as Acumatica's xRP platform and third-party tools, teams get busy, building their applications, competitively engaging, and enjoying great food and beverages until midnight Saturday. They then reconvene at 10 AM PST on Sunday to finalize their applications and prepare their presentations for our esteemed panel of judges, which includes CTO Mikhail Shchelkonogov; CPO Ali Jani; VP of Platform Engineering Andrew Boulanov; VP Partner Solutions Christian Lindberg; VP Product Strategy Dimitri Blondeel; VP of Services Todd Kuhns; and myself.
The judges are tasked with assessing the applications' creativity, completeness, technical difficulty, usefulness, and presentation quality based on the criteria that aligns with the Sustainable Development Goals. Once they determine the top three teams, the judges will reveal the winners on Sunday at 3 PM PST.
In addition to the cash awards, winners will have their names inscribed on the Acumatica Developer Network Hackathon Cup, will be recognized during the Tuesday Keynote, and have the chance to present during the Developer Track.
Leveraging the Power of Technology for a More Sustainable World
We hope every Acumatica community member will consider joining us at Acumatica Summit 2024 and Acumatica Hackathon 2024 so they can experience firsthand the expanding opportunities for enhancing their professional relationships, growing their Acumatica cloud ERP knowledge, and developing dynamic solutions for the Acumatica and global community.
As Acumatica's VP of Product Strategy, Dimitri Blondeel, notes: "We worked to evolve this year's Hackathon to build from past successes and include a focus on a goal we all share, leveraging the power of technology to help create a more sustainable world. We are looking forward to seeing our Hackathon participants apply their creativity, ingenuity and talents towards this laudable goal."
Registration is easy. Hackathon is located on the "Session" selection, which is page four of the registration site.
To learn more, contact the event team at support@acumaticaevents.com.  Any questions about Acumatica's cloud ERP software, about being a part of the Acumatica Developer community, and about the Acumatica developer community resources available to members can be answered by our experts.