Value Added Resellers (VARs) are being bombarded with constant changes to the way they do business, including how they sell to customers who have new expectations. Acumatica's Geoff Ashley explains how the Modern VAR can succeed by utilizing a valuable sale's strategy.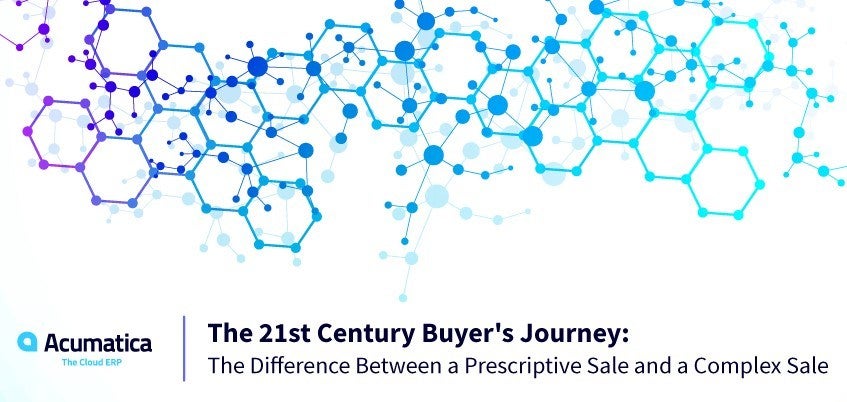 So here we are… it has been quite a journey. This is the sixth installment of our Modern VAR series. A lot of information has been presented in Part I, II, III, IV, and V of this series. A lot more could be presented, and we would still just scratch the surface. There is a complete paradigm shift occurring in our industry, including the move from professional services to annuity-based models, from project focused to subscription focused, and from billable hours to packaged services. This is all something that VAR owners and executives are struggling to understand. The issues we need to deal with are not only foundational, they are cultural. They go to the very heart of who we are and who we have been for the last 30 years as an industry.
In this final installment of our Modern VAR series, I want to give you a perspective that further illustrates an earlier concept that we presented: "The way they buy has changed. But the way we sell hasn't changed at all."  This is something that deserves to be considered in depth.
Modern VAR: focus on the customer's experience
In an earlier post, I made the statement that it is essential that VAR's focus on the prospect and customer experience. Everyone can understand this as a concept. If we give them a poor experience in an internet age, they will let the world know of that experience in a forum that never expires. But what constitutes a "good" versus a "bad" experience?
In our regular Acumatica Practice Owner Workshop events, we discuss the concept of "making it easy for them to buy from us." The professional services model does the exact opposite of this. Consider the following:
The professional services model encourages us to put as much into year one of the project as possible. Let's face it, the more we cram into the engagement, the more billable hours we have. Obviously, the prospects/customers don't want this.
In order to protect ourselves, if the prospect deviates even a little from the Statement of Work (SOW), we immediately start throwing change orders at them. But as the Standish Group Chaos Study has shown, for more than 25 years now, we, as an industry, have been awful at delivering complex implementations on time, on budget, and with all of the functionality as committed.
Should our customers have any questions, we bill them by the hour. As a result, the model actually discourages our customers from learning how to best utilize their solution to maximize its potential to help their company.
If our customers hire a new employee, who trains them? Certainly not us. That will start the clock ticking! Need help with year-end closing? Tick, tick, tick. The examples never end.
I had a meeting a few weeks ago with 45 Acumatica practice owners. They had all decided to get on a plane, fly to Texas, and spend two days discussing the idea of making it easy to do business with us (among other strategic topics). Here's what we discussed.
Stop selling ERP Software
I know this sounds ridiculous since that's what we sell. But believe me, if we don't get our sales people to stop selling ERP software, we're going to continue to be frustrated with our results. I have been with, or I have listened to, many partners in their sales calls. Just last week I listened as a sales person continually took the prospect off a productive conversation as he inserted meaningless questions like, "When is the decision going to be made?" We had just asked the prospect, "What is your competitive advantage?"
Now you tell me, which answer is more important to winning a deal? The sales person was so focused on his qualification "process" that he was unable to see that all of his questions mattered only to him and none of his questions mattered to the prospect!
Ask (or don't ask) the right questions correctly
If you want to have an immediate and positive impact on your sales success, invest in sales-questioning education. There is no end of questioning literature. But most of the books, articles or blogs are talking about how to qualify. I'm talking about the kinds of questions to ask (or not ask) and when you should ask them. For example, did you know that asking a "first level" question with the word "Why" (as in "why do you do that") can offend your prospect or customer? It's like asking "why the heck do you do that?" It can be perceived by your prospect as insulting! I'm also talking about how you can use questioning techniques to drill deeper into a situation or scenario to find the real answer.
There is a confirmed correlation between a person's ability to ask questions appropriately and their sales success. For the cost of a book or CD, this is a no-brainer.
The 21st Century VAR has to address some strategic and mind-blowing concepts
We had long discussion in Texas that revolved around these questions:
What if you didn't measure billable hours?
What if you stopped focusing on projects, and started focusing on delivering services as a subscription?
What if you abolished change orders from your company?
All of these were exceptional topics for the Modern VAR. They drove home not only the extent of our paradigm shift, but they also drove home just how polar opposite our current model is. Thus, our last topic finally makes an appearance: The difference between a Prescriptive Sale and a Complex Sale.
Battle of the strategies: Prescriptive Sale vs. Complex Sale
If you have been following all six of these installments, this final concept has already been covered. The problem is that it was covered in many different snippets. So now I will try and boil it all down into a section that will fit into this post. This topic could be an entire book, so I hope I can do it justice.
We've already talked about the fact that 70% of any given implementation is the same. Therefore, as a VAR partner who has sold many different ERP solutions over the years, you absolutely KNOW what it takes to deliver a 70% solution. A Prescriptive Sale is just that. It is the 70% solution defined.
But the importance of this sales strategy is not in the fact that we have defined a smaller sale and implementation (although that is exceptionally important). The power of the Prescriptive Sale strategy is that this concept gives you, the Modern VAR, several key things:
The Prescriptive Sale takes less time to sell. It is consistent with the velocity imperative of the annuity-based business model.
The Prescriptive Sale allows us the ability to give prospects a choice. In my Practice Owner Workshop, we discuss the very real psychological impact this can have. You want to win more deals, give your prospects the impression that they are choosing the journey—not being told what the journey will be.
A Prescriptive Sale also gives your sales team the ability to quickly and APPROPRIATELY qualify a prospect into an experience. As I tell Acumatica practice owners, you need to give every single lead to your Prescriptive Sale's team. They will qualify in or out within hours. A Complex Sale's team can take days or weeks to finally (and begrudgingly) qualify a lead out.
Giving your prospects a choice is essential in defining a journey (the experience they want to have. Remember what we said earlier—it is all about the experience!). Your journey, once defined, can empower your sales team to keep their prospect on track. Again, this will shorten your sales cycles and seriously increase your sales success.
A Prescriptive Sale can also be highly scripted. This gives you a great place for new hires as they learn your business, model, industry focus and sales methodology. You can reduce the time to productivity from six to nine months down to three months or less. It's true!
There are many other advantages, but the last one I will list here is this: A Prescriptive Sale can focus your prospect within their journey, and it can continually reinforce for them the experience that THEY chose. In both situations, they feel empowered, and they will gladly continue on this journey with you. To keep them focused, you must keep reminding them of the reasons they chose a Prescriptive Sales journey in the first place. They chose it because they wish to accomplish four key goals:
They want to reduce costs
They want to reduce complexity
They want to increase predictability
They want to significantly reduce the time to value
A Prescriptive Sale can accomplish all of these priorities. As they start to go "off the rails" (as they will), and they begin to ask for things outside of your 70% solution, you now have the opportunity to pull them back onto the rails. Simply remind them of the four things THEY chose for an experience. Point out to them that what they just asked will negatively impact cost, it will increase complexity, it will reduce predictability, and it will lengthen their time to value. If they want the journey as defined, they need to stay on track. BAM! You just shortened the sales cycle, improved your "trusted business advisor" status, kept "Phase 1" on target, and you most likely just guaranteed a much happier customer—one that will continue to buy from you for many years to come.
A Complex Sale is the opposite of that experience. It's the one we all know so well because it is the one we sell today. And that's okay. We will still find prospects that can't fit in the 70% solution box. There will be those that simply can't work without that customized customer order processing screen. Those time and material implementations will still be required, and they are important as you transition into a Modern VAR. The professional services model that exists today is paying for this transition! We can't just flip a switch.
However, we need all the discipline that the Prescriptive Sale will bring. We need the content you will need to create. We will need the culture shift that leads to velocity and volume. But as I said in a previous post, unless you as the practice owner drive this change, it will never happen.
Transform into a Modern VAR
I hope this series has been helpful. These topics and much more are discussed within our Acumatica Partner Program, which you will have full access to when you become an Acumatica VAR. We give you the training and support you need to ensure your success, and the 21 Acumatica VARs who made Bob Scott's Top 100 VAR List of 2018 can attest to this fact.
If you'd like to chat with me, Acumatica's Channel Chief, or other Acumatica VARs in person, I invite you to register for Acumatica Summit 2019, coming January 27-February 1, 2019 in Houston, Texas. It's the perfect time and place to dig into what it means to be a Modern VAR. It's also a great way to learn more about our Campaign Factory Program, a turnkey marketing program that lets you get up and growing quickly.
Do you have questions or feedback about transforming into a Modern VAR, our Acumatica Partner Program, or about this series? Perhaps you have suggestions for future posts. Either way, I hope you'll contact me or my team any time!