Adaptability means being able to adjust to changing conditions successfully, something every business in every industry strives to do. To ensure this adaptability, they need a cloud ERP solution based on an adaptable platform, which then provides "unlimited" benefits. 
For many years, ERP systems were sold as the way to utilize best business management practices and to modernize business processes. This served businesses well until they realized that being responsive to the needs of their customers, suppliers, employees—and to market changes—meant they needed a solution that could flex with these constantly changing conditions. In other words, they needed an ERP system based on an adaptable platform.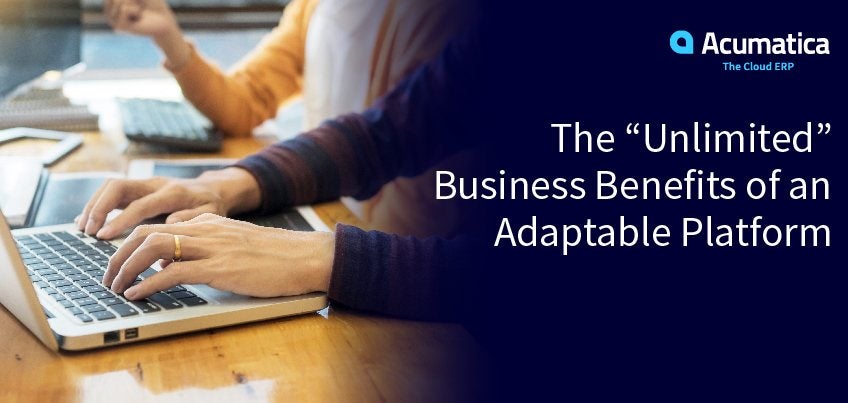 Why you need an adaptable platform
Not every workflow can be the same. Not every implementation can be the same. And, obviously, not every report can be the same. Organizations in every industry want the ability to customize their business practices to fit their specific needs instead of changing their business practices to meet the needs of their ERP system. They also want to be able to integrate with and utilize multiple critical applications from a single source of truth. Essentially, they want their business itself to be adaptable and connected.
This is where modern, cloud-based ERP solutions shine.
A cloud ERP system is the foundation for becoming a connected business that can adapt. While no single solution can be everything to every business, having the ability to integrate multiple best-of-breed cloud applications via a cloud ERP's adaptable platform is the answer to extending functionality, which in turn encourages growth. And an adaptable platform is particularly important in a competitive environment. If you had the same operations as your competitor, then there's no advantage.
So, what exactly is an adaptable platform?
An adaptable platform is one that is versatile and easily customized. It's built on the best available cloud and mobile technology, allowing seamless integration with any current (or future) cloud application a business requires to function successfully. It allows businesses to adjust as conditions change. It also gives businesses options.
For example, do you want to be in the cloud with everything managed for you by a top-notch organization like Amazon Web Services (AWS)—a SaaS Subscription? Do you want to have it on your premises, where you have complete control over everything but are also responsible for everything, including security—a Private Cloud Subscription? Or do you want a mixed model where you have it at both locations, a hybrid situation—a Private Perpetual License?
You have the choice with an adaptable platform, something a legacy system with outdated technology simply can't provide.
Adaptable platform, "unlimited" benefits
Businesses that decide to implement a cloud ERP solution with an adaptable platform open themselves up to the "unlimited" benefits of adaptability:
1. Unlimited applications
With a modern, adaptable cloud ERP system, you integrate with the cloud applications you need when you need them. In contrast, if you have a legacy system, you're limited to the modules/applications that came with it.
2. Unlimited users
It's common practice for many ERP vendors to charge per user. In some cases, it is based on the number of users and in some cases, it is based on named users.
For example, let's say you must name three people in Accounts Payable. Theoretically, only those three people can use that application. Businesses, however, often allow people to use the named user's ID and logon information, but that causes a major problem: losing all ability to have a transaction log and to audit who did what.
Additionally, as your company expands beyond just your key employees, you want everyone in the organization as well as those outside of the organization (such as customers and suppliers) to have access to the information they need. That's the best way to prevent process bottlenecks and business delays.
An adaptable platform allows for unlimited users and the ability to track user actions.
3. Unlimited mobility
Adaptability in this century means working anywhere, anytime you want or need. You should be able to check alerts on your tablet or submit an expense report from your mobile phone regardless of your location. And you don't want separate applications to do this. You want it built into the core application itself.
Adaptability allows you to access data from wherever you are at any time.
4. Unlimited information
The right cloud ERP software is adaptable enough to get information to the right people at the right time. When looking at ERP options, you should find out if the workflow engine can, for example, present approvals to the right people at the right time even if someone is on vacation (does it send it to the next level person to take care of it?). It should with an adaptable platform.
Also, getting to the information—being able to query the data base—should happen without having to use any programming languages. And you should be able to get information from other systems and combine them into one location (like you can with Power BI) to help you make rapid decisions and address problems.
5. Unlimited dashboards
You more than likely want to have multiple dashboards available based on user roles. This means if you're in the department that does sourcing and purchasing, you want a different set of dashboards than the people from warehousing and problem management. With an adaptable platform, these dashboards can be created with an assembly of already created widgets and queries to the database and presented when you sign on.
And if a key metric exceeds a certain limit, it should send an alert either through email or text.
6. Unlimited interoperability
An adaptable platform is not a stand-alone island.
It participates in sharing information with other applications through open APIs and seamless integrations. For instance, if you're in sales order processing, and you have a software service provider that does sales tax, it's transparent to the order entry person that the sales tax is being calculated outside of the cloud ERP solution.
The solution you choose must be able to seamlessly integrate with multiple third-party applications.
To adapt or to not adapt
In the end, it's all about what you're planning to do with your software. If all you want to do is the same thing you're doing now—forever—go ahead and buy a software package that does that. But if you know that the business environment is going to change (and it will), you must be ready to adapt.
You'll need to find a cloud-based ERP based on an adaptable platform, such as Acumatica and Acumatica's Cloud xRP Platform. Our open architecture with standard web technologies and development languages helps you easily bridge the gap between your ERP—your system of record—and the various cloud applications you need to run your business. A cohesive, connected, and adaptable business is the result.
"Acumatica has an open platform, which was a huge selling point," says Franklin Shiraki, Financial Controller at Firewire Surfboards, a leading surfboard maker in the market. "The company looks for outside innovation and to work with as many ISVs as possible to provide a multitude of solutions."
Firewire's success with Acumatica and Acumatica's adaptable platform (read their success story for details) is not digital transformation magic. It's due to their willingness to embrace modern technology and their recognition of the many benefits that come with it.
Contact our team—a team that is committed to growing and protecting your business as well as to honoring your customer rights through Acumatica's Customer Bill of Rights—and they'll set up a demonstration for you.