We've been excited to do a short blogging series on some of the key features and functionality of Acumatica. So far, we've discussed a day in the life of a company running on Acumatica and how to build a system your team actually wants to use by integrating your CRM and ERP. For this third and final post, we asked if we could talk about why we chose Acumatica as our flagship product at Milestone Information Solutions.
Our priority when looking for our next accounting and business management product was our customer base. We needed to find a product that had equal or better functionality than our current products, Sage 100 and Sage 500.  We wanted the switch to be a significant move forward for our clients in functionality, technology and usability.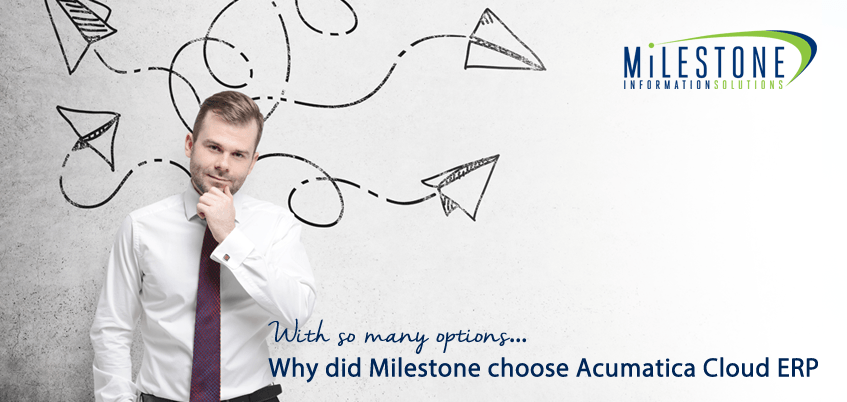 Acumatica Cloud ERP checked all the boxes on our list.
Some of the key features that we were looking for were:
Customization capabilities within the product.
Flexible reporting
Scalability so the product grows with your business
Web based solution that could be accessed anywhere
Software that could be deployed in many ways depending on customer needs or readiness.
Browser based, something that we didn't have to deploy and maintain on every desktop.
A company that is easy to work with.
A product that is focused on the mid-market.
What brought us to Acumatica?
We've been a Sage VAR for over 20 years. It has been a good product and 20 years is an impressive run for their applications. When we started, we were working with State of the Art, which was acquired by Sage. As Sage grew and continued to acquire more products, we found ourselves working with this huge company who had lost their personal touch. While we have seen some significant improvements and updates through the years, Sage began to focus more on ambitious marketing than the customers and the technology.
We're consultants, not software people or software sales people.
When we present a solution, we've got to believe in that company, and that our relationship with that company is going to last a long time.  Once we met with Acumatica and saw Acumatica Cloud ERP, it was the clear solution.
Acumatica Summit 2017
Last year we attended our first Acumatica Summit and we're even more excited to see what Acumatica has in store for us at the 2017 Summit, kicking off on January 29th and going through February 3rd.
As an Acumatica Partner VAR, something that sets the Acumatica Summit apart for us is their transparency. They share their plans for the year so we know what's coming when, and we can go along for the ride. Last year, they shared highlights and processes with the ISV's (Independent Software Vendor's) that help build out Acumatica's industry specific functionality. We're excited to see what's in store for 2017! There are also plenty of opportunities for hands on training and I know you'll be as amped as we were last year if you decide to attend.