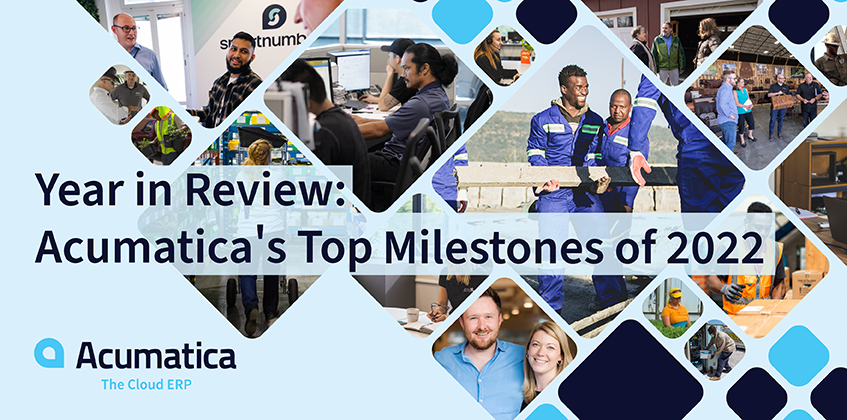 2022 has been quite a year. We've all felt the impacts of an ever-changing economic environment, with record-high inflation and continuing global instability. While these weren't necessarily the circumstances I envisioned for my first year as Acumatica's CEO, it's been an exciting time to lead our vibrant ecosystem of partners and developers—empowering our customers with the right technology to weather these challenges and be more agile, more connected, and better able to manage the unexpected.
This was also a year of growth for the Acumatica Community, both in size (as our global employee base has surpassed 600) and in reputation (with our cloud ERP solution earning multiple awards). I believe our continued success is due primarily to prioritizing and fulfilling our customers' needs, offering exceptional ERP usability, and remaining true to our principles.
Let's briefly review some of 2022's milestones, which have helped us continue to be the world's fastest-growing cloud ERP company.
Acumatica Cloud ERP: 2022 Milestones
1. Acumatica Summit
Acumatica Summit 2022 welcomed over 2,000 attendees and focused on agility through digital transformation. As our Chief Product Officer Ali Jani said, "Agility has become critical for business success and survival—enabling companies to forge through disruption and emerge savvier on the other side."
Summit 2022 gave us the opportunity to highlight Acumatica customers that have become savvy, agile businesses—including Acumatica's Customer of the Year, Green Bay Packaging, and Acumatica's Impact Customer of the Year, Cornell Cooperative Extension. (See our recap blog and the Day 1 and Day 2 press releases for further details about Summit 2022.)
2. New Product Releases
Acumatica's biannual product releases tangibly show our commitment to giving customers groundbreaking features and innovative solutions to drive their success. Each release provides enhancements carefully designed to address our customers' business management pain points.
Acumatica 2022 R1 boasted new native Acumatica integrations, including a UiPath Connector, which helps eliminate mundane tasks, and an Amazon Connector that retrieves orders in real time and automatically updates inventory levels on Amazon's marketplace. New product features included an enhanced user experience through general ledger anomaly prediction, a Global Financials Module allowing multinational companies to use multiple base currencies, a Canadian Payroll package, and localization packages for the UK and Mexico.
Not to be outdone, Acumatica 2022 R2 offered customers robust usability enhancements for transcending geographic boundaries and targeting micro-vertical markets. Customers enjoyed new, more powerful localization, integration, and financial management capabilities, automated mobile signature capture, customizable Acumatica workspaces, instant access to Wiki Help files, and flexible software integrations.
In addition to updating our product, we also extended our Partner Ecosystem. In October 2022, we introduced the Services Partner Program to boost our customer support and engagement efforts.
3. Awards, Recognition, and Analyst Reviews
Acumatica is committed to delivering business management solutions that solve problems and address pain points through state-of-the-art features and intuitive, adaptable user experiences. This has resulted in numerous awards from leading ERP industry organizations, publications, and analysts. Such achievements reflect the hard work and dedication of our entire Acumatica team, and we appreciate being recognized as an ERP leader.
The following is a list of some of the awards Acumatica received in 2022.
4. New Partnerships
At Acumatica, we believe a strong community is built from strong partnerships with our customers, developers, and partners—and with external organizations. One example is our strategic relationship with leading eCommerce platform Shopify. In July, we expanded this relationship, and merchants can now use Shopify's new business-to-business (B2B) solution to manage B2B and direct-to-consumer (DTC) stores through the Acumatica platform.
We also believe it is important to broaden our impact through targeted sponsorships. This year, we sponsored Joe Gibbs Racing (JGR) and its No. 11 Toyota Camry TRD, with renowned NASCAR driver Denny Hamlin at the wheel. We were also the primary sponsor of Paretta Autosport, the only woman-owned, woman-driven, woman-forward team currently competing in the NTT INDYCAR Series.
5. Sustainability and CSR
Finally, 2022 has seen us double down on our commitment to sustainability and to corporate social responsibility (CSR). As our recently established AcumatiCares program shows, we are laser focused on negating our environmental impact and fostering sustainable business practices locally and globally. In April, our efforts were recognized by a Silver Medal from EcoVadis—the world's largest provider of business sustainability ratings. This recognition motivates us to push even harder—to propel our sustainability efforts forward in every aspect of Acumatica, from daily operations to big events like our annual Summit.
The truth is, making our world a more welcoming place by nurturing inclusion, diversity, and gender equality has always been at the heart of Acumatica. And it always will be.
A Hope-Filled 2023
2023 is upon us, and my hope for the year is to see a thriving, successful Acumatica Community that embraces sustainability in the workplace and in the world around us. I also look forward to so many members of our Community joining me and the Acumatica team at Acumatica Summit 2023 (January 29 – February 3). There, we'll have the chance to share our dreams for the future, celebrate our Community's achievements, discover and discuss best practices, and imagine how we can shape the future of technology.
Together, we can make a difference.
If you have any questions about Summit, please contact our event team at support@acumaticaevents.com. For questions about our cloud ERP software or to schedule a demonstration, contact our experts today.