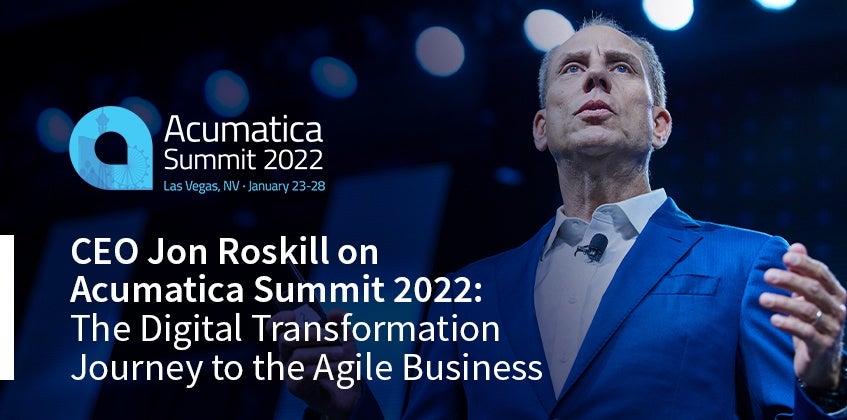 It's amazing what can happen in six months. That's how long (or short) it's been since the Acumatica community reunited at the beautiful Wynn Las Vegas for Acumatica Summit 2021. We explored what it means to embark on a post-pandemic digital transformation journey, and we're going to continue exploring this topic—and more—during Acumatica Summit 2022.
The Importance of Community
To say I'm excited to see everyone again so soon after our last cloud ERP event is an understatement. It's going to be an educational, exhilarating, and enjoyable week, beginning with the very popular Hackathon on Saturday, January 22 (for those who signed up) and ending on Friday, January 28.
The Summit is ground zero for the Acumatica community. It's where every attendee, whether customer, partner, developer, or Acumatica employee, can further their connections in-person, something I'm personally passionate about. Connecting people, processes, and technology is what digital transformation is all about.
The Importance of the Digital Transformation Journey
During Acumatica Summit 2022, we'll continue to look at the importance of digitally transforming in today's digital economy. By implementing Acumatica's award-winning cloud ERP software, a company automatically begins the digital transformation journey. It's a journey because digital transformation doesn't end at go-live. The goal is to continuously extract deep value from our software, every hour of every day. Extracting value leads to accelerating business agility, solving problems, and building a sustainable future.
In a nutshell, this means companies today must have the ability and agility to pivot in response to unexpected challenges. Their pain points, whether in response to unanticipated events and/or to ongoing growth, can be eased by Acumatica's cloud-based ERP solution, which includes partnering with hundreds of Acumatica ISV partners, whose applications seamlessly integrate with Acumatica's ERP software to provide a plethora of industry-specific solutions. And a sustainable future is foreseeable with Acumatica's commitment to providing a solution that rests on a future-proof platform and modern technology, our focus on mitigating the environmental impact of Summit as well as that of our daily operations (through our sustainability program, AcumatiCares), and our support of our customers' sustainability efforts through our digitization and cloud-based services.
Acumatica customers, partners, and developers can trust that we'll be with them every step of their journey.
The Importance of Securing a Trustworthy Partner
Why is a trustworthy vendor so important? According to Analyst Brian Sommer in his Whitepaper, ERP Vendor Selection: Find a Partner, Not a Predator, choosing the wrong vendor could make or break a company.
"Great cultures can be found in yogurt, acidophilus milk and some firms. Unfortunately, great cultures don't always exist in technology firms that you've come to rely upon. And, if you do business with a technology firm with a bad culture, it could be a very expensive, frustrating, long-term decision," Brian writes. "Can your organization afford being stuck with a bad choice for a decade or more?"
It can't.
That's why Acumatica created the industry's first and only Customer Bill of Rights. From promising consumption-based licensing, deployment flexibility, and ownership of THEIR data to consistent customer service, local business expertise, and dual layers of support (and more), we want Acumatica customers to know they can trust us with their business and with their digital transformation journey.
We solidify that trust by having the Acumatica executive team members on hand during Summit, meeting attendees in person to answer questions, receive feedback, and share insights into our cloud ERP solution.
The Importance of Attending Acumatica Summit 2022
With Acumatica Summit 2022 fast approaching, I want to personally invite every member of the Acumatica community to join us in Las Vegas for six days of cloud ERP learning, networking, and fun. We'll take a deep dive into how Acumatica sees technology, including Artificial Intelligence and Machine Learning, as the way to enhance the lives of our customers by ensuring business agility, meeting customer needs, and focusing on a sustainable future.
You can direct any inquiries about Acumatica Summit 2022 to support@acumaticaevents.com, and contact our team to learn more about Acumatica's award-winning cloud ERP software.