Run fast with confidence.
Get the Cloud ERP solution that helps rapid-growth companies thrive in the digital economy.
Schedule a demo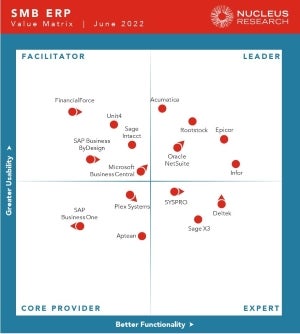 Acumatica recognized as a Leader in Nucleus Research SMB ERP Technology Value Matrix 2022
This SMB ERP Technology Value Matrix report by Nucleus Research assesses 16 leading ERP solutions on their usability and functionality, and Acumatica comes out on top.
Access report
Why Acumatica Cloud ERP?
Acumatica was born in the cloud, built to meet the ever-evolving needs of midmarket companies and their customers.
Easily integrate the tools and systems you already use
Improve efficiency with our intuitive, award-winning UI
Empower collaboration with modern, cross-module workflows
Access your data from any device
Personalize your instance in a low-code / no-code environment
Scale users and resources up or down as needed
Explore the platform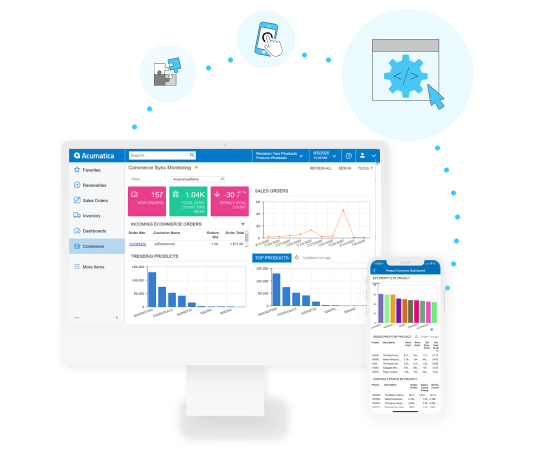 A true Cloud ERP solution
Intelligent, industry-focused business functionality that helps growing companies see and connect every facet of their business in the cloud.
Gain real-time business insights from a single source of truth
Simplify and synchronize automation across multiple workflows
Get consistent, coordinated views of current accounts
Enjoy flexible licensing that ensures you're never punished for growing
Maintain compliance while reducing overhead (GDPR, SOC Type 1 & 2, PCI DSS, and more)
Calculate your ROI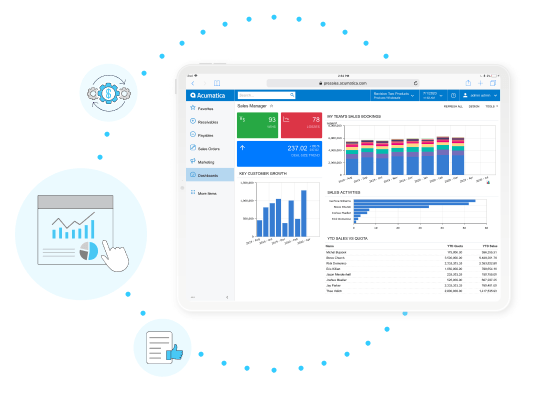 An award-winning platform that puts you first
Acumatica was built around customer—not shareholder— requirements.
The industry's highest customer satisfaction ratings
Flexible deployment options: public or private cloud
Modern pay-as-you-go, consumption-based licensing that can grow/shrink with your needs
ERP implementations without hidden fees
Dual layers of support
View customer stories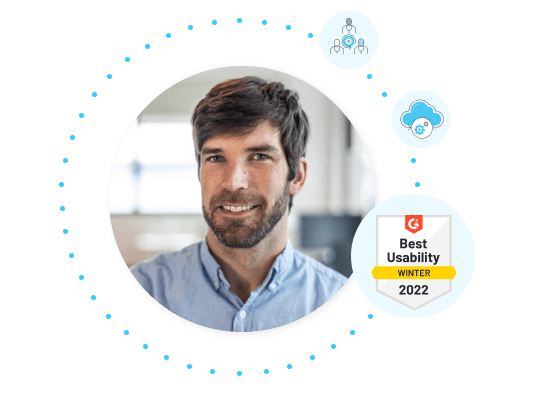 Off-the-shelf excellence, easy personalization
Best-in-class business and industry-specific solutions that can be easily tailored to meet the needs of your growing company
Integrate the tools you already use
We play nicely with others. See how Acumatica integrates seamlessly with your existing tech stack.
Visit the Acumatica Marketplace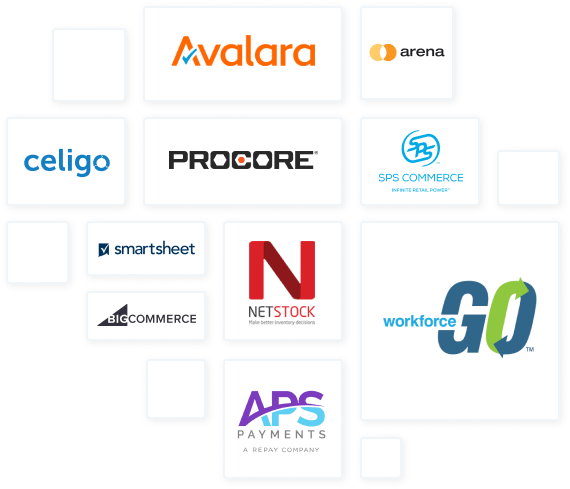 Most Popular Resources
Analyst Reports
Product Materials
Analyst Reports
Product Materials
See what's possible when you have growth-friendly technology and award-winning support behind you.
Schedule a demo