The right people, in the right place, at the right time—with the right information. When running a business as geographically dispersed as construction, having access to your business management solution at all times is imperative. Here's how the cloud delivers.
Technology adoption in the construction industry is uniquely diverse. With a variety of companies leveraging modern construction ERP solutions and exciting new technologies—virtual/augmented reality, internet of things (IIoT), machine learning (ML), and more—others are still relying on static project manuals, spreadsheets, and emails to get the job done.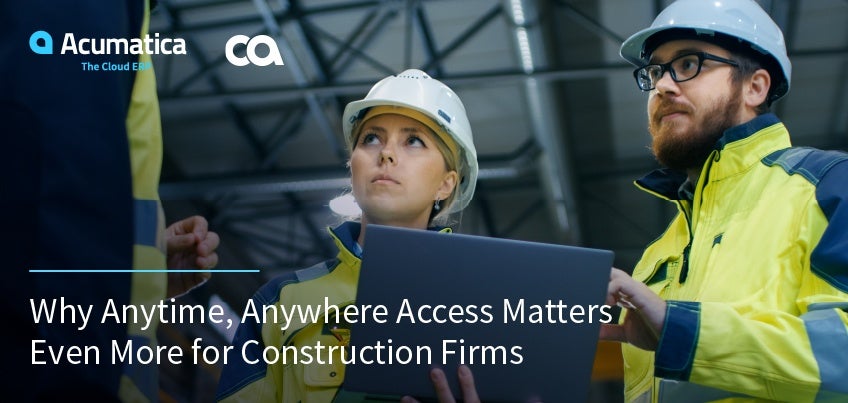 Working harder or working smarter?
This broad range of technological adoption makes for an intriguing reality: despite everyone getting the job done, some companies just have to work harder.
But this isn't the good kind of hard work that makes construction such a rewarding job. This is the annoying kind of hard work—the kind of work that doesn't create value or contribute to the project. Worse yet, it's this kind of hard work that annoys your workers, vendors, subcontractors, and clients. No worker wants to be buried in paperwork, no vendor or subcontractor wants to wait weeks for a check, and no client wants to find out that a project was delayed because of an ordering or accounting error.
Unfortunately, in an environment where workers and subcontractors are in high demand, vendors expect fast payments, and customers are more tuned into your reputation than ever, it pays to work smarter and save the hard work for the job site.
This is what makes anytime, anywhere access in the cloud so important to construction companies. No one wants to run field tickets back to the home office or spend late nights entering and reentering data between systems.
The challenges faced by disconnected processes
In today's market, construction companies should be able to connect the jobsite with the office, but if they are unable to do so, processes become more complex than they need to be. Visibility suffers, errors happen, and your business slows to a grinding halt. This disconnect leaves a construction business with challenges of keeping up with payments, projects, and competition.
When users have to scramble to piece together data from a variety of applications, managing multiple jobsites, mistakes are bound to happen, as well as the following challenges:
1. Bad Information Flow
People need to know what's going on and when it's happening. You can't waste time typing emails or digging through spreadsheets. Like cash and materials, information needs to flow through your organization.
Knowing this, the process of sending data from the field to the home office may not sound like a huge challenge—simply enter everything into an email or spreadsheet and hit send. Right? If only it was that simple. After you save and send, that data likely needs to be hand-keyed into another system. Each time this is manually entered, the risk for error increases. Not only does it take time to fix errors, think of the dangers that exist if an order is entered incorrectly, leaving your field workers with the wrong product.
2. Disgruntled Subcontractors
Sticking with your legacy system instead of moving to modern construction accounting software can lead to inefficient processes and hold back the entire organization.
For example, review and approvals of subcontractor invoices between the office and the field can be slow. This is frustrating for the subcontractor and could reflect poorly on your business, especially in times when it's hard to find great subcontractors.
3. Reputation Damage
It's a fact that delays and rework in commercial construction projects happen. Whether from unpredictable weather or dealing with permitting and licensing red tape, your project may stall. The result? Millions of dollars in lost revenue and potential harm to your company's reputation.
In an environment where a market correction always presents a threat, your reputation for being easy to work with and delivering timely project execution is critical.
True cloud construction accounting software: Delivering insights everywhere
Today's construction business needs to be more connected than ever, and luckily, the cloud makes this a reality. With modern, mobile, and true construction accounting software, your field team members can instantly and seamlessly connect with your office.
Connected cloud construction software delivers users with a single version of the truth—allowing users to stay on the same page without time-consuming debriefings or conference calls. With true cloud solutions for construction, the home office and field can work more efficiently, accurately, and reliably, knowing that employees who need access to complete, current information have it at their fingertips.
As one of the premier, award winning Acumatica partners (and recipient of the many benefits of the Acumatica Partner Program), the Crestwood Associates team is trusted to deliver Acumatica Construction Edition for our clients and can help you get up and running with this true, connected cloud accounting software so you can focus on growth in 2020 and beyond. Get to know us.
Learn more in our article Acumatica Construction Edition: Taking Businesses into the Future and by visiting with us at Acumatica Summit 2020 in Las Vegas, Nevada at the Cosmopolitan of Las Vegas, January 26-31, 2020. We look forward to chatting with you face-to-face about Acumatica's comprehensive cloud ERP software.