Acumatica developers are some of the best in the business. To support them, Acumatica provides a multitude of resources, including the Acumatica Hackathon. This year's exciting event, taking place during Acumatica Summit 2020, looks to incorporate emerging technologies. 
Since 2017, Acumatica has kicked off our annual cloud ERP Summit with the Acumatica Hackathon. This popular event has morphed over the last three years, and we're excited for you to see what's in store for you. We're also excited for the innovative applications you and your fellow Acumatica developers (and non-developers) produce.
Be forewarned: The bar has been set very high. This year's teams will need to get their creative developer juices flowing if they want to outperform (or, in this case, "out-develop") those who have come before.

All welcome at Acumatica Hackathon 2020
Whether you're a developer or a non-developer (e.g. partner, customer, Acumatica employee) coming back for more—you've made your mark in previous years—or joining us for the first time, you're welcome at Acumatica Hackathon 2020.
The first step is registering for Acumatica Summit 2020, coming January 26-31, 2020, in Las Vegas, Nevada at The Cosmopolitan of Las Vegas (the Acumatica Hackathon itself starts on Saturday, January 25 at 2 pm.) The second step is understanding why we feel so strongly about developers participating in the Hackathon.
Acumatica is a company committed to working with and investing in our developer community, unlike other cloud ERP vendors. Analyst Jon Reed of diginomica says, "Providing a developer platform for difference-making apps is something cloud ERP vendors know they should do—but few are getting it done. Even fewer are effectively mixing developers and business users in the same event."
He believes Acumatica is an exception. "Acumatica's hackathons are integrated into their user conferences, and the apps developers get done during this intense hackathon push are inspiring. I will not be surprised to learn many of them become official Acumatica apps or features down the line."
We're also a company that revolves around our platform. The Acumatica Cloud xRP Platform, with its open and flexible architecture, gives developers the freedom to customize it as they desire. We don't believe in one-size-fits-all. On the contrary, customers have business process changes that require a powerful platform and their developers can use it to make unique customizations and enhancements as well as to seamlessly integrate with other best-of-breed solutions.
Customer Corey Wynn, Information Technology Manager for Kelly Products, Inc., chose Acumatica in large part because of the platform and open API framework. The company's customer success story states, "From an IT perspective, Wynn was impressed with Acumatica's Cloud xRP platform and its open API, which enables developers to easily and quickly create customizations, connect external systems, and build add-on solutions."
Kelly Products, Inc. is the holding company for 13 agribusiness businesses, one of them being a software development business that built its own inventory control system and manufacturing resource planning package. They seamlessy integrated both with Acumatica.
"Acumatica allows us to integrate our own software into the system so we can now push inventory information through Acumatica," Wynn says. "We can invoice in real time, see invoice payment data, and see inventory levels with accuracy."
Acumatica Hackathon 2020 is more than a one-time event
Now that you know where we're coming from, the third step is recognizing that the Acumatica Hackathon isn't a one-and-done deal. It's the nexus point that brings us all together, facilitating ongoing engagement with Acumatica developers along with Subject Matter Experts (SMEs) and engineering teams.
This engagement solidifies these relationships. We also provide other vehicles of engagement, such as the Developer Track at Acumatica Summit 2020, the Cloud xRP Virtual Summit in the summer, building opportunities in GitHub, the community-helping-community Stackoverflow, and our MVP program (MVP nominations are now open). And our annual company-wide internal Hackathon for Acumatica developers from around the world is always a big hit, impacting our partner and developer ecosystem by stimulating additional innovation we leverage in tangible ways.
Case in point, Acuminator—a real-world business application that emerged from a previous internal Hack. A static code analysis and colorizer add-in for Visual Studio, it's a critical tool used by our internal teams, our ISV certification program, and the community at large as part of their development discipline.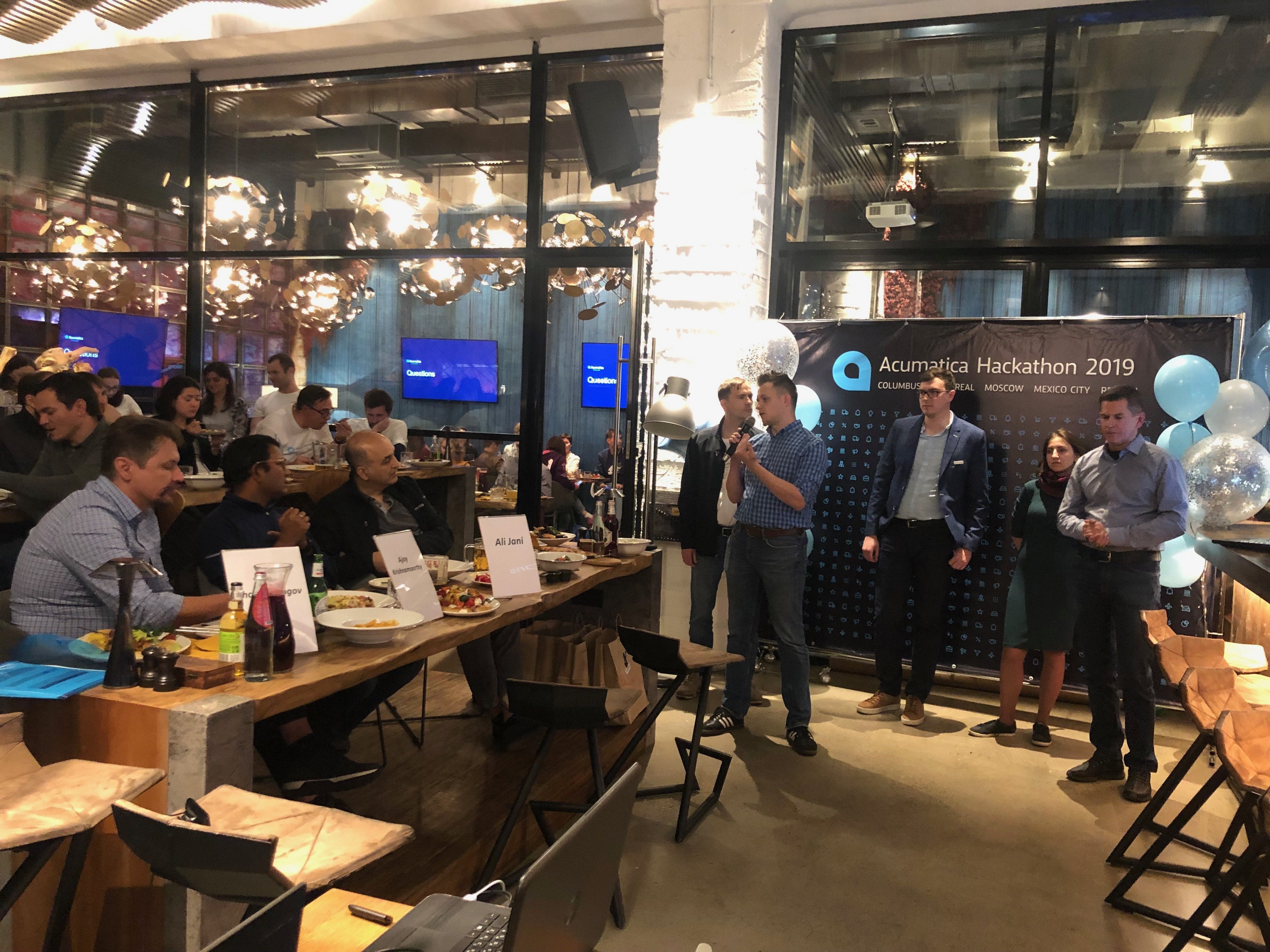 Pictured: One of the Acumatica teams presenting their solutions to the judges at our most recent internal Acumatica Hackathon.
Acumatica Hackathon 2020 takes it up a notch
During the Acumatica Hackathon, developers and non-developers alike collaborate and compete, designing the best and most innovative applications for Acumatica's platform with the help of a SME. In 2018, 2019, and now in 2020, teams, which are assigned in advance, have 24-hours (versus the original four hours) to write spec, code, and publish their work in GitHub.
This year, we're expecting teams to leverage machine learning (ML) and artificial intelligence (AI) within their applications and we are offering a special prize for the hack that does it best. As the first company to release Alexa for Business, showing how real work is getting done with Natural Language capabilities, Acumatica continues to lead the charge with emerging technologies, as evidenced in our most recent releases, Acumatica 2019 R1 and Acumatica 2019 R2.
The cloud ERP software applications produced during the Hackathon will be judged by members of Acumatica's leadership team and the winners will receive the following:
Recognition by Acumatica CEO Jon Roskill and me at the Tuesday Keynote
The chance to present during the Developer Track during the Summit
Prizes for the top 3 solutions as well as the best ML/AI Solution
Bragging rights
The coveted Acumatica Developer Network Hackathon Cup with the winning team names inscribed on it (it may make its way around the world digitally to be seen and photographed by the whole community—stay tuned!)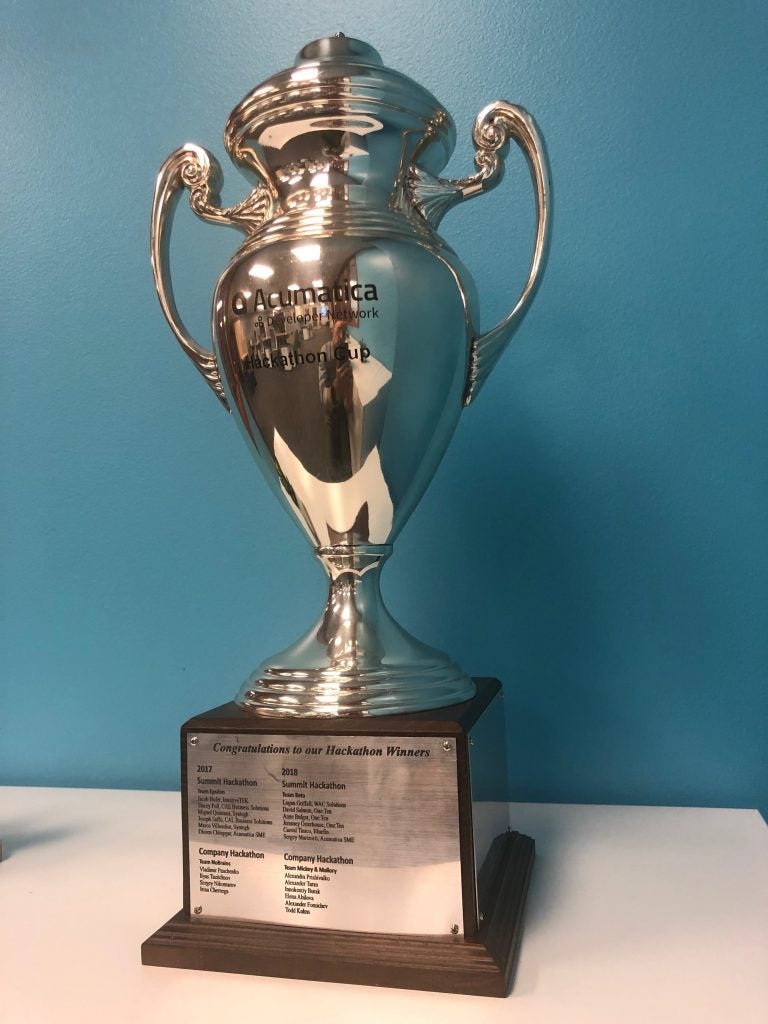 Pictured: The Acumatica Developer Network Hackathon Cup in all its glory.
Acumatica partner Brendan Hennelly, Director of Technology and Development, JAAS Systems, has attended the last three Acumatica Hackathons and has signed up for Acumatica Hackathon 2020.
"Attending the Acumatica Hackathon gives me a perspective from other developers and non-developers that we don't run into while working at the office," Brendan says. "We get to work on something fun and different with a group of people who we have never met on something that has not been developed yet all over a weekend."
He also says he enjoys seeing the other project ideas the other teams come up with and that it is "a fun event overall and a great experience for both those who are new to Acumatica and those with many years of experience."
Get your 'hack' on at Acumatica Summit 2020
Customer, partner, ISV or OEM developer, you're important to us, and we hope you'll register for Acumatica Summit 2020 and the Acumatica Hackathon right away. We expect our participation numbers to increase and hope our women developers will continue to join us, especially as we witness the national and international women in technology movement thrive. We also hope to see that same attendance growth for the Summit's Women in Technology Luncheon (more information coming soon).
Ready to get your 'hack' on? Register today to secure your spot, to get your team commissioned, and to start thinking up phenomenal applications for Acumatica's cloud xRP platform. You'll also receive a great t-shirt for participating. Come for the t-shirt, stay for the Hack!
If you have any questions about the Hackathon, please contact our event planning team. And if you have questions about Acumatica's cloud-based ERP solution, contact our cloud ERP experts today.
We look forward to seeing you in Vegas!