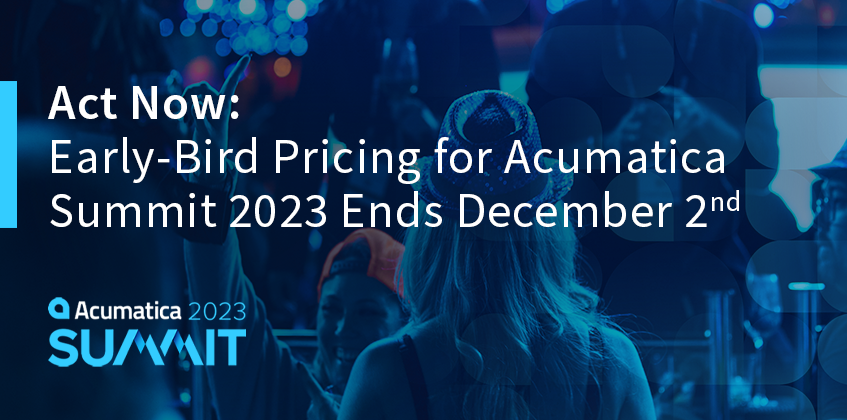 Have you ever heard anyone say, "I wish I paid more for that"? Odds are, you haven't!
Most people want to save money, which is why we're offering budget-friendly Early-Bird Pricing for Acumatica Summit 2023. But these discounts will only be around through December 2, 2022 (11:59 PM PST).
Take Advantage of Early-Bird Pricing for The Premier Cloud ERP Event of 2023
If you register now for our must-attend Summit, you can lock in savings of up to $700.
Summit Only (Sunday – Tuesday): $895 instead of $1,195
Summit & Training (Sunday – Friday): $2,195 instead of $2,895
Training Only (Wednesday – Friday): $1,795 instead of $2,195
Those numbers are pretty impressive! But registering early also means you'll secure a highly coveted spot in the breakout sessions you most want to attend.
The Summit agenda offers lots of engaging, informative sessions from which to choose. As we explained in a recent blog post, we've reduced the number of sessions for 2023, giving us the space to pack them with more value. We've increased the length of all sessions and breaks to build in more time for you to learn, ask questions, and network. Sign up now to secure your seats.
But Early-Bird Pricing and session improvements aren't the only things that make Acumatica Summit 2023 a must-attend event. Here are three more reasons why you should register today.
Reason #1: Solve Your Real-World Business Problems
Acumatica Summit 2023 is the perfect environment for solving real-life business problems. Register now and get ready for in-person access to the knowledge of skilled Acumatica partners and experts. Their passion for Acumatica's award-winning cloud ERP software is on full display at Summit, and they're just as passionate about sharing their cloud ERP wisdom with others in the Community.
Reason #2: Get More of What You Love
Growth is the name of the Summit 2023 game, and some exciting new additions are planned for this year. We can't wait to show you how we've:
Grown our very popular Women in Tech Luncheon and added a reception/knowledge and networking session. It will be an extended opportunity for women in tech to network, converse, and mentor one another.
Expanded the Acumatica Marketplace. We've even added a complimentary photo booth, equipped with a skilled makeup artist, so you can have a new, professional headshot taken for free.
Set up an interactive NASCAR exhibit of Denny Hamlin's Acumatica car, which he was driving when he placed second in the recent NASCAR Hollywood Casino 400. You'll get to experience what it's like to drive a real race car!
Reason #3: Enjoy a Superior Las Vegas Experience
Acumatica Summit 2023 is returning to Wynn Las Vegas, a luxury, five-star resort on the north end of the Las Vegas Strip. Wynn features beautiful rooms and premium amenities, including:
There are also many fine dining options. Visit Casa Playa for Mexican Coastal Cuisine, Wing Lei for Chinese fine dining, or Sinatra for modern twists on Italian classics. You can also explore the resort's incredible retail destination, The Shops at Wynn and Encore, which is self-described as "a global roster of designer boutiques [that] offers luxurious apparel, accessories, fine jewelry, status watches, and more from the world's most coveted labels."
Wynn Las Vegas is a luxurious venue where you'll be able to learn, network, and relax in a stunning, opulent environment.
Register Today for Acumatica Summit 2023
Register for Acumatica Summit 2023 by December 2, 2022 (11:59 PM PST) to lock in the Early-Bird Pricing and secure a spot in the breakout sessions of your choice. Get ready to join us in Wynn's luxurious setting for a week-long cloud ERP learning experience that will set you up for success in the digital economy.
Questions? Ask our event team at support@acumaticaevents.com. If you also have questions about our award-winning and comprehensive cloud ERP solution, they'll be happily answered by our experts.
We're counting down the days until we see you in Las Vegas!