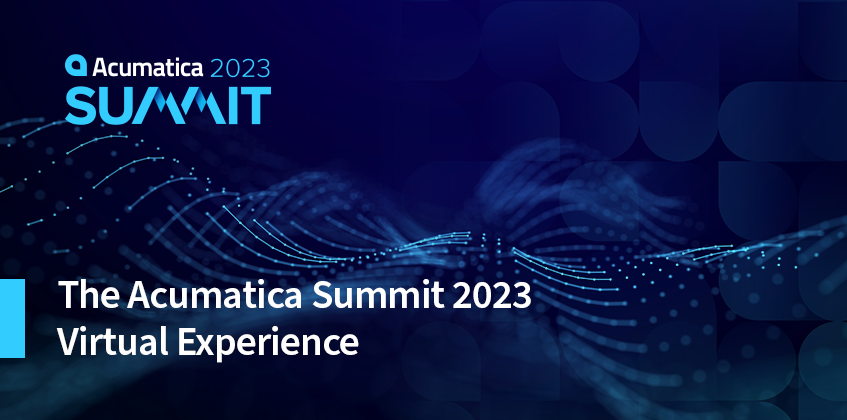 Acumatica Summit 2023 is almost here, and the entire Acumatica team is ready to engage and connect with customers—as together, we continue to build the future of business. As CEO John Case so eloquently explained in a recent article, Summit is the time and place where we as a community can "share our dreams for the future, celebrate our community's achievements, discover and discuss best practices, and imagine how we can shape the future of technology." And it all happens live and in-person at the  Wynn Las Vegas.
Unfortunately, we understand that it's not always possible for all members of the Acumatica Community  to join us. So, as we've done in years past, we're offering you the opportunity to experience the Summit's keynotes virtually through daily livestreams.
Opening Day Keynote Presentation
The Opening Day Keynote (Monday, January 30, 2023) will showcase CEO John Case—along with a number of other Acumatica executives —discussing business developments, revealing news, spotlighting customer successes, and sharing new innovations and best practices. We'll also announce our Customer of the Year and Impact Customer of the Year, which you won't want to miss.
Register for the Opening Day Keynote
Day Two Keynote Presentation
The Day Two Keynote Presentation (Tuesday, January 31, 2023) is not just about new product innovations, but also will delve into how our customer-driven approach to product development produces features and capabilities that address real-world challenges. The Acumatica Community will get its first look at what Acumatica 2023 R1—the first product release of 2023—has in store. Also on the Day Two docket are a host of product demonstrations and customer scenarios, and a deep dive into the many opportunities cloud ERP technology is bringing to small and midsized businesses in every industry.
Register for the Day Two Keynote
How to Access Daily Livestreams
While there is no substitute for being here in person, joining us virtually is the next best thing and easy to do.  First, register for each day's livestream (Opening Day Keynote Presentation and Day Two Keynote Presentation). Once you do, you'll receive a confirmation email with instructions on how and when to log in to the two sessions. Then a few minutes before each keynote kicks off, follow the link and the instructions you received via email to login—then sit back and watch as Acumatica's team members share how our award-winning cloud ERP solution can help you accelerate your success.
That's it! You're now ready to virtually participate in Acumatica Summit 2023, and we can't wait for you to be a part of it. As Kimberly McElroy, Director of Operations, Portacool, says: "Y'all, Summit is so exciting…we're excited to see what Acumatica releases, what is next in store for us … because that's what the future holds, is what Acumatica has out there for us, and we're so excited to hear about that at Summit."
Discover the latest your Acumatica Community has to offer by registering for the Summit livestreams today.
If you have any questions about our exciting, informative, and fun Summit or about the Acumatica Summit 2023 livestream opportunities, please contact our event team at support@acumaticaevents.com.