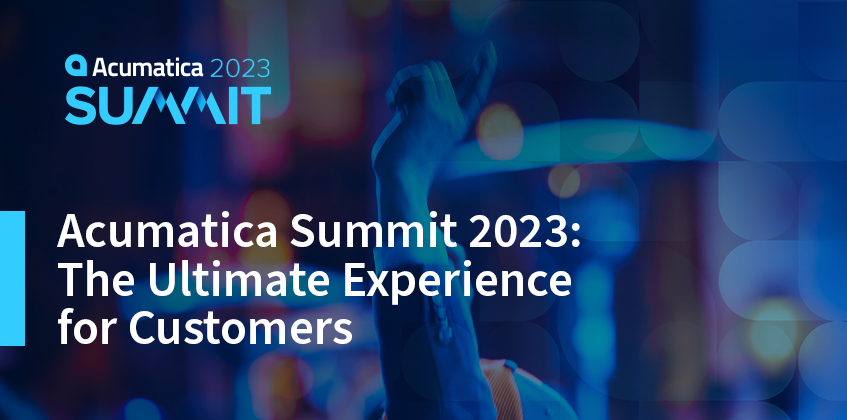 Acumatica customers who have not yet attended one of our Summits may wonder why we make such a big deal about this annual community event. Rather than hear from me about the great reasons Summit is so valuable for current customers and those interested in joining the Acumatica community, we thought we'd let other customers—many of whom have attended our informative and fun-filled cloud ERP event more than once—share their thoughts on the benefits of attending Summit. We hope their experiences will convince you to join the fun and sign up for Acumatica Summit 2023 (January 29 – February 3, 2023). We highly recommend you register by or before December 2, 2022 (11:59 PST) to snag our special Early-Bird Pricing before it disappears.
So, without further ado, here are some of the many reasons Acumatica customers look forward to attending Summit year after year.
Build Relationships, Community, Connection
Summit is the seminal event for the Acumatica community. One of the most talked about aspects of Summit is its reunion-like atmosphere. This connection is driven by our prioritizing people and innovation over process and procedure. Bob Clancy, Acumatica's Director of Events Marketing, acknowledges the importance of relationship building during Summit in a recent article. He writes:
Acumatica's annual Summit is what we call 'ground zero' for the Acumatica community. It's the time and place where our customers, partners, developers, and industry analysts can be in the same place at the same time to collaborate, innovate, and accelerate their success in the cloud. The familial atmosphere and beautiful surroundings enhance the week-long event, and we look forward to it every year.
In perfect agreement, Ben Leinster, CEO, AFF|group, says, "I heard someone ask: 'In one word, why do you go to Summit?' and for me, it's relationships." He also says one of the most valuable takeaways is his ability to meet other customers and learning how they utilize Acumatica in their own company.
AFF|group's Director of Fulfillment, Anita Easler, echoes Leinster's comments, noting that attending Summit allows them to "build relationships with the people from Acumatica and talking with other customers and seeing how they're using the product."
For Brian Stevens, Lead Developer, SETECH, attending Summit is a no brainer. "How else are you supposed to get to know the folks that are so willing to help you when you have problems?" he asks. Stevens says that both the Summit and Acumatica Hackathon (January 28 – 29, 2023) are the places where customers can learn from the community, which he dubs "Acumatica strong."
Multi-year Summit attendee Ethan Platt, President, American Meadows, says making individual connections during Summit is important and considers it a unique benefit of the Acumatica community. He says:
This is my third or maybe even my fourth Summit, and I think one of the keys to Acumatica and one of the reasons why I really like the platform is it's big enough to have scale and mass…but it also is small enough where you can have a beer with the CEO tonight, and he'll know you by name. You can meet people within the organization that are actually building the product and have direct influence on the direction of the platform. And that's really important and that's one of the key reasons we went with Acumatica, and that's one of the key advantages of Summit. You build those relationships here, so you can leverage them down the road.
And Julia Pinto-Cisneros, COO, Quality Material Handling, Inc., considers Summit a perfect opportunity to be with other customers who are excited about Acumatica's cloud ERP software and who are so willing to share the "good ways" they utilize it in their daily operations. Listen to what Pinto-Cisneros has to say about attending Summit.
Learn What Acumatica Has Planned for the Future
Acumatica believes passionately in including our community—partners, developers, and customers—in our efforts to build the future of business, together. We are therefore a huge proponent of laying out a clear product roadmap to a community that is eager to take their businesses to the next level. We not only share the latest features in our latest release (in this case, Acumatica 2022 R2), but we also offer a sneak peek of our upcoming release (Acumatica 2023 R1). Attendees receive insights into how our cloud ERP solution's upgrades, improvements, and enhancements—which are based, in large part, on customer feedback as well as on the wisdom of our R&D experts—will support their operational needs for years to come.
Says Kimberly McElroy, Director of Operations, Portacaool, "Y'all, Summit is so exciting…we're excited to see what Acumatica releases, what is next in store for us because that's what the future holds is what Acumatica has out there for us, and we're so excited to hear about that at Summit."
Marco Petruzzi, CEO, Dovetail, is just as excited about Acumatica's new features and functionalities. He says it's "interesting to just see the evolution, what problems are going to be solved with the next version, the next rollout vs. the universe of add-on and extensions that are in the marketplace and understand what things we might put in our roadmap over time."
Discovering the Latest: Acumatica Marketplace, Partner Connection 
One of Acumatica's many standout offerings is our extensive Acumatica Marketplace, which is filled with exceptional third-party applications designed by our Acumatica ISV partners. These same partners have an opportunity to sponsor the Acumatica Marketplace at Summit and to exhibit their unique solutions throughout the week-long event.
As sponsors, Acumatica ISVs appreciate a number of benefits, including answering questions, fixing problems, and building stronger connections with their current and potential customers. Likewise, customers benefit from live conversations with ISVs—whose expertise is on full display—and from improved communication. Bryan Bresnan, FP & A Analyst, Redmond Agriculture, experienced this improved communication during Acumatica Summit 2022. After speaking with one of his ISV partners about an ongoing issue, he says, "In person, we were able to get to the bottom of the problem and solve it."
Christine Ziegler, Director of Finance and Operations, Communication Center says, "I love the Marketplace to be able to see what different people are doing. We've been able to really move our business forward by seeing what products are available and taking advantage of some of those with our VAR. I always walk away knowing that the conference paid for itself."
All of the Above and More
Keith Ford, President, Eagle Fence Distributing, LLC, has been a Summit participant for several years, and his reasons encompass all of the above (and more). Specifically, Ford enjoys:
Having contact time and building relationships with Eagle Fence's VAR and with Acumatica team members.
Attending Acumatica's Welcome Reception and Celebration Dinner & Party, which allows him and his team to socialize with all attendees.
Joining training sessions (clearly laid out in the Summit Agenda) that resonate with his specific needs.
And though Ford—like all customers—is away from his business during Summit, he says Acumatica's cloud-based ERP solution makes it possible for him to stay on top of his workload. "With Acumatica, I'm still connected to my business while I'm there. So there is value for me to be away from my business, but I'm still in the cloud. I'm working when I'm there as well as watching what's going on in my business. That's the luxury of the software in itself is being able to be anywhere in the world and being able to have touch with my business no matter if I'm relaxing or working or trying to add value."
Ultimately, Acumatica Summit 2023 is all about adding value to your business. By combining the Acumatica community and cloud ERP learning in one place and at one time, we're pulling out all the stops to help you succeed in today's complex economy and marketplace.
Summit is an exciting, educational, and enjoyable experience. To hear from additional customers about their Summit experience, listen here: Why You Must Attend Acumatica Summit 2023.