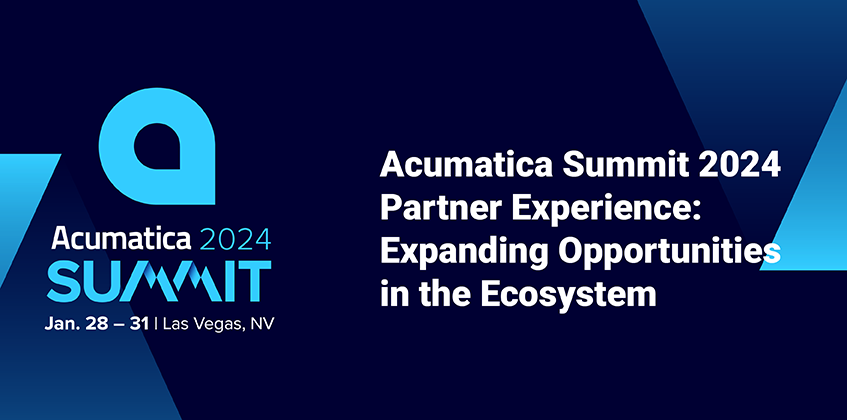 Acumatica Summit is more than just an event.  It's the premier gathering of the Acumatica community. But what does this really mean? Simply put, it's the one time and place where all attendees — employees, partners, developers and customers —   can fully engage with each other and expand their technology knowledge in expert keynotes and informative breakout sessions, without the daily distractions of the real world. When it's over, they're reinvigorated by renewed business—and personal—relationships, as well as by their deeper insight into and understanding of all that Acumatica's cloud ERP has to offer.
It's no secret that we want every member of our community to attend our premier event, and today, we're focusing on the many reasons why prospective, new, and seasoned Acumatica partners should sign up for Acumatica Summit 2024—coming January 28 – 31, 2024, at the always-spectacular Wynn Las Vegas.
Summit is a Magical Experience for Partners
Perhaps one of the best reasons Acumatica partners should attend Acumatica Summit 2024 comes from Jessica Pidgeon, Acumatica's Partner Program Manager (and a CRN's Women of the Channel List honoree for three years running).
"Summit is a magical experience for everybody who attends, in my opinion," she says. "It's magical to have everybody in the same space, getting to know each other, doing business, seeing the excitement over the new product features, learning more about the platform—and what they can do with it—and attending the many breakout sessions."
This year's Summit will be Jessica's fifth Summit, so she knows what she's talking about. The fact is, Summit's magic stems from the impressive and consistent value it delivers through our info-laden, high-quality, and fun learning sessions, as well as from the amazing people who attend, including our valued partners.
Our partners' passion for Acumatica's cloud ERP solution and their drive to help customers succeed fuels the high energy that Summit generates on its own. Starting on Saturday with our next-level Hackathon and continuing throughout the week, Acumatica partners experience a whirlwind of informative and entertaining keynote, breakout, and training sessions, balanced by engaging social events that allow them to relax, network, and grow their Acumatica connections.
As a relatively new member of the Acumatica Executive team with only last year's summit under my belt, I can attest to the fact that Acumatica's Summit is unique. It's what I call the Acumatica vibe, and every Acumatica partner— whether brand-new to the community or a years-long partner—who enthusiastically embraces, utilizes, and aligns with our values sets itself up for future success.
What Magic Awaits Partners at Acumatica Summit 2024
The magical nature of Summit is truly impressive, and this year, we've worked hard to uplevel our partners' experience even further.
Take, for example, our New Partner Reception on Sunday night. It's an exclusive event for prospective partners, as well as for partners who joined Acumatica's program in 2023. For a few hours, these partners will mingle with Acumatica executives and partner teams, asking questions about our partner programs and learning how Acumatica is an investment that goes well beyond reselling software. We see this as an expanded opportunity to celebrate our new partners, while also encouraging prospective partners to get to know us—and Acumatica—better.
Then there's the fact that we've restructured the Acumatica Summit 2024 agenda to include a day dedicated just to partners. During past Summits, partners have interacted with their customers throughout the two event days with little to no dedicated schedule time to fully immerse themselves in the learning environment. Now, they'll have the best of both worlds: time to focus on their customers and prospects during the first two days, and then time on Day 3 to focus on their learning as a partner.
To be more specific, for Wednesday of Summit, Acumatica partners can choose from one of six partner tracks, which are broken down into three one-hour segments grouped around those themes. Partners can focus on deepening their cloud ERP knowledge, knowing that they've had quality time with customers during the previous two days. And that same afternoon, the Closing Reception—with live music, cocktails, and food—offers additional opportunities for more of that critical peer networking.
Finally, a Partner Networking Forum (PNF) is set to take place following Summit on Thursday. It's a partner-led, partner-only event for the business owners of our VARs. Attendees—who must complete the Practice Owner workshop before joining the PNF—will discuss new business ideas as well as strategic topics to help drive mutual business initiatives forward. Members of the Acumatica executive team will interact with partners at the PNF and present partner-requested updates.
Acumatica Summit 2024: A Magical Event
Acumatica is ready and eager to deliver another magical, first-class event. Prospective, new, and seasoned partners will enjoy an immersive, interactive, and focused learning experience that will help them leverage the power of Acumatica's cloud technology, enhance their customers' success, and grow their Acumatica connections. They'll also experience first-hand the energy we have for what we do every day—as a company and as individuals.
Ultimately, our goal is to foster strong personal relationships with our partners by investing in their business and providing comprehensive training that sets them up for long-term success.
Our consistent and thorough level of partner support is amplified during Summit, with its face-to-face interactions and robust training that sets Acumatica apart from the larger, less-personal ERP offerings on the market. And to top it all off, Summit takes place in a luxurious, amenity-filled location. The Wynn Las Vegas is a beautiful backdrop to our technology-fueled sessions and a perfect place to relax, rejuvenate, and connect.
So, what are you waiting for?  If you are an Acumatica partner and haven't yet registered for Summit, go to the  Acumatica Summit 2024 site, check out the Summit agenda and contact the event team at support@acumaticaevents.com with any questions. For any questions about the Acumatica Partner Program or about our cloud ERP software, contact our team today.
Become a Valued Acumatica Reselling Partner