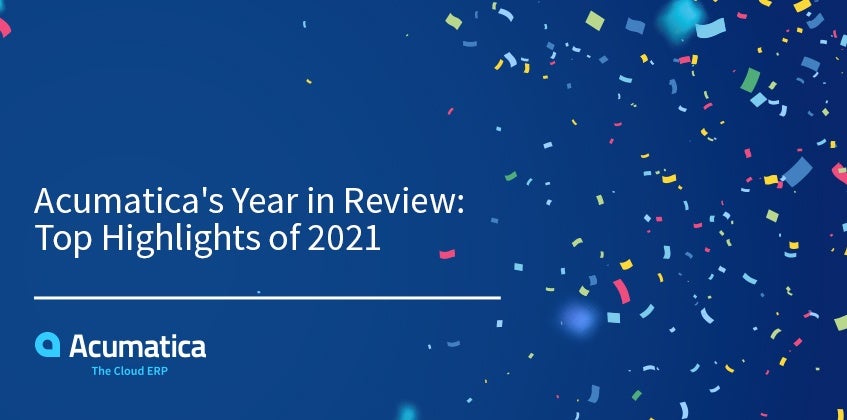 It seems like just yesterday I was reviewing highlights from 2020. Now, 2021 is almost in our rearview mirror. Though another challenging year, Acumatica and our partners again grew significantly as we helped customers on their digital transformation journeys. Our growth demonstrates that Acumatica's award-winning cloud ERP solution is in high demand, and I'm excited to get it into the hands of every business looking for success in today's digital economy.
I'm also excited to share some of Acumatica's top highlights of the year.
Acumatica's Top Highlights of 2021
1. Acumatica Summit 2021
Acumatica was one of the first cloud ERP companies to plan and execute an in-person, post-pandemic event. By doing so, we were able to re-establish the face-to-face connection so critical to strengthening personal and professional relationships.
In his Acumatica Summit 2021 recap, our CMO Todd Wells writes that it was a successful event focused on the resiliency of the Acumatica community and the reliability of Acumatica Cloud ERP. "It's a winning combination, and we will continue focusing on innovation and our customers as we meet the future head-on."
The Day One press release and Day Two press release offer more Acumatica Summit 2021 details.
2. New Product Releases
Twice a year, Acumatica provides a new product release based on customer feedback. Comprehensive ERP usability and functionality enhancements help customers manage their business needs effectively and gain a competitive edge. Though the pandemic continued in 2021, Acumatica was able to release Acumatica 2021 R1 and Acumatica 2021 R2 to the community on time and with quality.
See here for further information on our latest release.
3. Global Expansion
Acumatica continues to be the world's fastest growing cloud ERP. We have offices throughout North America, Europe, and Asia and customers worldwide. In July 2021, we opened a London office and hired a new country manager to manage partner and customer-facing operations in the U.K. and Ireland.
As noted in the announcement press release, "Companies are evolving rapidly, and we want to help our customers and partners across EMEA advance their digital transformation efforts and solve complex business challenges."
Growing demand in the Asia-Pacific (APAC) region meant bolstering our reseller network, which was announced in an August 2021 press release. "Through Acumatica's strong partner ecosystem and its international workforce, customers across South Asia will benefit from increased regional support for deployment and product feature updates, as time-sensitive issue resolution."
The press release also revealed that Acumatica was named a Major Player in the APAC market by IDC in its IDC MarketScape: Asia/Pacific Software-As-A-Service and Cloud-Enabled Manufacturing Enterprise Resource Planning Applications 2021 Vendor Assessment.
4. Awards, Recognitions, and Analyst Reviews
The many awards, reviews, and recognitions we received in 2021 encourage us to keep creating the best cloud ERP solution on the market. It also spurs us to do bigger and better things.
Here are some of the awards, reviews, and recognitions earned by Acumatica in 2021:
Visit our Awards and User Reviews page for more information on these and other Acumatica Cloud ERP acknowledgments.
5. New Partnerships
Acumatica relies on our global network of Value Added Resellers (VARs) to sell, implement, and support our cloud-based ERP solution. We offer them the highest level of training and support along with generous margins and terms through our industry-leading Acumatica Partner Program. We also offer them a no-compete partnership.
In 2021, we grew our VAR community, joining forces with some notable partners. Synergy Resources, LLC, a leading ERP manufacturing software reseller, is one such partner. The partnership was announced in August. "Synergy Resources' sole focus of providing total client satisfaction meshes perfectly with Acumatica's drive to achieve customer success—a strong foundation for the new partnership."
Soon after, the Acumatica 2021 R2 release revealed new integrations with Microsoft Teams and Adobe Document Cloud. The press release explains further.
"With the Acumatica for Microsoft Teams integration, customers can access the communication and collaboration features of Teams from directly within Acumatica, without switching between platforms. Similarly, Acumatica customers can use the Adobe Document Cloud integration to annotate, highlight, comment on PDF documents, and save updated versions with an audit trail and version control – all without leaving Acumatica."
In October, we were proud to announce that Acumatica became one of Shopify's eCommerce ERP partners for their new ERP program. Shopify launched their Global ERP Program to meet the needs of larger merchants, allowing them to connect their ERP solutions and their stores on Shopify into a single eCommerce ERP solution.
6. Sustainability Goals
Sustainable business practices are a priority for Acumatica. We celebrate Earth Day every day, and AcumatiCares, our sustainability program, is focused on making our product, our operational footprint, and the Acumatica Summit as sustainable as possible. Excitingly, we were Climate Neutral Certified this year, an achievement based on measuring, offsetting, and reducing our entire carbon footprint. We plan on retaining the certification while continuing to invest in new, meaningful climate solutions.
Good-bye 2021. Hello 2022.
After reviewing 2021, I'm reminded again of the importance of resiliency and of being a connected business in uncertain times. Investing in a flexible and scalable business management solution helps companies maintain business continuity regardless of the circumstances.
Over 8,000 customers trust Acumatica's cloud ERP software and team of 500+ employees (by EOY) to lead them into the future. Industrial Specialty Services (ISS) is a perfect example.
ISS provides integrated mechanical services and solutions to the refining, petrochemical, gas, power, pulp & paper, offshore, and subsea markets. Before choosing Acumatica and being named Acumatica's 2021 Customer of the Year, CEO James Craig says they looked for a product and vendor they could trust.
"The primary idea was to create a solution that was designed around the cloud. It was a critical element because we wanted to get away from maintaining servers or being responsible for them. We wanted to limit as much network infrastructure as possible, so we can stay focused on what we do best, which is servicing businesses in their plants and not running an overdone IT show."
James, working with BDO Digital and NexTec Group, decided Acumatica was the right ERP solution. He and his team proceeded to implement Acumatica in a short timeframe under stressful circumstances. Their reward has been a multitude of benefits, including a flexible cloud-based ERP platform, access to data in real time, an intuitive interface, and much more.
To learn what those "much more" benefits are, join us at Acumatica Summit 2022, January 23 – 28, 2022 at the Wynn Las Vegas. It's an intense but enjoyable week filled with cloud ERP learning, networking, and fun.
Contact our team with any questions about Acumatica's cloud ERP software or to schedule a demonstration.