We're releasing Acumatica 2018 R1 and Acumatica Construction Edition, and announcing our Distribution Edition and Acumatica Business Intelligence with Reporting, Dashboards and Data Analysis. We have a LOT of great information to share with you about the many improved features and increased functionality of our cloud ERP solution. The more you know, the more you'll benefit!
Acumatica 2018 R1 is here! Today we are announcing the General Availability of Acumatica 2018 R1 and are excited to share some of the great new features in this release that will benefit your business. In this first blog of a three-part series, we'll dig into Acumatica 2018 R1 and touch briefly on our new Construction Edition, which was announced in January and is now available. We are also announcing Acumatica Distribution Edition, which will be available in early April, and introducing Acumatica Business Intelligence with Reporting, Dashboards and Data Analysis today. We will cover each of these topics more thoroughly in the next two blogs in the series.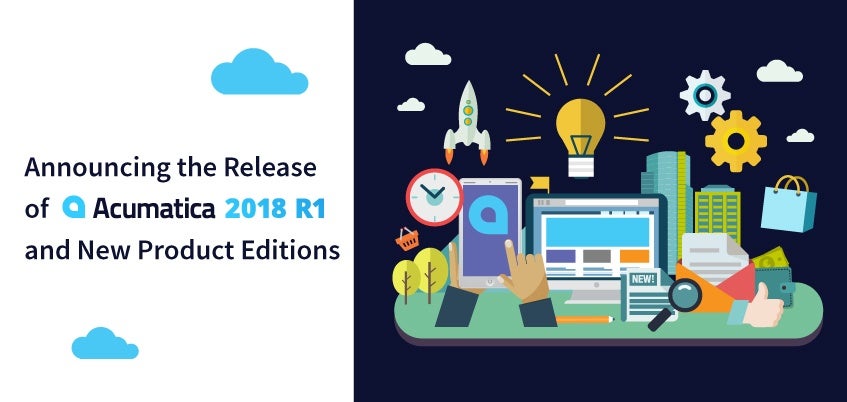 Acumatica Cloud ERP 2018 R1 release features product enhancements
With the release of Acumatica 2018 R1, users will benefit from functionality improvements in multiple areas, including Financials, CRM, Field Services, Project Accounting, and Distribution. And usability, something we consider a distinguishing factor between Acumatica's cloud-based ERP system and others on the market, has increased yet again.
Here's a breakdown of Acumatica 2018 R1 improvements.
Usability
From the start, usability has been a key component to Acumatica's ERP business software. It's designed to be intuitive and efficient, allowing users to pragmatically address their business management needs. Acumatica 2018 R1 enhancements improve the user's experience even more.
For example, to help you streamline your operations, you now have the ability to manage your account activity through email notifications sent whenever there is updated data or a set of other pre-defined conditions are met.
We've also heightened our generic inquiries capabilities. Creating, filtering, and displaying inquiries is now even easier, and accessing your data and presenting it to reporting functions for analysis is simple and effective. More on BI and reporting later!
As well, you'll have the ability to more easily configure and display any dashboard component on all web-enabled mobile devices. Taking your business on the road and accessing necessary information anywhere, at any time, ups the usability factor and the value you receive from Acumatica's cloud ERP solution.
Financials
 You'll see some key functionality changes to our fully integrated Financial Management. For one, companies can now be distinguished from branches. Define separate legal entities with independent balance sheets and separate tax reporting requirements; Acumatica's inter-company accounting allows for easy financial tracking and reporting between related companies. You can now also divide transactions to various accounts or branches during reclassification – split transaction amounts and transfer portions to other accounts, subaccounts, or branches.
CRM
The flexibility of Acumatica's CRM and ERP business software has increased by allowing users to create multiple quotes for a single opportunity. Once the customer accepts an offer, a sales order and invoice can be created based on the quote.
Along with this, we've enhanced our Salesforce integration. The benefit? Users can choose to export leads, contacts, business accounts, opportunities, stock and non-stock items, and sales prices to Salesforce by predefined scenarios.
Field Services
Our Field Services Edition – part of our cloud-based ERP system that integrates seamlessly with our CRM, sales, inventory, purchasing, accounting, and financial reporting applications – has user-friendly improvements.
First, we've standardized service contract billing. This means you can define the services that will be covered in the billing period with the number of appointments or hours, the standard fees, and the overage prices. The customer will receive an invoice including the covered amount and the overage amounts at the end of each defined billing period.
Second, keep track of your field technicians and their work in real-time through their mobile devices using GPS location on Bing Maps. Among other things, this allows your dispatchers to schedule vehicles by location and priority.
Project Accounting
Acumatica 2018 R1 provides Project Accounting and management improvements you'll benefit from immediately. New change order functionality allows you to control changes to the project scope, including customer and internal requests. You'll be able to create a change order with all the documentation, including the revenue budget, cost budget, commitments, and class. As well, define your workflows and approval processes and release change orders with full business intelligence visibility and audit trail control.
Additionally, the progress billing and pro forma invoices we introduced in 2017 R2 have been enhanced to support time and material, tasks, cost codes, and retainage for the construction industry.
Acumatica's Platform
As an all-encompassing cloud ERP solution, Acumatica provides our customers and partners with a customizable platform. This customization extends to our dashboards, which provide you vital data at your fingertips in a flexible format. Now, Acumatica 2018 R1 provides increased dashboard granularity by allowing you to filter on specific parameters to display a limited range of data (e.g., sort leads by owner or sales by product or branch).
Furthermore, customers can now monitor their resource utilization and warnings. To manage routine demands and plan for resource requirements, administrators are now able to view resource limits associated with their license, display resource warnings, drill down for detail, and monitor current resource utilization.
Acumatica Construction Edition release
Today we are also releasing for General Availability Acumatica Construction Edition, which we announced and demonstrated in January at IBS (International Builders Show) and WOC (World of Concrete). Whether you're in residential or commercial construction, cloud-based construction software will help you manage your specific business management needs. Modern construction companies require advanced technology to handle project and cost management needs if they want to remain competitive.
Based on the benefits of true cloud, real time, and high value, Acumatica Construction Edition will give you one system – accessible through any mobile device – to handle every project accurately and cost-effectively.
To learn how Acumatica Construction Edition can be the foundation of your company's business system, read these recent blogs:
Acumatica's new Distribution Edition
Though our cloud-based ERP system is a complete solution for your business management needs, there's always room to not only improve – such as with Acumatica 2018 R1 – but to add to it, as well.
One example is our new Acumatica Distribution Edition, which provides even more streamlined order management processes. Wholesalers, distributors, manufacturers, retailers, and service companies can utilize Advanced Distribution, Advanced Inventory, Order Management, Purchasing, Requisitions, Advanced Financials, and more at bundled pricing. We're excited for you to experience the benefits of a single, integrated distribution management system, including – but not limited to – improved customer satisfaction, real-time visibility of inventory needs, reduced order times, and automated processes.
In our second blog in this series, we'll discuss our new Distribution Edition further. Until then, here are two new features that automate and simplify workflows for routine order types: 1) adding stock items directly to an invoice and updating inventory without creating a sales order or return and 2) being able to process an order in one click, keeping you updated throughout the process.
Acumatica 2018 R1 Reporting and Business Analytics enhancements add even more value to Acumatica's cloud ERP solution
Before we finish, we want to introduce Acumatica Business Intelligence with Reporting, Dashboards and Data Analysis. Acumatica reporting and business intelligence capabilities aid you in future-proofing your business through real-time visibility into data from multiple sources, helping you with decision making and growing your business. And best yet, it is all part of the Acumatica platform that you get with Acumatica ERP. We'll dive into our self-service reporting, dashboard and data analysis in the third blog of this series.
Whether you're a current Acumatica customer or partner, or considering becoming one, we hope you'll contact us with any questions you may have about our new release and new editions. We're excited for you to experience the benefits brought by Acumatica 2018 R1 and our true cloud ERP!
Existing customers and partners can visit the Acumatica Partner or Customer Portal for more details.