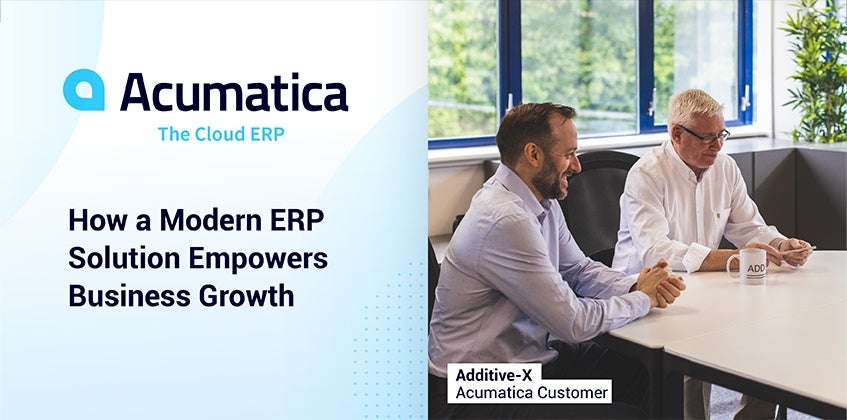 Economic headwinds including ongoing inflation, supply chain issues, and workforce shortages present challenges to all organizations, particularly small and midsized businesses (SMBs) looking to compete and grow. Most of these SMBs know growth is critical to survival, but the current economic climate is turning growth ambitions into a battle to survive. According to the Opportunity Insights Economic Tracker, in April 2020, small business revenue had tanked by 49.6% compared to January 2020, and around 9.5 million SMBs had closed—some temporarily, many permanently.
While this trend is reversing with increased growth in new businesses and SMB revenue, many SMBs may still be struggling because they are relying on limited or outdated technology that is thwarting their growth. Entry-level accounting software, which many new businesses choose, and legacy (a.k.a. old) business solutions, on which many veteran companies rely, are not designed to operate in today's global, digital economy—an economy that requires SMBs to be agile, strategic, and future-minded as they face constant fluctuations.
So, what can an SMB do to overcome the odds and create a sustainable upward trajectory? Investing in a modern, cloud-based ERP solution that is specifically designed for business growth is a good place to start.
What is an ERP Solution?
Enterprise resource planning (ERP) solutions are core business management technologies. Contrary to what the name suggests, ERP software is no longer exclusively for enterprises. Modern, cloud-based ERP systems have made it easy for businesses of all sizes—and in every industry—to manage all processes from a single interface, streamline workflows, collaborate remotely in real time, and much more.
An ERP solution connects every team across an organization and gives each user access to the most current, accurate, companywide data—empowering them to make fast, tactical business decisions. Cloud-based ERP solutions make this information available online, so employees have on-the-go data access, anytime, from anywhere. This increases collaboration, boosts efficiency, and enables companies to grow on their terms.
How Does an ERP Solution Spur Business Growth?
Acumatica's eBook, "Why Growing Businesses Need ERP Software," covers the core ERP capabilities that enable business growth. These include:
Robust, interconnected applications: SMBs must keep pace with increasingly sophisticated financial, sales, and customer management needs, and, to accomplish this, they need access to industry-specific applications (e.g., inventory, warehouse, and project management) with multi-language, multicurrency, and localization capabilities.
Integrated, scalable workflows: Businesses should be able to scale according to their unique needs.
Accurate, accessible data: SMBs need a "single source of truth" from which every user can pull accurate data, eliminating costly mistakes.
End-to-end visibility: Powerful visibility means users can identify timely trends and catch issues before they happen.
Analytics and intelligence: SMBs can gather, analyze, and produce actionable data, leading to informed decision-making.
These powerful capabilities alone can boost sales, help companies enter new markets, improve customer satisfaction, increase productivity, and enhance IT security and value. Simply put, replacing outdating, disconnected technology with a modern ERP system is a recipe for growth.
Cloud ERP in Real-World Action
The power of modern, cloud ERP software is shown in the stories of businesses that have used it to transform their operations and push forward into flourishing growth—businesses like Key Code Media.
Founded in 2001, Key Code Media provides training, equipment, and technology solutions for broadcast, video, and audio/video professionals. The company's growth trajectory increased dramatically when demand for its services spiked during the pandemic-generated shift to remote work. Unfortunately, Key Code was using multiple, disconnected legacy systems (e.g., Sage 100 for accounting, Saleslogix for CRM, and Excel for project coding) to manage its increasingly complex business needs.
Faced with siloed systems, no real-time information, and error-prone manual data import/export, the Key Code team needed a single, connected ERP solution that would fit their unique requirements. After evaluating several systems, including Microsoft Dynamics and Sage Intacct, they chose Acumatica.
Speaking to digonomica for an article on business growth, Key Code Media president and owner, Mike Cavanagh, says several factors went into the decision: "Acumatica had, from my perspective, more of a true cloud-based model, where you're charged on actual usage. So, if you have a light user, you're not paying the same as a heavy user. Instead, you're paying literally for [what you] compute… Acumatica [was also] a more open system, allowing us to be able to make our own reporting and self-service a lot of our needs."
Key Code has used Acumatica to spur its business growth efforts. For example, the company's CFO, Ka Man Chan, told diginomica that they have acquired three companies and expanded their workforce at a cost that was "three to four times" less than what other ERP companies, with per-user licensing fees, would charge.
Key Code has also achieved effective, companywide communication, clear visibility into costs, and automated, integrated business workflows powered by Acumatica's artificial intelligence (AI). And, with Acumatica's mobile app, the company has equipped its hybrid workforce with real-time, immediate access to the critical information they need to do their jobs—anytime, from anywhere.
Says Cavanagh, "Because we had timely reporting of financial information, we could really make intelligent decisions on the spot about additional acquisitions, managing supply chain, getting more people up and running on the system without having to pay $150 per additional licensee…"
Delivering Sustainable Business Growth
Acumatica's modern cloud ERP solution delivers innovative features and extensive functionality that enable SMBs to grow affordably and sustainably. As Ka Man Chan says in Key Code Media's customer success story, "We only have eight hours a day and need to scale the business, so we must ensure we use our time well. With Acumatica, rather than spending that time inputting data, we use our talent to analyze data and make more strategic decisions."
To learn more about how Acumatica is helping small businesses achieve their growth ambitions, download our complimentary guide and contact our experts with any questions or to schedule a demonstration.