Acumatica Summit 2023 is just days away! We look forward to seeing you in person at Wynn Las Vegas. Consider this blog post your official Summit event guide to help you pack, travel, navigate the Wynn resort, download the Summit app, and more.
What to Pack
Below are the must-have items for a visit to exciting Las Vegas in January (average high of 59°F/15°C and low of 28°F/-2°C).
Business casual attire (including branded gear).
Workout outfit (to take part in Morning Yoga or the Fun Run).
One "dressier" outfit for the Monday night Summit Celebration Party.
Light jacket or sweater.
Comfortable shoes.
Personal care items.
Optional: Appropriate clothing to take advantage of Wynn's many amenities (like a swimsuit for the heated pool).
In addition to your clothing and personal items, don't forget your:
Electronics, including laptops and chargers.
Business cards.
Notebook and training prep work.
How to Get to Wynn Las Vegas
Only three miles from the Harry Reid International Airport (formerly McCarran International Airport), Wynn Las Vegas is conveniently located for Summit attendees. To get from the airport to the hotel, you can rent a car from the Harry Reid International Airport Rent-A-Car Center, or you can arrange for a Ride Share through Uber or Lyft, use a taxi service, take the local bus, or schedule a seat on the airport shuttle (in advance) through Wynn's Bell Services staff.
If you decide to rent a vehicle, Wynn offers two parking options: free self-park garages located off Las Vegas Blvd. (subject to availability) or Valet Parking for $35/day (also subject to availability).
How to Check in at Wynn Las Vegas
Wynn offers several efficient check-in options. You can head directly to the well-staffed Front Desk, or you can use the resort's personal check-in stations located to the right of the Front Desk.
Where to Go at Wynn Las Vegas
Wynn and its sister property, Encore Las Vegas, stretch across an amazing 215 acres. This means getting around requires a resort map (provided below or online here) and comfortable shoes (on the to-pack list).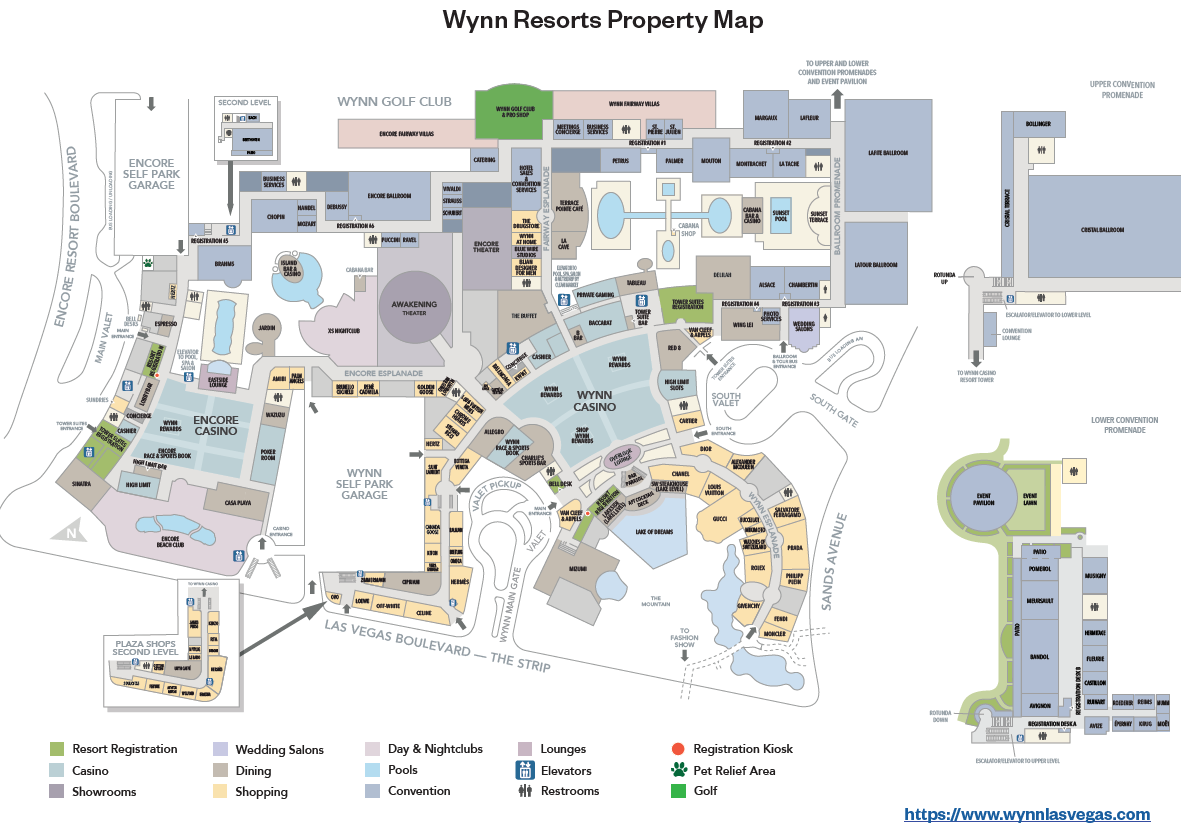 Due to Wynn's size and scope, we recommend taking a self-guided tour of the meeting spaces before Summit commences. To help you out, the following list highlights the main Acumatica Summit 2023 events and their locations.
Hackathon: Pomerol
Keynote Sessions: Cristal Ballroom
Acumatica Marketplace/Welcome Reception/Meals: Lafite and Latour Ballrooms
Summit Celebration Party & Dinner: XS Nightclub
Women in Technology Luncheon: Margaux 1 & 2
Closing Reception: Foyer Outside Marketplace
Individual breakout and training session locations are noted in the Acumatica Summit Agenda.
How to Stay Connected at Summit
With so much going on during Summit, it's important that you know what's happening and when. This is where the Acumatica Summit Event App comes into play. It provides updated event information at your fingertips, and you can also use it to design your schedule and build your personal agenda based on the breakout and training sessions you plan to attend.
Just follow these easy instructions to download the app:
Download the Acumatica Events app from the App Store or Google Play.
Follow the instructions to log in.
Access the Acumatica Summit 2023 event.
The Final Countdown to Acumatica Summit 2023
We hope this guidance and these easy-to-follow steps help alleviate the stress of travel and inspire you to pack early. The final countdown to Acumatica Summit 2023 has already begun, and it's time to get packing!
If you have any questions about this "not-to-be-missed" community event with deep cloud ERP software learning and entertaining social activities, please email support@acumaticaevents.com. For any other questions regarding Acumatica, contact our experts today.
We're looking forward to seeing you and your perfectly packed bags soon!