Having modern manufacturing ERP software wrapped up in a single system is quickly becoming a necessity for the manufacturing industry to compete in our technology-driven marketplace. Check out our free video to see if Acumatica's Manufacturing Edition is the right manufacturing ERP software for you.
As a producer of standard or custom products for any industry, you may have questions about whether you need to invest in a modern manufacturing ERP system or not. This blog and video may help you decide.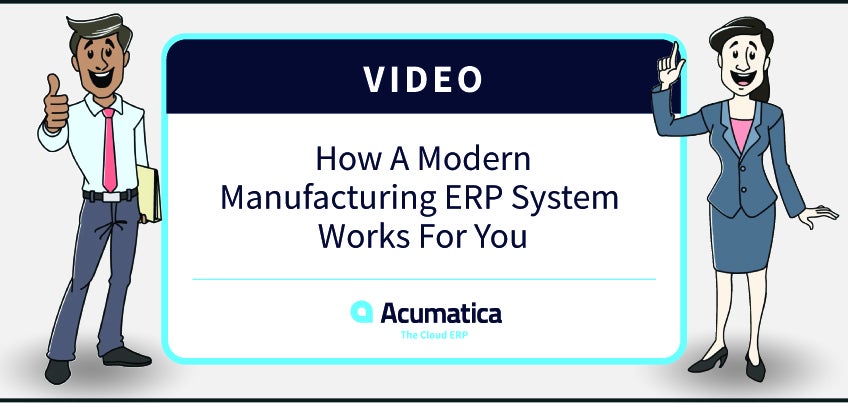 A manufacturer needs manufacturing ERP software to help balance decisions
In today's competitive market, manufacturers continuously engage in making balancing decisions:
Balancing demand from customers and product supply from their operations
Balancing too much inventory and overhead expense with stockouts
Balancing pricing of products with actual product costs
A simple accounting package does not help do any of that. However, for decades there has been a solution to planning that balance. Unfortunately, many companies have not taken advantage of that technology.
Many have thought that the only choice was an entry level accounting system and maybe in the future add a shop floor control and planning system.
This video helps explain why a planning system for manufacturing includes inventory, control over shop orders, and material requirements planning (MRP).
Why old systems are insufficient
Unfortunately, those entry-level systems were not designed for planning for the balance. And trying to integrate a standalone, basic accounting system to a planning system results in two, or three different systems, creating these problems:
No real-time integration
Data in separate systems gets out of sync
Decisions made on incomplete or inaccurate information
This means that for every strategic business decision, you have to double check your information. As you are building your company, you are increasing this challenge by adding extra systems to meet your goals.
If you are on QuickBooks or an old legacy accounting system, the technology is here that can take you to the next level in steps. Today you can get a modern cloud solution you can start with financial obligations, add inventory, and when you're ready, add material requirements planning (MRP). Your result is a comprehensive and integrated Acumatica's manufacturing ERP system solution for all of your business management needs. All without IT costs and with a unique pricing model that is based on resources used, not your number of users.
Acumatica was named a Leader in the 2017 Manufacturing FrontRunners Quadrant, and it can level the playing field between you and your competitors.
Take 5 minutes to understand the business benefits of an integrated and balanced manufacturing ERP system
While implementing a balanced manufacturing ERP software system obviously requires more than five minutes, we hope our short but informative video clearly illustrates how planning drives shop floor control and feeds accounting.
Acumatica's Manufacturing Edition is functional, flexible, and affordable. Our manufacturing ERP software seamlessly integrates Bill of Material and Routing, Production Management, Material Requirements Planning (MRP), Product Configurator, Estimating, Advanced Planning and Scheduling, Order Management, Sales Order Management, Purchase Order Management, Inventory Management, Project Accounting, CRM, etc. allowing you to easily share data between every part of your complex operation and to automate your processes – all from one central location. Our solution is cloud-based solution, but you can deploy on your servers or in the cloud.
Let me recap what Acumatica's Manufacturing Edition can do for you and your business:
Help Balance your supply and demand
Provide visibility to information across all areas of your operations, making decision-making easier
Help you meet your schedules
Track your actual production costs
Reduce IT and Inventory costs
Control and track your production costs
And more
Your business' future rests on being able to support your manufacturing operations with a 360-degree and real-time view of all of your business processes, from production planning to the shop floor.
As the video states, "The days of the stand-alone system are gone. In today's competitive world, an integrated ERP system is the norm." Making the shift will give you an edge in today's technology-driven market.
Still on the fence?
If you're still debating the pros and cons – along with wondering about the ROI – of choosing a modern manufacturing ERP system or have specific questions about Acumatica's cloud-based ERP platform and products, please contact us.
We're excited about what we have to offer and how it can help your business grow!