With numerous technologies that impact manufacturing ERP systems available, figuring out which one to invest in is not easy. Our new – and free – whitepaper is a great resource for mid-sized manufacturing companies faced with these decisions. It breaks down the technology that's here, the technology that's coming, and the role it plays in your company's success.
Do you ever feel challenged with the amount of new technology available to you in today's marketplace? If so, we're offering a free Whitepaper, Technology and the Mid-Sized Manufacturer, as an easy and comprehensive way to get you up to speed. As one of the authors, I believe this is must-read material for mid-sized manufacturing companies that want to stay abreast of innovative technology (such as modern manufacturing ERP systems use), know when to adopt said technology, and understand the benefits they'll receive when they do.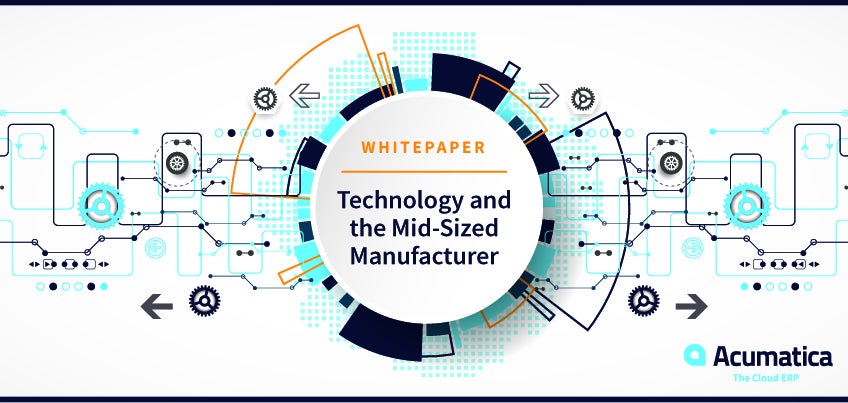 Manufacturing and technology: what you should know
The manufacturing industry is no stranger to innovation and automation. Most manufacturers have used a wide range of technologies for many years such as bar coding, CNC, or EDI, all of which contribute to increased productivity and profitability.
But before they experienced these benefits, manufacturers had to decide they wanted to invest in these new-at-the-time innovations. With this in mind, it's imperative that mid-sized manufacturing companies doing business in this technology landscape recognize how "every industry is being impacted by digital manufacturing, cloud computing, the Industrial Internet of Things (IIoT), e-commerce and omni-channel marketing, robotics, additive manufacturing, and more."
Interestingly, different companies adopt new technology in phases based on customer requirements, competitive opportunities, and more. "Innovators" undertake the first phase; they're the ones who are willing to gamble on innovation. These chance takers are followed by the "Early Adopters," who help spur the technology on. Then come the "Early Majority," signaling that the technology has become familiar and is now used by many companies. The "Late Majority" sign on due to the pressure they feel from their competitors. And, finally, the "Laggards" accept the inevitable and adopt the new technology.
We've found that mid-size manufacturing companies usually tend to be in the "Early Majority" or "Late Majority" phases on many technologies. This depends, though, on which technology is being adopted and by which industry (there are many variables between industries and within industries) as well as what their budgets, capabilities, experience, and even attitudes allow.
Instead of coming to the party late, it's to your benefit to understand the specific technologies, such as comprehensive manufacturing ERP systems, that impact mid-market manufacturing companies. This early acceptance may help you jump ahead of your competitors.
In the Whitepaper, we define and date the numerous manufacturing technologies introduced through the years, as well as briefly discuss the technologies currently being used by most manufacturers, such as bar coding, EDI, MRP/ERP systems, CAD/CAM, and more. We then dive into technologies gaining acceptance along with emerging and future technologies, explaining which technology you need to know about right now and which technology you need to keep in mind for later.
Here's a brief list of these technologies:
Rapidly gaining acceptance:
Emerging:
Industrial Internet of Things (IIoT)
Digital Manufacturing
Next Generation Mobile
Future:
Artificial Intelligence
Machine Learning
Blockchain
If you download our Whitepaper, you'll get clear, specific explanations of each technology as well as find out which technologies apply to you as a mid-sized manufacturing company.
Why modern technology is key when researching manufacturing ERP systems
Technology is here to stay and will continue transforming itself year-after-year. Mid-sized manufacturing companies need to learn how to navigate the current technological landscape. You should have an understanding of the differing technologies – those that are already here and those that are on the horizon – if you want to both compete and succeed.
If part of your responsibility is to help guide your company into the future, I recommend you download Technology and the Mid-Sized Manufacturer. It's loaded with the information you need, including six questions you should ask yourself about your competitors and the technology they've adopted, questions such as has their technology allowed them to produce products more efficiently or allowed them to see every aspect of their business through integrated, modern manufacturing ERP systems?
As you contemplate the answers to these questions and those you'll find in the paper, we want to point out that at Acumatica, we offer our manufacturing customers a modern ERP they can use to remain competitive, fully integrating their CRM, manufacturing, warehousing, field service, and accounting needs. Our Manufacturing Edition also helped us attain the position of Leader in the 2017 Manufacturing FrontRunners Quadrant per actual user feedback based on value and capability.
We write in our whitepaper, "New technologies…cannot be ignored. You can lead, follow, or get out of the way and let your competitors (and new competitors entering your market on the wings of new technology) take away your business advantage."
Do you agree? If so, we hope you'll contact us. We'd enjoy discussing how Acumatica is committed to continually spearheading technological advancements in our cloud ERP product and platform and how mid-sized manufacturing companies can greatly benefit if they take advantage of them.