Why is There a Global Chip Shortage?
The global chip shortage, which has moved from a concern to a crisis, was not on most companies' radars before it hit.
Different sources suggest the shortage was due to a combination of unexpected factors, including the COVID-19 pandemic lockdowns, which increased demand for consumer electronics (and put a major kink in major supply chains); the trade war with China, which reduced the amount of chips available from China's biggest manufacturer; the draught in Taiwan, which plummeted the availability of pure water to clean factories/wafers; and a huge winter storm in Texas, which shut down power to a major computer chip manufacturing plant.
As shortages go, this one's a doozy, affecting manufacturers and distributors in over 160 industries around the world.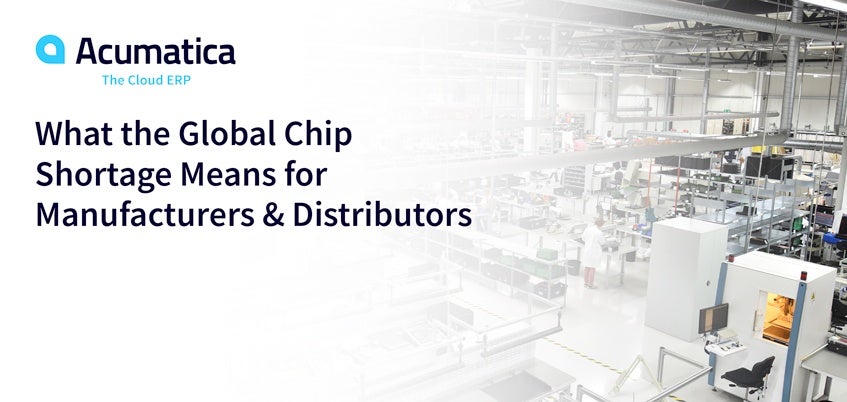 Chip Shortages and Consumer Goods
Neil Campling, media and tech analyst at Mirabaud, told The Guardian, "Chips are everything. There is a perfect storm of supply and demand factors going on here. But basically, there is a new level of demand that can't be kept up with, everyone is in crisis and it is getting worse."
It is getting worse, especially because every electronic device uses semiconductor chips. TVs, mobile phones, washing machines, computers, videogames/game consoles, and cars are just a few of the goods that are feeling the lack.  Unfortunately, the high demand for—and the lack of—goods requiring chips is going to hit consumers in their bank accounts as prices go up.
The question is, how long will the chip shortage last?
According to Gartner's recent press release, the global chip shortage is expected to continue until at least the second quarter of 2022. Gartner Principal Research Analyst Kanishka Chauhan is quoted as saying, "The semiconductor shortage will severely disrupt the supply chain and will constrain the production of many electronic equipment types in 2021. Foundries are increasing wafer prices, and in turn, chip companies are increasing device prices."
The press release also notes, "Across most categories, device shortages are expected to be pushed out until the second quarter of 2022, while substrate capacity constraints could potentially extend to fourth quarter of 2022."
Forecasting Industry Disruptions
To say it's difficult forecasting disruptions of this magnitude is an understatement. The convergence of so many factors resulting in the global chip shortage as well as supply chain issues was unforeseen. However, there is one thing that can help distributors and manufacturers continue to run as optimally as possible during difficult and unprecedented times: A cloud ERP solution.
Cloud ERP solutions connect vital business applications, such as (but not limited to) financials, inventory management, sales orders, purchase orders, warehouse management, accounting in one place. The right solution provides companies with real-time and synchronized data that can be accessed anytime, from anywhere.
Though the future is unpredictable, especially in terms of natural disasters, pandemics, and chip shortages, Joseph Powell, VP of Business Development, Kissinger Associates, believes planning for a "variety of potential futures" is possible with cloud ERP solutions. "A connected cloud ERP system doesn't only help you act more effectively in the now, it frees up your staff to focus on value-adding activities, helps them collaborate more effectively, and delivers the functionality, insights, and flexibility you need to plan for a variety of potential outcomes. Whether it's in the form of making your forecasts easier, more accurate, or more flexible, the right solution might not be able to predict the future, but it will help you plan for a few different ones."
In other words, while the global chip shortage was unforeseen and cannot be solved by a cloud ERP solution, a cloud ERP solution can help manufacturers and distributors pragmatically address the consequences of such a situation.
For example, manufacturers may need to allocate their components for their chip-dependent products based on the decreased supply and increased demand. A cloud ERP solution with manufacturing and distribution software will provide the capabilities to track inventory and balance material requirements against availability and production schedules as well as to manage their supply chain and logistics activities while integrating it all with financials, sales, and CRM.
How Acumatica Cloud ERP Can Help
Acumatica's award-winning cloud ERP solution is a future-proofed ERP solution based on an open, flexible platform for seamless integrations with third-party applications. It's a single source of business truth that also helps businesses adapt to ever-changing circumstances.
According to an IDC report, cloud ERP technology, such as Acumatica, "helps make the digital business resilient, durable, and sustainable so that it is able to withstand the factors of health and safety, social distancing, and working from home" during the COVID-19 pandemic. Withstanding a global chip shortage and supply chain disruptions can be added to the list.
To learn more about Acumatica's cloud ERP software, including Acumatica Manufacturing Edition and Acumatica Distribution Edition, and its ability to help businesses remain resilient in the face of unexpected situations, contact Acumatica's experts today.
Acumatica Manufacturing Edition | Acumatica Distribution Edition