This is the fourth post in the multicloud series. This is Part 1, Why Businesses Who Embrace the MutliCloud World are Setup for Success. Here is Part 2, Modern Licensing in a MultiCloud World. And Part 3 is also available – The "Hyper Converged Hybrid Cloud" and the MultiCloud World.
Mobility has become a logical extension of the cloud because mobile provides the ability to access the cloud from anywhere. It gives you the freedom to conduct business from a traditional office, your home, or even a beach in Hawaii.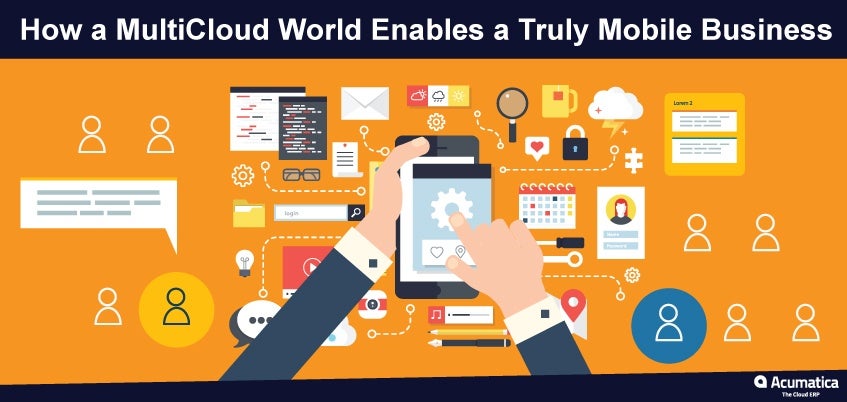 However, cloud-based software and applications are tied to various clouds, rather than one centralized theoretical space. For example, Salesforce has its own cloud that its customers can access via mobile. This Salesforce cloud is a unique application, and is different than, say, the Zenefits cloud, another application that can be accessed via mobile. These two cloud-based software applications can talk to a browser, but not always super easily to each other, since they exist in different cloud environments, referred to by us, here at Acumatica, as the multicloud world. Integrating all of your cloud-based programs can be a complex process due to the varying infrastructure that each app or software uses.
So, how do you take advantage of the natural link between a multicloud world and mobile convenience to make your business truly mobile?
Defining Mobility
What do we mean when we say "mobile"? Does it mean the actual hardware, such as mobile smartphones, tablets, and laptops, or the more intangible ability to move around and take your work wherever you need it? Well, both.
Back in the day, nearly everyone was, metaphorically, chained to their desks because work was confined to one desktop or at least one on-premises server. Software had to be directly installed on each computer and updated individually. Remote access was possible, but it was extremely expensive and clunky.
This changed when browsers became ubiquitous with secure HTTPS protocols, and companies began building applications to work within a browser instead of being rooted to the computer's own software. The cloud was then born. Of course, it's not just one giant cloud where everything hangs out together and plays nicely without any prompting. Things are a bit more complex than that.
Because of the cloud, applications accessed from both computer browsers and mobile devices have gained huge popularity over traditional software. So, mobile is defined as a physical device, but also as the ability to work across multiple devices from any location, connecting the work done across physical devices.
The MultiCloud World Enables Mobility
Now that we've defined "mobile," let's look at why it's necessary to use software that works in the multicloud world to ease the complex issue of getting multiple software and applications to work together.
Since browsers span applications, I assume that I can access all my clouds through a single browser, right? Yes and no.
A browser provides a window into each individual cloud, but does not roll up data across clouds. Tapping back and forth between apps is very inconvenient.
The user experience is limited if you access complex cloud data using a browser on a mobile browser due to screen real-estate restrictions.
Many cloud applications provide mobile applications to enhance the user experience, but this means you need to download and maintain several mobile applications. In addition, the mobile apps are designed to provide the widest level of use and appeal with limited customization capabilities. That limits what an app can do as your needs change.
The key is to be able to access software and apps based in various clouds that communicate with each other easily no matter where you are or what device you're using. That's how a multicloud world can make a business truly mobile, and that's what we are building into the Acumatica platform. A great example of this is our Outlook Integration with CRM. With this Add-In, you can seamlessly input information between your email and CRM system in ways never before possible with an ERP solution. And all of this is available via your phone, tablet, or laptop. Watch this video for more information on our newly launched Outlook Add-In.
As you can see, using a platform that's built to interact with the multicloud world is key to setting your business up for success. Rarely is the connectivity automatic, but that's why we work so hard to make Acumatica a flexible and adaptable platform, in spite of the differing data sources that often underlie each cloud. To learn more about this and other benefits of a multicloud world, don't forget to register for the Acumatica Summit 2017, held in San Diego, CA, from Jan. 29th through Feb. 3rd.