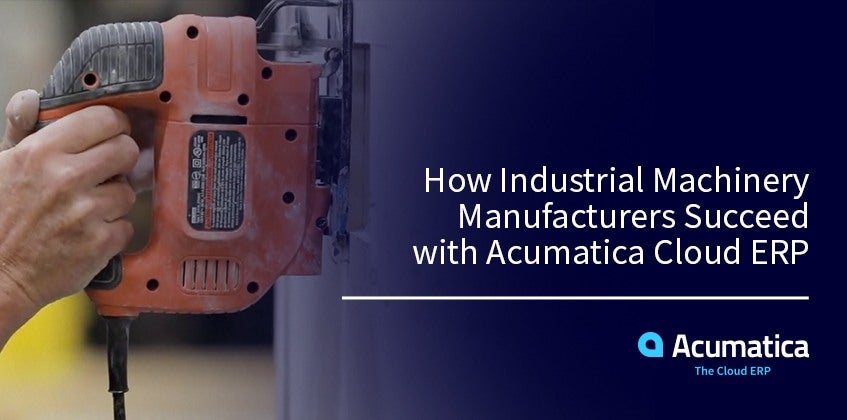 Industrial machinery manufacturers build tools and equipment the construction, mining, manufacturing, food processing, and energy industries need to operate. Their products are instrumental in supporting every facet of the global supply chain to keep the world running efficiently. But what helps industrial machinery manufacturers operate efficiently? Modern cloud ERP software.
Success with Acumatica Cloud ERP
Let's look at some manufacturers that have successfully produced and distributed their essential products thanks to Acumatica's ERP for industrial equipment and machinery manufacturing software. However, before we do, let's look at pain points industrial machinery manufacturers using legacy ERP solutions endure:
Inability to connect multiple external applications managing complex product material plans and production schedules
Long manufacturing lead times for production and component sourcing
Difficulty keeping engineering bill of materials (BOM) in sync with manufacturing and bill of materials for multi-level BOMs containing hundreds of thousands of components
Limited access to ERP application for engineering users and manufacturing estimators due to restrictive user licensing
Lack of seamless integrations between third-party configurator applications and legacy ERP systems or accounting applications
Cumbersome quote creation due to a lack of robust estimating tool
The following industrial machinery manufacturers overcame these challenges and more when they turned to Acumatica's cloud-based manufacturing management software.
Scott Fetzer Consumer Brands (Wayne Pumps, Halex, Ginsu Brands)
Scott Fetzer Consumer Brands (Wayne Pumps, Halex, Ginsu) is a division of the Scott Fetzer Company, located in Harrison, Ohio. It manufactures high-quality products for home, family, and industries and is "dedicated to providing products and services that help people live more productive lives."
They have a number of leading consumer brands in their US-based system. WAYNE Pumps, a company that offers a complete line of basement protection systems, sump, multi-use, swage, effluent, well, lawn, specialty pumps/systems, and accessories, was acquired by the Scott Fetzer Company in 1978.
Chris Freese, VP Finance, says the growing company was operating with a legacy ERP solution and needed to make a change. "We had a legacy system that was so highly customized, we couldn't even do updates."
They evaluated five different ERP options and narrowed them down to two. The presentations for each system netted Acumatica the win. Acumatica VAR PC Bennett Solutions partnered with the company to implement Acumatica's Manufacturing Edition with Financial Management, Customer Management, Advanced Inventory, and Order Management suites.
The company has become more efficient in inventory management, order management, and more. Additionally, Chris says, "[Acumatica is] more cost-efficient. Actually, our costs for running Acumatica versus our prior system, we've saved money. As well, we have immediate information we didn't have before."
During Acumatica Summit 2021, Scott Fetzer Consumer Brands received the Manufacturing Customer of the Year Award based on their successful digital transformation.
Demtech
For 20 years, Demtech Services, Inc. has been helping the Geosynthetics Industry succeed with high-quality welding and testing equipment. The company has offices in California and Ohio and mobile units providing sales and service to customers in the field.
Of the 20 years they have been in business, 14 were spent relying on QuickBooks. The small-business financial software could not meet their growing financial and accountability needs as the company expanded offices and added multiple warehouses.
According to Demtech's Acumatica Customer Success Story, tech advisor Collins Computing determined that Acumatica's cloud-based ERP solution was precisely what Demtech needed. The Gold Certified Acumatica partner helped Demtech implement Acumatica's Acumatica Financial, Distribution, and CRM suites along with the Fusion Warehouse Management System with wireless barcode scanners.
The benefits of choosing modern cloud ERP software to manage their manufacturing requirements?
Improved management of inventory
Integration with warehouse management for barcode scanning
"Better business intelligence" with accurate data
Increased role-based security
Enhanced employee connectivity through remote access
Strengthened customer service
Says CFO Roger Collins, "Carrying a multi-million dollar inventory, you've got to have good controls for that…." It's not a good thing when your inventory is off. With the new controls that Acumatica has in place, our inventory is much more accurate."
He adds, "Acumatica will help us expand with our international markets and, for that matter, expand into additional markets we're starting to look at."
Specified Technologies
Specified Technologies (STI) has developed robust fire protection systems for over 25 years. Though growing, they were hindered by their financial management solution (Sage MAS products and MAS 500), which they used for over 14 years.
STI chose Acumatica Cloud ERP and Acumatica Manufacturing Edition to help them gain financial visibility, operational efficiency, and customized functionality.
Christa Peterson, STI's director of accounting and finance, says in their Acumatica Customer Success Story, "Acumatica was easier to use, an up and comer, and aligned with our business focus on customer experience. Acumatica gave us personal attention and demonstrated that they cared about learning our business rather than just marketing their solution. We are that kind of company too. We also thought (the product) was very intuitive."
The company now has a platform that allows it to operate leanly, eliminates paper/manual processes, and integrates its manufacturing shop floor with its accounting, customer, inventory, and reporting processes.
STI Director of Information Technologies Kevin Boyle says, "Acumatica provides all the fundamentals needed to run your business, so when you are ready to take the next step and expand or move into a new market, there are strong systems and processes in place to take that on."
All Industrial Machinery Manufacturers Welcome
The industrial machinery manufacturers highlighted today are just three of many manufacturers who selected Acumatica Manufacturing Edition to prepare their industrial equipment manufacturing businesses for continued growth.
From make-to-stock, make-to-order, and engineer-to-order to project-centric, job shop, batch, and repetitive manufacturing, Acumatica Manufacturing Edition is perfect for all manufacturers. It provides core manufacturing, distribution, and reporting functionality (including Bill of Material Routing, Material Requirements Planning, Order Management, Warehouse Management System, Project Accounting, Manufacturing Estimates, Production Management, Advanced Planning and Scheduling, Product Configurator, Service Management, and much more) while also allowing for seamless integrations with third-party applications. In addition, it's an affordable option that provides 24/7 remote access using any web-enabled device.
Download our free Industry Digest, Manufacturing: Industrial Equipment and Machinery, to learn more. You can also contact our team with any questions or to set up a demonstration.