Technology stands still for no one, as evidenced by those innovations that have arrived with Industry 4.0. That's why mid-size manufacturers that invest in the right manufacturing ERP have the tools they need to succeed.
Technological advances bring great opportunity … and great risk. New technologies like those included in what is now called Industry 4.0—digital manufacturing, industrial internet of things (IIoT), advanced planning and supply chain management, among others—promise improved performance, better visibility and control of the entire supply chain, lower cost, shorter lead times, and more agility/responsiveness to changing customer demand.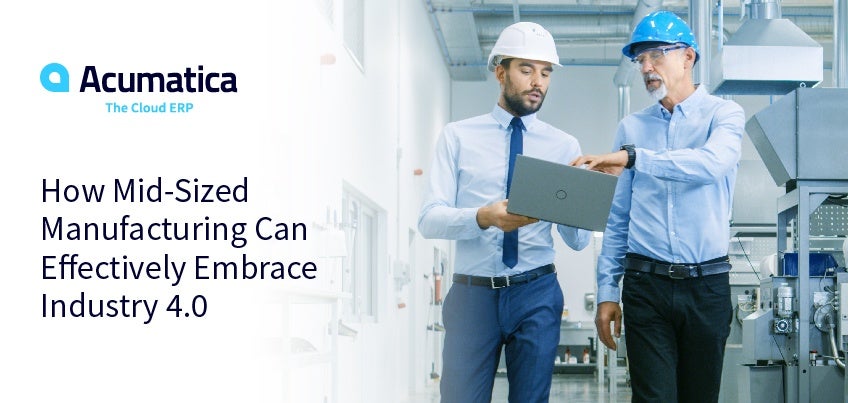 When manufacturing and modern technology collide
These exciting new tools are beginning to have an impact in the most advanced manufacturing environments. And major pieces of this technology are becoming practical and affordable for small and mid-size businesses (SMBs)  as they start the journey by implementing cloud manufacturing ERP solutions with business intelligence and advance analytics, digital manufacturing, IIoT, and additive manufacturing.
Developers at Acumatica are working on additional expansions within our manufacturing software that go beyond what is typically included in Industry 4.0 and, in fact, can demonstrate the following:
Zero touch automation: Incorporating voice recognition and voice response to more fully integrate system support into the daily routine: "Alexa, what's the next job on the worklist for work center A23?". Also integrated with augmented reality (AR) like Microsoft Hololens to further enhance hands-free operation.
Integrating powerful search within the applications and out to the Internet:  Enter a generic description of an item and match it with items in inventory, history, or not in your system as yet. Even search for an item based on a photo. Further, the learning aspect of the system can suggest item classification, account to assign it to, estimated cost/price, and more based on previous "experience".
Intelligent Advisor: Machine learning guides search, operations, support and information entry to make systems more responsive, less intrusive, and more effective.
These benefits do not come free, of course. Technologies always require an investment and not just money for hardware and software. Existing processes must be changed or replaced, workers retrained and perhaps redeployed.
Few companies can afford to invest in a system or process change only to find that it is not compatible with another new technology. Unfortunately, the technology revolution is advancing so rapidly that it is just about impossible to anticipate and allow for those future incompatibilities.
So, what can a company do to mitigate this risk?
How to plan for technology advances
Start by putting together a plan that addresses the most critical needs—where you may be struggling to respond to customer demands or competitive pressures—and using the most appropriate technologies be they improved manufacturing ERP software functionality, "smart" systems based on machine learning and artificial intelligence, or a combination unique to your situation, needs, and capabilities.
The easiest way to avoid future compatibility issues is to commit to a major supplier's platform and infrastructure, one that offers robust solutions today and has demonstrated a commitment to adopting leading new cloud ERP software capabilities as they emerge and become practical and affordable.
While it may seem that the biggest global ERP suppliers would be the safest bet for a platform, that may not actually be the case. The biggest suppliers tend to develop their own components and infrastructure. This may give them an advantage in interoperability within their own products but likely makes it more difficult to interconnect them with other systems that are not a part of their ecosystem.
Acumatica cloud ERP empowers manufacturing SMBs
Acumatica's platform is based on de-facto standard components from industry leading suppliers—Microsoft operating environment and system tools and cloud technologies from Amazon Web Services (AWS). Mainstream platform components using standard protocols allow you a choice from a broad universe of additional technologies from a wide range of suppliers, streamlining the adoption of Industry 4.0 technologies.
For manufacturing SMBs, utilizing a single cloud-based ERP solution, one that is affordable, flexible, and integrates with essential third-party applications, is the future. Acumatica and Acumatica Manufacturing Edition supply the modern technology (AI, VR, etc.)—and security—required to meet both short-and-long-term goals as well as to compete in the ever-changing marketplace.
If you want to learn more, please contact our team today.