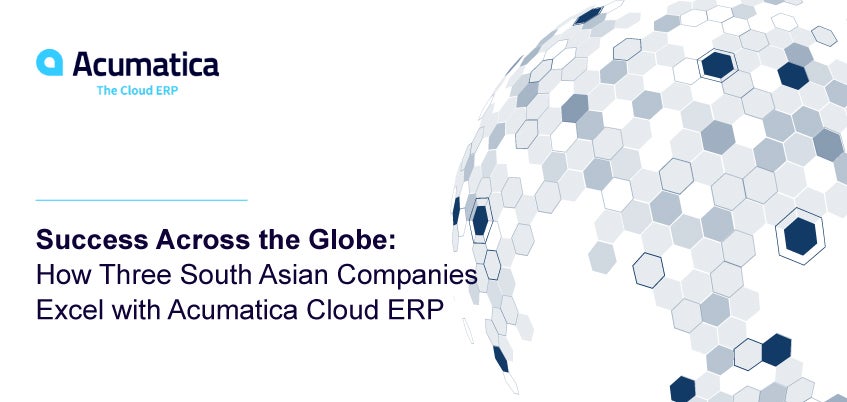 According to an Allied Market Research report, the ERP software market in the Asia-Pacific region was valued at $11,989.00 million in 2020 and is projected to reach $48,034.00 million by 2030. The report also indicates that pandemic-related constraints (e.g., shifting to remote work) increased the demand for cloud software, which businesses used to ensure business continuity.
This growing demand has not gone unnoticed by Acumatica. Currently, we have over 50 regional team members and almost a dozen resellers focused on distribution, manufacturing, and construction industry needs in Sri Lanka, Bangladesh, and the Maldives.
Thorsten Leppek, director of the Asia region at Acumatica, says, "We sincerely value the partnership of our early Acumatica partners in South Asia. Through their expertise and local ties, we can support the abundance of growing businesses in need of Acumatica's mobile, adaptable, and efficient cloud ERP solution. They are central to our success in the region."
Finding Success with Acumatica's Cloud ERP Software
At Acumatica, our success is determined by the success of our partners and customers. The following stories of Acumatica customers suggest that we're all doing well.
The Learning Lab
Based in Singapore, The Learning Lab (TLL) has been helping students, from pre-school to junior college, to achieve scholarly and life success by "nurturing a love of learning." Privately owned, the educational enrichment organization reaches thousands of students, encouraging them to solve problems, think big, and seek excellence.
Unfortunately, excellence was not a word associated with TTL's disconnected and outdated software applications used to manage their financial, CRM, billing, attendance, and class scheduling responsibilities. The issues stemming from its aging technology, including lack of customer data for billing and revenue allocation, manual data entry by a two-person team, no access controls, validation and reconciliation issues, and more, convinced the finance team of their need for a modern ERP solution.
After researching several ERP solutions, TTL company executives selected Acumatica. Former Finance Director Shirley Lim says in the company's Acumatica customer success story, "Acumatica is a well-developed solution that takes the best accounting practices and requirements into consideration while also incorporating what users and customers actually need. Acumatica's interface is easy for end users to adapt to, and its ease of integration with our existing platform was another plus."
With assistance from partner Info Cloud Asia, TTL implemented Acumatica's Advanced Financials with Fixed Assets, Deferred Revenue Accounting, Intercompany Accounting, and Inventory & Ordering Management. The company now runs on a single solution, which gave them access to updated revenue and financial data, eliminated the need for manual data entry, increased collaboration across the organization for its 500 employees, improved inventory visibility across its regional centers, and allowed integration with third-party applications.
"With Acumatica being cloud-based, it enables us to work anywhere, anytime and this is the direction that everything is headed," says CFO Ying-Jian Chan says.
He adds, "Having a reliable ERP solution like Acumatica in place gives customers even more confidence in what we do, preparing students to achieve success now and into the future."
Marikina Food Corporation (HOBE/HOBE Noodles)
Marikina Food Corporation produces exceptional food products and is considered one of Philippines' "pioneers of machine processed and dried bihon products." The company, which is the first bihon company to receive HALAL Accreditation in the Philippines, offers more than their wildly popular HOBE noodles, including a variety of snack items, fruit preservatives, shrimp paste, and condiments.
With a mission focused on "excellent product innovation and development to continuously serve the Filipino consumers with high-quality and cost-efficient food products," the Marikina team is dedicated to customer satisfaction. However, the company's years-long dependency on legacy ERP software and on Excel spreadsheets was stifling their efforts.
In fact, its disconnected technology created many financial statement errors, couldn't update business data, and only allowed a few users at a time. Aware that it was past time to find a modern solution, Marikina Food assessed its ERP solution options, including Acumatica, which was recommended by the company's trusted technology partner, Vantage Consulting and Solutions Inc.
The company chose Acumatica, and Patrick Ordonez, financial consultant, says in Marikina Food's Acumatica customer success story, "We use Acumatica to make sure everything is accurate—from orders to inventory and invoices to payables."
In addition to Acumatica's unlimited user pricing model, Marikina Food is enjoying:
A single version of the truth with updated data. "We used to wait seven days for the information to come in. With Acumatica, we have it in two days or less. This allows us to make decisions at a faster rate, react faster, and stay ahead of the competition."
Meaningful and insightful reports. "Acumatica's clean, user-friendly, role-based design and powerful approval level configuration improve employee efficiency with actionable reports and inquiries available on interactive dashboards."
Competitive advantage with real-time data: "We can now see which items need to be discontinued, if there is a problem with costs, and do a deep dive by product, by region, by salesperson, and product category. Our decision-making is much better."
As Marikina Food continues to grow, Patrick and company executives say Acumatica has made them more efficient, reduced their downtime, and allows them to add more employees affordably.
Tien Phong Plastic South
Tien Phong Plastic South manufacturers plastic pipes and plastic fittings in Vietnam. Its southern affiliate employs 350 people and operates in the Binh Duong province with a sales office in Ho Chi Minh City.
A successful manufacturer, Tien Phong Plastic South was nevertheless struggling with a legacy system. It offered disconnected sales, accounting, inventory, and warehousing modules, which only allowed a few authorized users (thus limiting visibility into the workflow processes), lacked real-time or in-time reporting, and required multiple workarounds. The executive team began evaluating cloud-based systems with the help of technology partner Patsoft JSC.
In the end, the manufacturer chose Acumatica. ERP Project Manager Van Kim Thanh says in the company's Acumatica customer success story, "The most important reason why we chose Acumatica was that it is flexible. We also looked at SAP and Oracle, but those systems were not flexible or easy to customize to our needs."
Full-time access to Acumatica's comprehensive cloud ERP solution from anywhere was another huge factor in handing Acumatica the win, along with the fact that Van Kim says the solution "does not require a strong expert in-house to maintain the whole system."
The Tien Phong Plastic South and Patsoft JSC teams implemented Acumatica Distribution Edition with Financial Management, Fixed Assets, and Custom Manufacturing by PATSOFT. They are now able to house their company-wide data within a centralized solution. In addition to eliminating data reconciliation between systems, their employees have insight into every workflow from beginning to end, improving collaboration, teamwork, and business outcomes.
"We look forward to continuing our growth now that we are live and successful with Acumatica," Van Kim says.
Acumatica's Cloud ERP Software: The "Foundation for Success"
Acumatica continues to expand across APAC, and we're committed to enhancing our product and service, as well as to building a strong community. This commitment is especially important as the region continues to feel the effects of the pandemic.
Thorsten, Acumatica's director of the Asian region, addresses the situation in a recent post, explaining how modern technology can help. "The COVID-19 pandemic has forever changed how we do business, and its full impact—including its ultimate economic effect—remains to be seen. It's a challenging, stressful time, and we must seek ways to overcome it. The right cloud ERP solution is a strong foundation for success—offering critical mobile access for remote work, seamless connections with team members and customers, advance planning capabilities to mitigate supply chain issues, online selling tools to harness omnichannel opportunities, and cash flow strategies to maintain business continuity."
Contact our experts to learn more about utilizing Acumatica as the foundation for success and the benefits of becoming a valued Acumatica customer.