Becoming a connected business and ensuring business continuity is important but even more so for businesses operating in COVID-heavy regions. Acumatica's Director of Asia Region provides strategies for tackling business challenges during uncertain times.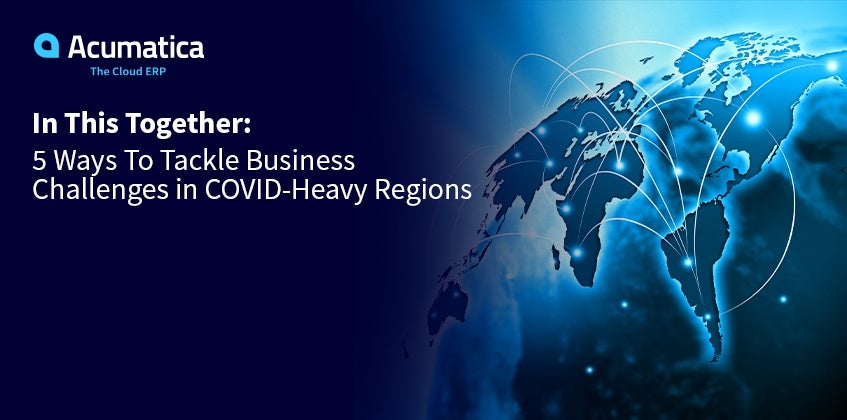 As life and the economy have begun slowly returning to a 'new normal' in many places around the world, countries in Asia are experiencing a spike in COVID-19 cases. The result is continued lockdowns for different regions with only essential businesses allowed to operate.
For non-essential businesses, becoming a connected business to ensure business continuity has never been more critical than it is right now.
Ensuring business continuity as a connected business
Located in Thailand as Director of Acumatica's Asia Region, I have been watching as the recent COVID-related cases in Thailand (the BBC has reported that 26% of COVID cases in Bangkok have been of the Delta variant at the time of this writing) and all over Asia have continued to place enormous economic strain on every business not deemed essential. Needless to say, it's a difficult time, but it is during these difficult times that human resiliency and innovation rise up to overcome these challenges.
For example, advances in technology have provided organizations with tools they can use to navigate a distressed economy, including cloud-based ERP solutions. Cloud ERP solutions act as a centralized repository for the data that flows in from every department and as a single system that manages, connects, and automates every aspect of the business, from financials, sales, accounting, and CRM to inventory, purchasing, manufacturing, and distribution (and more). It also allows businesses to seamlessly integrate with essential third-party applications.
The right cloud ERP software can help a company become a connected business, which ensures business continuity even during difficult times. Here's how:
1. Remote work and mobile access
One of the biggest and most dramatic pandemic-fueled impacts for me was—and still is—my inability to travel. Before the pandemic, I traveled every week, visiting partners in different countries. Now, I am no longer able to meet with my team and partners in person. This lack of in-person contact has forced me to alter how I interact and communicate on a daily basis.
Cloud technology allows me to work remotely from any browser-enabled device. It's a simple and effective solution. Regardless of my location or what time it is, I, my team, and my partners have mobile access to our business management solution.
Other individuals and businesses can enjoy this same success in uncertain times. I spoke with the CEO of a leading packaging firm company with operations in Indonesia. When asked how his factory was doing, he said that the government allows them to open up two days and then close again, then gives them permission to open up right before they close down again.
This is beyond challenging, but having a flexible, remotely accessed solution can help businesses like these overcome ever-changing circumstances.
2. Connection
Remote work and mobile access capabilities of cloud technology not only help me connect with my team and partners, but they also help me connect with customers. And my customers are able to connect with their customers.
One way they can facilitate this connection is by providing a customer portal within their cloud ERP solution. Customers have access to all of their information and can also order directly from the business without having to leave their residence.
This easy access is appreciated by customers and solidifies business relationships when in-person meet ups are not possible.
3. Advance planning
The 2021 supply chain challenges, including a chip shortage, are affecting businesses globally. In Asia, the supply chain crisis is an extreme issue for most businesses. For example, there are not enough shipping containers to move goods from one country to another or to import products to sell/distribute in the local market. I personally tried to send a welcome gift to a customer in Sri Lanka, but shipments to the area aren't possible right now.
With a cloud-based ERP solution, companies have the technology to plan their supplies and orders in advance. They also have accurate, updated information at their fingertips and can efficiently source alternative options, track inventory, and manage logistics even while working remotely.
4. Online selling
As discussed, travel restrictions and quarantining requirements have stifled the market.  Online selling has become the go-to option for businesses that have had to close their brick-and-mortar stores during the pandemic. Products that wouldn't have been considered online friendly in the past, such as machinery for factories, are becoming common sites on company websites.
Per IDC in Better Together: SaaS Digital Commerce Platforms and ERP Help Organizations Grow Past Legacy Limitations, "The global COVID-19 crisis heightened the importance of customer experience and operational systems. In 2020, IDC saw a dramatic shift toward digital commerce as organizations moved business models overnight and accelerated the adoption of digital commerce levels previously expected for 2024."
Cloud ERP software helps facilitate eCommerce operations, providing organizations with the ability to manage omni-channel orders, customer support, accounting, inventory, fulfillment, and more from one centralized solution.
5. Cash flow
With the COVID-19 pandemic reaching one-and-a-half years, and in some places appearing to have no end in sight, cash flow has become a major issue. Companies have used up—or almost used up—their cash reserves. For some countries, such as Malaysia, only essential companies are open, which translates into zero revenue for non-essential businesses.
The right cloud ERP solution can help. For example, Acumatica customers have the ability to cancel modules they currently aren't using and re-implement when they need them again. They can also downgrade their resource levels.
Altogether, these actions can positively impact cash flow, and therefore business continuity, during unprecedented events.
Thrive with the right cloud ERP solution
The pandemic has forever changed the way we do business, and the full impact of COVID-19 – including the economic effect – is yet to be seen. Though some areas have begun to rebound, Asia is experiencing continued lockdowns and economic depression. It's a challenging, stressful time, but the right cloud ERP solution can help businesses overcome them by offering critical mobile access, seamless connection with team members and customers, advance planning capabilities, online selling tools, and cash flow strategies.
Acumatica does all this and more. Our award-winning cloud ERP solution has been the technology foundation for companies successfully running their businesses before and during the pandemic. Businesses around the world are not alone in their struggles, and we're here to help.
To learn more, contact our team of experts today.