Let's be honest here. Most of those who follow this blog are familiar with what Enterprise Resource Planning is and why a company might need a Cloud ERP software system. But outside of company owners, business experts, or corporate leadership, ERP isn't necessarily a household term. Our most-searched-for website page is What is Cloud ERP? When we talk to clients and partners, we find that plenty of people can see why an ERP solution is important (especially when they are dealing with broken or insufficient tools), but there are a lot of misunderstandings out there about when and why to implement one. This week we're focusing on common misconceptions about ERP software, starting with today's three:
Misconception #1:
ERP is all about Internal Process Improvement
Asked why they implemented an ERP system, most companies will give one of the following answers:
to automate our supply chain
to eliminate non-value-added steps in our key processes
to better manage our inventory
While these are all great reasons, they're secondary to the real issue.
At the end of the day, a huge part of business success is about getting the right product to the customer at the right price at the right time, also known as Customer Satisfaction. By integrating order fulfillment, inventory management, invoicing, and accounting, ERP software can solve and integrate many processes to ensure that customer needs are met efficiently and consistently.
ERP solutions that add in Customer Relationship Management (CRM) and analytical applications that provide critical insights into business performance can streamline business and customer intelligence, as well as reveal new selling opportunities to drive growth and profit strategies. We asked some of our users what drove their decision to purchase a new ERP solution. Here's what they said: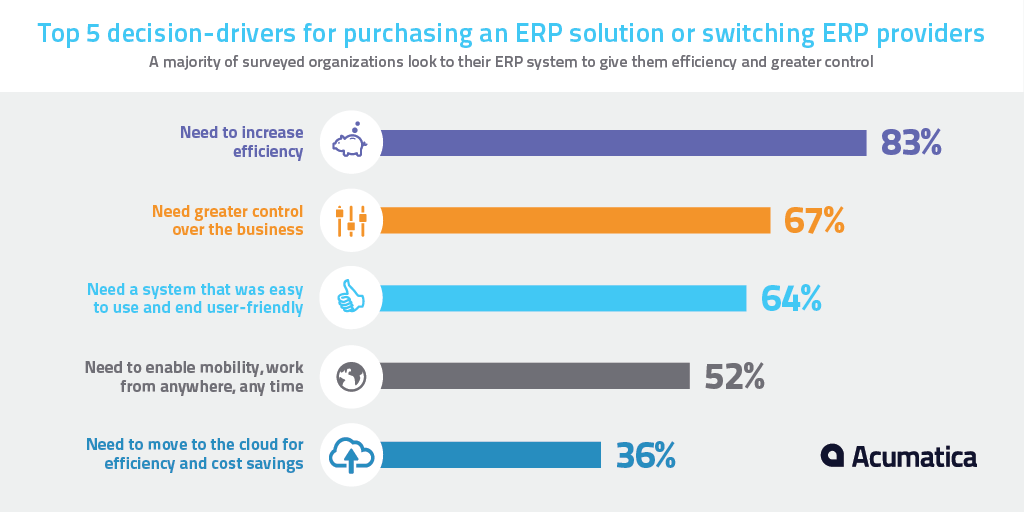 Misconception #2:
ERP Software is too expensive for small companies
When integrated ERP systems first became available, they were expensive to acquire and implement, needing huge onsite IT infrastructure and staff to operate and maintain.
Only larger companies with established IT departments and substantial financial resources could expect a reasonable ROI from these weighty ERP implementations.
It's no secret that Cloud technology has dramatically changed the economic reality. Cloud ERP solutions now available for small and mid-sized Businesses (SMBs) in a Cloud SaaS configuration have changed the game. The benefits of Cloud ERP software and SaaS are clear in significantly reduced up-front acquisition and implementation costs, as well as subscription licensing. Cloud ERP software gives SMBs the same planning and execution capabilities as larger organizations, allowing them the same competitive advantages.
Misconception #3:
ERP software requires massive customization
ERP systems rarely, if ever, meet 100% of an organization's requirements. Each business will be unique in process, even within a given industry. Special markets, niche industries, foreign locations, and unique internal process methods will always dictate slightly different supply chain processes or financial transaction terms.
Internal needs should be addressed and accommodated during the ERP implementation process. Processes can be modified or solved by the core functionality with training, avoiding the extra costs of customization except where truly necessary.
Where customization is needed to address a need, integration will be an important consideration.
Customized functionality to meet special needs provided by an ERP vendor's Independent Software Vendor (ISV) partners or affiliates can integrate smoothly and maintain the integrity of the software, keeping your information connected instead of spread out over many business software tools.
Misconception #4:
Once ERP is implemented, you're done
Business is dynamic, not static; especially in today's rapidly changing, global economy. As new market conditions and competitive threats arise, the software managing internal and customer-facing processes must adapt. Flexibility to provide new ERP functionality or connectivity with new technologies is becoming more critical to maintaining current operations or expansion.
Everyone has experience with software upgrades that tank productivity for a day or two. A big advantage of Cloud ERP software is that it can be upgraded with less impact on the workday. This starts all the way at the bottom layer on the software stack; you never have to upgrade our Operating System again, your Database again, etc. There will be major upgrades of the core ERP software, and yes, you need to plan for that. Planned maintenance in any software system is inevitable, and simply needs to be managed and the time and resources budgeted and scheduled.
Live upgrades are now, indeed, business as usual; but that doesn't mean upgrade processes are all the same. It's worth looking into the release support plan of your ERP provider. At Acumatica, we offer mainstream support for the current and previous major release of the product. Each time a new version is released, we begin supporting that version and end mainstream support of the third most recent version 6 months after general availability of the new version. The following products are currently under mainstream support.
| | | |
| --- | --- | --- |
| Product | Release Date | Mainstream Support End Date |
| Acumatica 3 | 2012-03-22 | (6 months after version 5.0 is released) |
| Acumatica 4 | 2013-03-05 | (6 months after version 6.0 is released) |
Misconception #5:
All ERP Vendors are largely the same
This is perhaps the greatest misconception, and potentially the most dangerous to SMBs who are looking to implement their first ERP solution. Cloud ERP software can transform a small business and provide new opportunities to compete and grow; but these opportunities must be chosen wisely.
ERP solutions vary in terms of functionality. Some vendor products support manufacturing operations; others do not. There are vendor ERP suites which provide Customer Relationship Management (CRM) modules, while other vendors do not. Multi-site and multi-currency functionality is an integral part of some ERP solutions, yet missing or inadequate in others.
In terms of underlying technology platforms, some ERP vendors' product offerings are basically their old, on-premise software that is 'adapted' to be cloud-friendly (called 'cloud-washing'), while the ERP solutions from newer vendors have been built for a cloud deployment from the ground up. The underlying technology platform can might be a critical factor in the selection of a deployment configuration, or some businesses might be more concerned with the system's ability to interface with add-on software modules, mobile platforms, or social media.
Finally, the selection of an ERP vendor really has to be approached as a long term relationship. The long-term vision and financial stability of a potential vendor are important criteria and need careful evaluation.
Overcoming these misconceptions regarding ERP systems and exercising proper due diligence in vendor selection can help a company transition through the decision process to land on a solid footing for investing in the right ERP to help keep business growing well.
Now, we're not saying we're the right solution for everyone. But we did ask our customers why they chose Acumatica's Cloud ERP Software over other solutions. So we'll just let their answers speak for us.
Did we miss any common misunderstandings about Cloud ERP or Cloud Accounting Software? Weigh in with a comment, and if you're curious to find out more about Acumatica, be sure to watch our video demo.